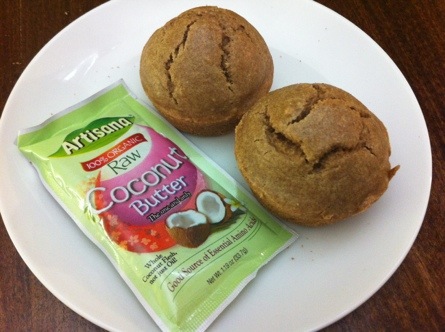 Maple Tahini Muffins
Here's what you'll need:
3/4 cup almond flour
2/3 cup teff flour
1/3 cup brown rice or sorghum flour
3/4 cup arrowroot powder or other starch (corn, potato, or tapioca would all work fine)
1/4 tsp baking powder
1/2 tsp baking soda
1 tsp salt
1/3 cup maple syrup
1/4 cup tahini
1/4 cup olive oil
2 eggs
1/2 cup milk
And here's what you'll do:
1. Preheat oven to 350 degrees.
2. Scoop your flours and starch and baking soda and powder into a bowl. Whisk or fluff with a fork until they are evenly mixed.
3. In a separate bowl, combine maple syrup, tahini, olive oil, and eggs. After they've come together, stir in milk. Slowly incorporate flour mixture, in about three portions.
4. Grease a muffin pan, or line with paper liners. Scoop muffin mixture into the cups. Bake for about 25 minutes.
Makes 12.