For many years, I was constantly either on a diet or cheating on a diet. I ate vegetarian, then vegan, then several permutations of low-carb (paleo, Atkins, South Beach, etc.) I stopped eating dairy for a while, then sugar. I did crazy things like food combining (which is a misnomer because the general idea is to eat everything separately) and Beverly Hills (fruit for breakfast, toast for lunch, salad for dinner.)
After a while, I got fed up with diets and decided to start eating whatever I felt like eating. (You can read more about it in this post, and this one.) Some people call this "intuitive eating," but I found those principles too loose – I like having some structure!
My only rules about food these days are that I eat a full breakfast, lunch, and dinner. I sometimes snack if I get hungry in between. Mostly, I focus on the other, more important stuff in my life. Food is just the stuff I eat.
I used to blog about food exclusively, but now I don't. I still eat, and this is a non-comprehensive look at what I eat these days …
For Breakfast
Oatmeal with blueberries, pecans, ground flax, cinnamon, and brown sugar. Kind of like eating blueberry cobbler for breakfast.
An omelette from the greasy spoon diner where we like to get brunch on weekends. Side of hash browns.
For Lunch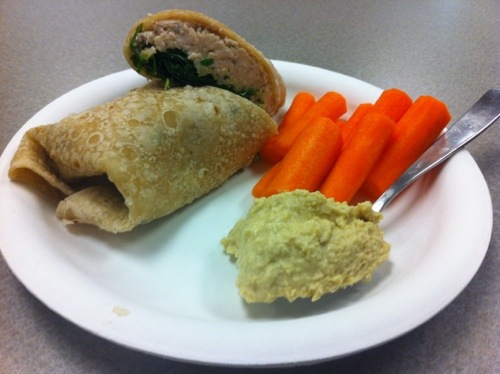 Typical workday lunch: chicken salad wrapped up in a brown rice tortilla with veggie dippers and hummus on the side.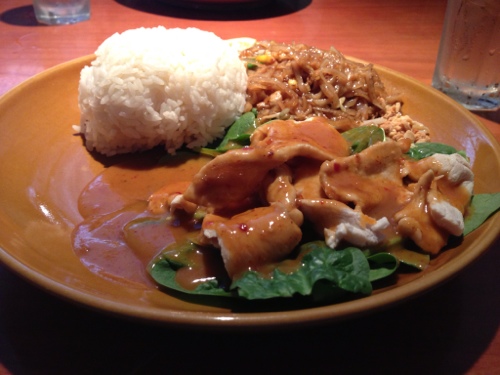 Lunch from my favorite Thai food restaurant near work. Swimming Rama chicken, pad Thai, and rice.
For Dinner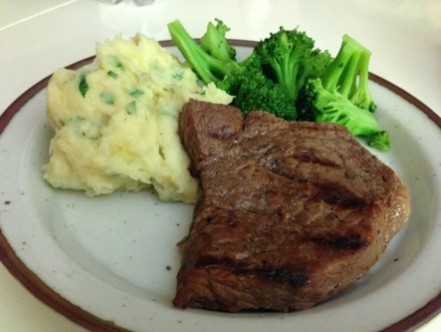 Grilled steak with garlic mashed potatoes and steamed broccoli.
One of my favorite dinners – a salmon burger patty, sauteed zucchini and yellow squash, brown rice. I pour gluten-free teriyaki sauce on everything.
Chili is my favorite thing to cook. Sometimes I put shredded cheese on top, sometimes avocado, sometimes pico de gallo. But I always eat it with cornbread.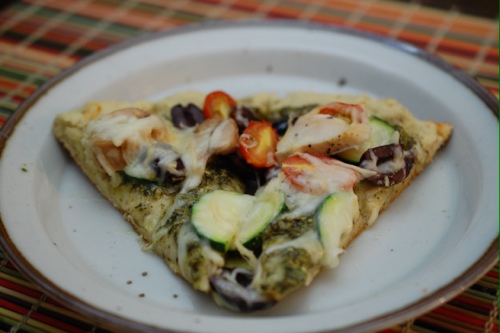 Homemade GF pizza! I love the Bob's Red Mill GF pizza crust mix, but I'll be honest: on lazy nights I'm known to throw an Amy's brand frozen pizza in the oven.
And let's not forget dessert …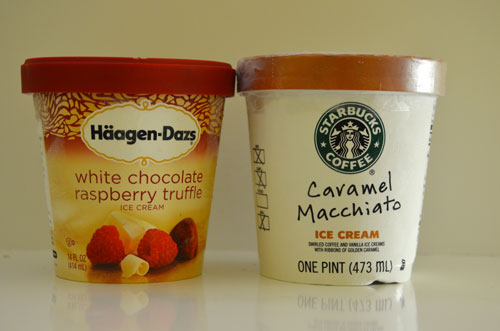 The best of all the ice creams: Haagen Dazs white chocolate raspberry, and Starbucks caramel macchiato.
Flourless peanut butter chocolate kiss cookies! I don't bake much, so when I do it has to be easy and the results have to be amazing. These cookies are both.