Last night, Joel and I trekked over to Fremont for my first ever blogger event.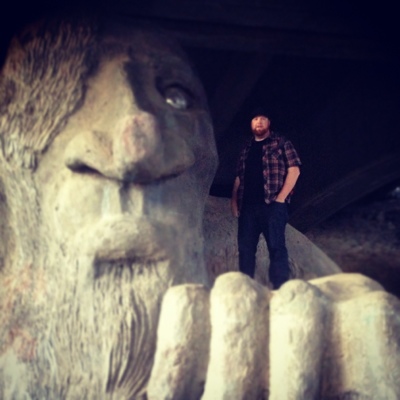 Joel hanging out with the Fremont Troll.
Let me back up — a couple of weeks ago, I got an email from Blue Moon Burgers, inviting me to a tweetup to try some new products from their gluten free menu. What's a tweetup? I wasn't sure either, but I wasn't exactly going to turn down an invitation for free burgers and fries.
Turns out, this is what a tweetup looks like. I got to hang out with other Seattle area GF bloggers, eat tasty burgers, and coat the screen of my phone in French fry grease (oops).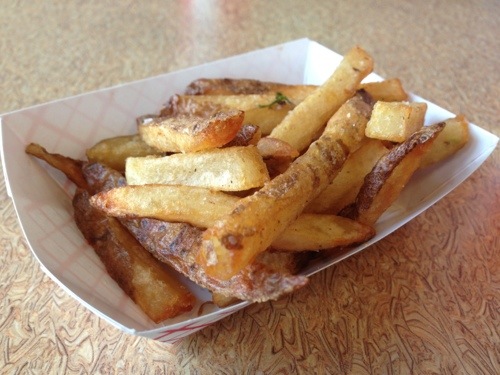 Gluten free French fries
All in all, I tried:
French fries
Garlic Parmesan fries
Sweet potato fries
Tater tots
Onion ring
Chicken tender
Grilled cheese sandwich
BLT
Hamburger
Cheeseburger
Signature El Diablo burger
The highlights for me were the sweet potato fries and chicken strips. It's a rare day that I get to eat fried food, and all of the locations have a dedicated gluten-free fryer. (Also, I should mention that Blue Moon Burgers is awesome about using the dedicated fryer when you order your burger with a gluten free bun – there was this one time that a certain someone who placed my order forgot to request that our fries be fried in the GF fryer – but we asked the cook, and our fries had been made in the gluten free fryer anyways.)
Joel's favorite was the garlic Parmesan fries, and that boy is picky about garlic Parmesan fries.
The gluten-free onion rings are new. The story is this: the rings are dredged in gluten free flour, then breaded with crushed Rice Chex. So clever! I'll be honest – I'm not a huge fan of onion rings, but I was excited to try it nonetheless. The texture of the Chex was perfect – I'm kicking myself for not thinking of that!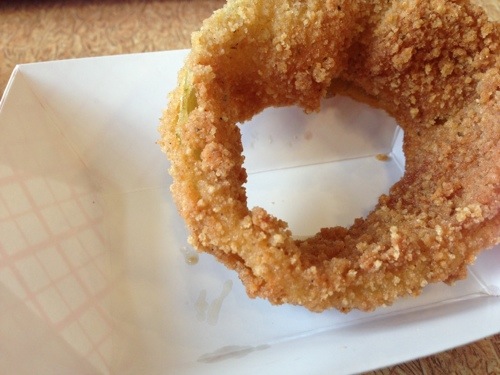 Blue Moon Burgers is now using breads and buns from Manini's Gluten Free. This was really tasty, and held up well to being dunked in BBQ sauce 🙂
El Diablo. So good, but I had to pick the biggest piece of jalapeno off. I'm a wimp.
There were samples of the other signature burgers being passed around, but I passed – I was already so stuffed with burgers and fried food!
So, Blue Moon Burgers, thank you for a satisfying evening and an especial thank you for keeping me and my fellow gluten-freebies safe at your restaurant. (And PS – please open a store in West Seattle! If you build it, we will come.)