Between the several years that I was vegetarian and the several years that I've been gluten-free, it's been nearly a decade since I ate a French dip sandwich. There were a number of foods that I've actively missed in that time (chicken salad sandwiches then; red licorice and cheesecake now; and teriyaki always.) French dip sandwiches were never among those things.
I was surprised – nay, shocked – during my "eat all the things" experiment when I found myself craving French dip sandwiches. One of my coworkers heated one up in the lunch room microwave one day, and the smell took me back to junior high school, when my mom used to make them all the time. I wanted a French dip sandwich, suddenly and strongly.
So I made one.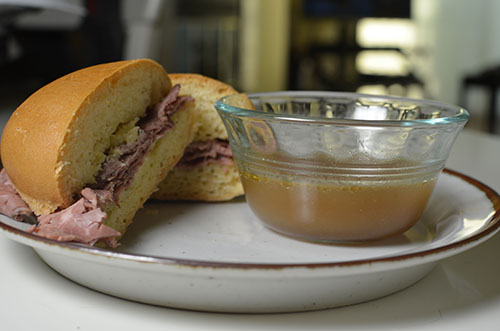 The sandwich itself was easy enough to make GF. I found some Schar white rolls at Safeway, and used the Columbus brand roast beef, which is GF. It was the au jus that took a little more effort, but I found Betty's recipe, and with a few tweaks it tastes (and smells) just like what mom used to make. I made an enormous batch so that we could just reheat for easy dinners all week.
Here's what you'll need:
2 Tbs butter
Half of a small onion, or a quarter of a large onion, minced
4 cups beef broth, divided
1 tsp garlic powder
Splash of white wine (approx. a scant quarter cup)
2 Tbs Worcestershire sauce
1 Tbs cornstarch (or other GF starch – I used tapioca)
Here's what you'll do:
Heat butter in a saucepan over medium-high heat. Add minced onion and caramelize (about 15 minutes.)
Add 3 cups beef broth, garlic powder, wine, Worcestershire sauce, and whisk thoroughly.
In a small bowl, combine remaining 1 cup broth and starch to make a slurry.
Add slurry to saucepan, whisking quickly. Allow to simmer for about 15 minutes. Liquid will thicken slightly.
Strain, if you'd like to remove caramelized onion bits, or serve them up. Use as dip for roast beef sandwich.Enjoy.