Let's go back in time about a month to the night my parents took Joel and me out to dinner as a birthday present for Joel. We went out for Italian food, and while four of us crunched salads, Joel ate a bowl of minestrone soup. Oh, if you could have seen the looks of longing on my dad's and my faces! That minestrone soup smelled so good.
My dad reminisced about my grandma making minestrone soup when he was growing up – she'd make a big batch every fall, and freeze most of it to eat throughout the winter. I mentioned that I've been wanting to make minestrone – it would, of course, be easy to make GF because the only gluteny thing in it is pasta. My dad, maybe to discourage me, said that grandma's minestrone was no quick cooking soup – it was a process that would take about three days to make.
Challenge accepted.
(Oh, and I should mention, my dad sent me a link to this recipe, which probably wasn't exactly what my grandma used to make, but close as she was a fan of the chef. I also used the Barefoot Contessa's recipe for inspiration.)
Jennie's Three Day Minestrone Soup
Day 1: eat some chicken.
Cook it in your crock pot, roast it, smoke it, whatever. Or just buy a rotisserie chicken from the store – hey, I won't judge you, that's what we did. Actually, it's kind of a funny story: I got an email from theknot.com last Thursday reminding me that it'd been two months since our wedding day.
"Hey, it's our two month anniversary," I texted Joel.
"Happy anniversary!" he texted me back. "What is this, the wool anniversary?"
"I think it's the rotisserie chicken anniversary," I said.
After our rotisserie chicken dinner, we cleaved the bones and fired up the crock pot to make 10 cups of chicken stock.
Day 2: Finish the stock, start some dried beans soaking.
After about 24 hours in the crock pot, I strained the stock and stuck it in the refrigerator overnight. Meanwhile, I covered a cup of dried beans with water (plus a little salt and apple cider vinegar) and left them out to soak.
Oh, and for dinner, I made a tasty chicken noodle soup from the last of the rotisserie chicken (and some store bought chicken broth.)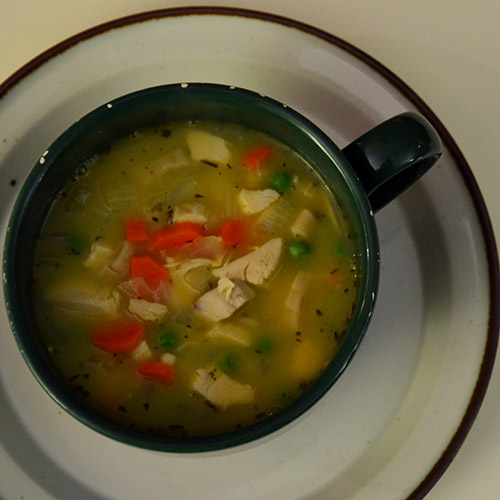 Day 3: Make minestrone soup
I've written out the full recipe (find it here.)
Making minestrone was a two-pot operation – on one burner, the beans boiled (for a couple of hours!), in the opposite corner, I sauteed mirepoix (onion, celery, carrots) and some chopped pork. I used nearly a full pound of pork, rather than the 4 oz the recipe called for, because I was using pretty lean chops (they were on sale last week, and also, I didn't know what salt pork was. It's like bacon – next time I think I'll just use some bacon.)
Speaking of next time, the next time I make this, I'm going to try blending half of the beans and half of the tomatoes to make the soup a bit thicker.
As it was, when I stirred everything together in that gorgeous green Dutch oven, it was a bit chunky and more stew-like than soup-like. I suspect that was in part because of the huge amount of pork I used, and also, turning some of the beans and tomatoes into puree would help to make it soupier.
In this case, soupier is a good thing.
But don't go thinking we didn't like it. I made the soup on Sunday, and we've already polished off the entire pot. And don't worry – Dad got a bowl, too 🙂