Want to hear a funny story? I don't know why I ask, when we all know I'm going to tell you anyway.
Here's the setup: since I am no longer blogging much about food, I am not in the habit of taking pictures of my meals before I dig in. Here's the punchline: while we were in New York, Joel took more pictures of food than I did.
It's not so much funny, haha, as it is funny weird.
ANYway, I figured I'd blog about my favorite restaurants we went to, even though I don't have pictures of everything and some of my pictures are pretty bad. The food was good – that's what matters.
This is a 100% gluten-free Italian restaurant in East Village. The entire menu is risottos (or brown rice pasta) and we ordered what we wanted mixed in. I had the lunch special, which was a half sized salad and risotto, which was still more food than I could eat! I had the pear and avocado salad, then pollo e pepperoni (because it reminded me of a dish I ate in Italy …)
The best part of the meal, in my opinion, was the bread basket.
It's such a novel thing to me now, to get bread I can eat with my meal! I ate, like, three pieces of bread and one of the seasoned rice cakes (which was a contributing factor in why my lunch portion was more than I could eat.)
We went here with our friends Morgana and Grahme, who recommended it as they'd taken another gluten free person there and had good experiences. We ate at the one in Times Square, but there are several locations around NYC, so I played a little game called "spot the Bareburger" as we wandered around the city. They were everywhere!
I wish I had a picture to show you, but here's the rundown: I had a chocolate peanut butter milkshake, all four of us split a bucket of sweet potato fries, and then I had a turkey burger in a lettuce wrap. They have gluten free buns available, but at that point, it had been a couple of days since I'd eaten a vegetable, so lettuce sounded good.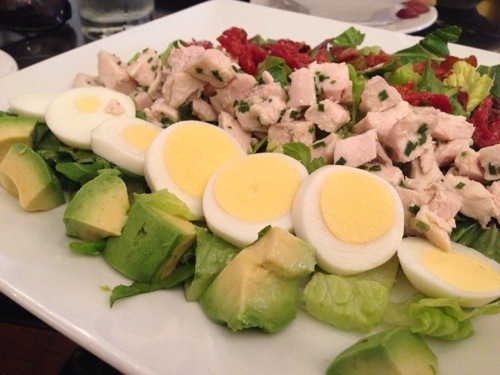 We picked this spot just outside of Rockefeller Center for lunch before our tour of NBC Studios. It ended up being our most expensive meal in New York! Only because this was one of only a couple times that we ordered an appetizer, drinks, and entrees – we shared warm rosemary olives; I had a glass of wine, Joel had a hard cider; then I had the cobb salad pictured above, and Joel had a piece of cod, which was also gluten-free. It is a rare day that we both order something GF in a restaurant and can share, so I was a happy camper.
We ended up eating here twice – I insisted on going back a second time so I could take a photo of the food 🙂 I didn't realize this place is actually a chain, and there was a location literally next door to our hotel in D.C.
No matter – it was worth eating there twice. I even had the same thing both times: a hard boiled egg with gluten free crackers and a side of ham and cheese. I ended up making open faced sandwiches with the crackers, ham, and cheese.
I found these GF buckwheat crackers which are really similar to what they served at Le Pain at the Metro Market in West Seattle, so I can continue to eat open faced ham and cheese sandwiches now that we're home.