I'm traveling a lot this month. I'm hours away from my next adventure, so before I depart, I'd like to cap off my Labor Day weekend trip to Portland by sharing the favorite restaurants we found along the way.
As I said in my last post, eating gluten free in Portland was incredibly easy. It seemed, however, that while restaurant servers had a good understanding of what gluten is, several of the spots that we visited did not have a good understanding of cross contamination and how just how strictly gluten free those of us with Celiac have to be.
Nevertheless, I escaped the city unscathed, and enjoyed a number of really excellent GF meals. Here's where I had the best ones …
They bread all of their fried items in rice flour, so everything that went in their deep fryer was strictly gluten free. Joel and I split cod and chicken strips, and I ate sweet potato fries while he munched garlic fries.
This was far and away the favorite restaurant that we visited in Portland. We ended up going for lunch two days in a row, and eating pretty much the same thing both days 🙂 Pictured above is a carnitas taco and an al pastor taco which was pork in pineapple sauce – the perfect combination of sweet and spicy. All of their tacos are served on housemade corn tortillas, which even Joel, who usually refuses to eat anything but flour tortillas, loved.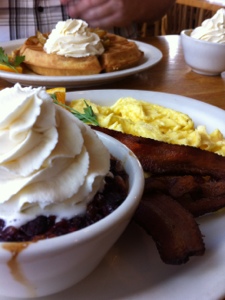 This restaurant was recommended to us by our server at the Hawthorne Fish House as a place that was good at gluten free. We ended up there almost by accident, but I was thrilled that we did because their menu had GF items clearly marked, and in addition to the usual bacon and eggs, omelettes, etc., were a dozen or so baked goods including gluten free raspberry bread pudding. So good.
This was our last stop on the way out of town that weekend. A google search turned up several exclusively gf bakeries, and we gave this one a shot, mostly because it was right up the street from our hotel. As you can see, we loaded up a box with things for the road, but hands down, my favorite was the current scone that I ate in the bakery that morning (in the middle right of the above picture).
So, there you have it. I feel very lucky living in the city of Seattle where there's a Thai restaurant around very corner as it's a very easy place to eat gluten free. Well, the dining options in Portland kind of put us to shame. Now I'll just have to wait for the gluten free version of Voodoo Donuts (which Joel tells me, are amazing).