Usually, when I write a post that references something I've blogged about before, I link back to old posts. I am not going to do so in this case, because this is something I've mentioned SO MANY TIMES, I don't think I can possibly link to every post in which I've said it.
Here it is: I miss teriyaki.
There aren't many foods I miss since going gluten free, but teriyaki tops the list. It was my favorite food for many years – I remember when I was a kid trying to convince my mom that we should have teriyaki for dinner because then she wouldn't have to cook, even if we'd had it last week or maybe a few nights before and despite that my sister wouldn't eat it; walking across the street after my Shakespeare rehearsals when I was a teenager to get teriyaki from the restaurant that was next to … a beer store, if my memory serves; then trying every teriyaki place in a 10 mile radius of the office once I started working.
So teriyaki is the one loss I still grieve.
Sure, there's such a thing as GF teriyaki sauce and it's pretty good. I've tried making my own teriyaki with it. It was okay.
Most of the time, when I want that teriyaki flavor, I do something like this:
Salmon burger, brown rice, sautéed veggies, all of which I douse with teriyaki sauce.
And I suppose there are these: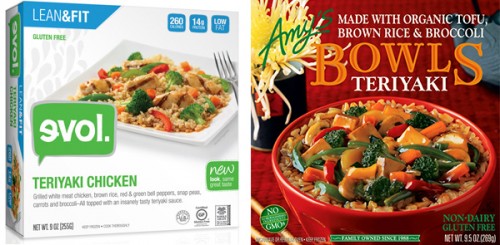 EVOL and Amy's teriyaki frozen meals. They're tasty, but not what you'd get from, you know, an actual restaurant.
But finally, I found this:
That is gluten free teriyaki from Himitsu Teriyaki in Kent, conveniently located next door to Haley's Corner Bakery.
They actually started offering gluten free options a few years ago, but I only got around to trying it last week. And it's exactly what I'd been missing.
It's probably not something I'll go out of my way to eat all that often, but the next time I am having a craving for that super-sweet charred teriyaki flavor and watered down ranch dressing that you only get at a teriyaki restaurant, I'm glad to know there's a place where I can eat.