My only regret about our time in D.C. (and it's pretty minor) is that we spent so little time in the city and didn't actually eat at any local restaurants. We didn't realize it right away, but every single place where we ate was a chain! Now, in our defense, they were all East Coast chains, and not anything we can find in Seattle, but it would have been nice to have tried a D.C. exclusive. But like I said, that's pretty minor. The restaurants we picked, while all chains, were all terrific. My favorites were …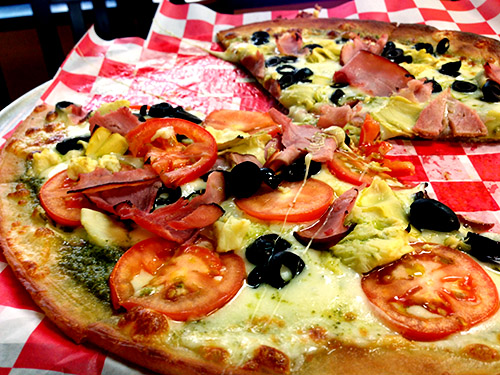 Like the pizza places I frequent back home … no, that's a lie. I don't go out for pizza that often. So when I do, it's a special treat. This place had regular and gluten-free pizza, but made and cooked the GF pizzas separately, so they are safe. We split an Italian pizza, which had ham, artichoke hearts, pesto, mozzarella, olives, and tomatoes (on my half only 🙂 )
Oh, and when I said that none of the places where we ate are places we have in Seattle, I was wrong. Turns out there's a zPizza on the Capitol Hill we have in Seattle.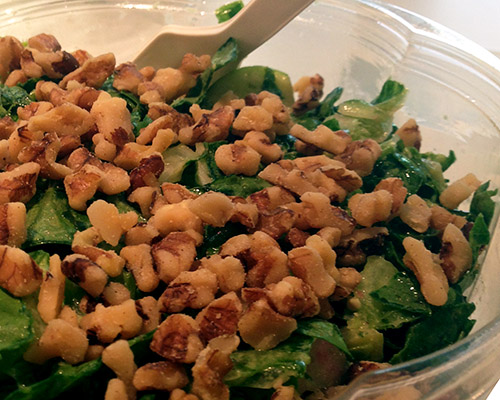 I'd been dying to try this place since I read Gluten Free Blondie's post about it. Chopped salads are apparently all the rage on the East Coast (this particular restaurant has several locations in NYC & D.C.)
I was not expecting it to be a fast food restaurant, which is pretty much what it was, and I wasn't quite sure how it worked, so I ended up ordering one of the salads with their suggested toppings rather than inventing my own. It had beets, feta, and walnuts. I'm generally pretty picky about the lettuce-to-good stuff ratio on my salads, and this was a little too heavy on the lettuce for my taste … but since it was chopped (I mean, chop't) every bite had enough good stuff and dressing to be plenty flavorful.
This was in the Mosaic District in Fairfax, VA (near the hotel where we stayed.) We ate here on the very long day that we saw all the monuments – by the time we made it to the restaurant, we would've eaten just about anything. But this was really good. In case you can't tell (the photo's pretty dark) that's an entire bulb of roasted garlic. There was also some kind of garlic seasoning on the steak, and, for good measure, more garlic on the roasted potatoes. Joel had the same thing, though, so we had garlic breath together.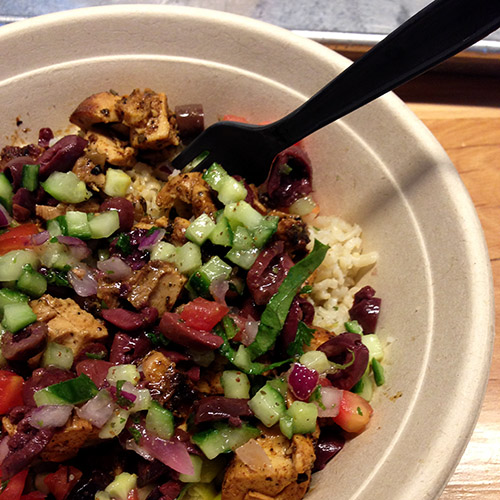 This was the Mediterranean version of Chipotle, but way better – and I love Chipotle! Yeah, similar set-up – I had a base of brown rice, then there was a choice of meat (I had chicken) then – this is where it gets good – you can choose a flavored hummus or tzatziki sauce to go on the bowl, then another choice of salad dressing on top of that so everything was doused in delicious olive oil.