So, let's say it's your first time in Africa. You've been there for about a week, and while you're eaten some wonderful food, your only complaint is that it's just like the food you eat back home. You want a real, traditional African meal. If you're staying in Cape Town, I hope that, as our did, the hotel's guest services recommends Gold.
The menu at Gold is predetermined, and 8-10 courses. Though our group was only seven, we had several food restrictions among us. Our waitress asked a few questions of the vegetarian, and when I said "I need to eat gluten free" she just said "okay," and walked away.
I won't lie. I kind of freaked out right then. But the next time I saw her, she was bringing our first course of dips and bread, and set a little plate of rice cakes in front of me. I knew I'd be okay.
Our next course was little rolls of roti (that's a flatbread) with spiced ground ostrich. A few minutes after everyone else had started eating, the waitress returned with a little bowl of ostrich just for me.
It was my first time eating ostrich – it's a gamey red meat. I'd say it's somewhere between lamb and elk.
Next, a chicken pot pie. The pie part was a little piece of bread – mine was just chicken with sauce (the sauce was thickened with tapioca. you can see the little tapioca beads in the gravy.) The flavor was kind of like rotisserie chicken.
The last several courses came out all at once – there were several things I couldn't eat (cous cous, a tabbouleh), but they brought me some spiced basmati rice, and there were still plenty of options to keep me busy. A lentil daal, some patties made from sweet potato, onion and spinach, and this …
is springbok stew. Springboks are a small antelope, the national animal of South Africa (can you imagine — being able to EAT your national animal?!) It was very beefy, and very tender. We saw (and ate) some springbok later on, at Bushman's Kloof, but here's a preview of what they look like:
As cute as they are delicious.
But wait – there's more.
Periodically, while we were eating, a group would come out and perform. They sang, they danced, they played drums. But the best part was when they convinced (well, they kind of forced, but still) Joel to join the dance.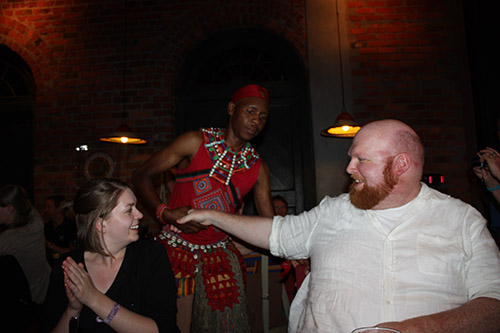 Thanks Geraldine for this photo.
Betcha didn't know he could dance! Neither did I 😉