Every time I write yet another blog post about my college years, I tell myself "this is the last one. My readers are probably getting tired of me reminiscing about my college years." Next month will mark five years since I finished my degree, and obviously, I've had lots of great experiences and done much more interesting things in the past five years.
But those were my formative years, and also I didn't have a blog. So once again, I need to start today's post with a story about a writing class I took in college because it defined my opinions about writing. That class was Journalism 101.
I actually loathed my journalism class, but in retrospect, I learned more about good writing from that class than any other writing class I took, and those lessons are the ones I use most often in my post-grad life.
My journalism teacher was kind of a jerk, which kept me constantly on my toes, and that's why his writing rules have stayed with me. I've chosen to ignore one or two ("tell the reader everything they need to know in the very first sentence" is great for news articles but less important for blog articles) but you will never see me using Random Capitalization, because my teacher would yell "avoid random capitalization!" to the entire class when one person got it wrong.
One of the greatest writing lessons imparted to me in that class was that an article needs to stand on its own. "You can't go on tour to explain your news article," he'd say while editing my classmates' and my articles. One of the tenets of good writing is clarity. It's also one of the most difficult tenets.
But something happened a few months after that class, and it's a big reason in why this lesson has stayed so crystalized in my head: the final book in the Harry Potter series was released. And a few weeks later, J.K. Rowling spent most of her book tour explaining the epilogue.
Personally, I hate the epilogue to the Harry Potter books; I honestly think the series would be improved if the epilogue just didn't exist. I respect that Rowling wanted her readers to know the fates of their favorite characters – and if memory serves, it was one of the first things she wrote. In that case, it helped define her characters and how they would all change over the course of the books. That's great.
But anyone who has ever written anything, ever, knows that just because you wrote the words down doesn't mean it's great writing. I never figured this out as a student of creative writing (it wasn't taught in that journalism class!) but one of the biggest lessons I've learned since I started blogging is that sometimes, I'll write something beautiful. A sentence or a paragraph or half of a post. But it doesn't work, or it's not something I want to share. And I have to delete it.
Let's be frank, not all of my ideas are winners.
But all of those failed sentences or paragraphs or nearly finished posts serve a purpose and lead to something better. I accept that with every failed attempt at writing, I learn something — and writing is a learned skill. Sometimes, a terrible sentence helps me keep a blog post on track, and at the end, I come up with something better to say.
Obviously, I'm not J.K. Rowling and it's not my place to say what her writing process was, but it's my opinion that she had something better to say than the final chapter of Harry Potter and the Deathly Hallows. She said it all in her book tour, and in interviews. So why bother including that epilogue at all?
I really think that Rowling did her readers a disservice by telling them everything that happened to every character in the books after the books ended. One of my favorite things about reading novels is thinking about the characters and what I think they went on to do after the events of the book, and I don't get to do that with the Harry Potter books.
For whatever reason, I'm even more bothered by the fact that seven years later, Rowling is making headlines by talking about what she wishes she hadn't written – that Ron and Hermione married.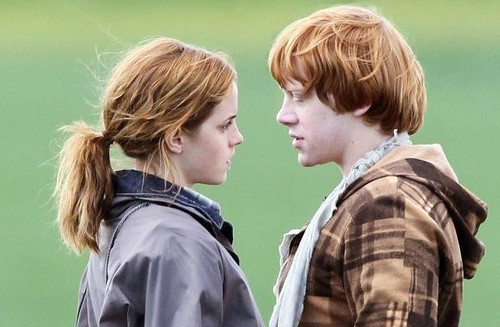 source
I'd like to point out that this perfectly proves my point: the epilogue served its purpose in Rowling's writing process, but if she just hadn't published it, readers would be able to decide for themselves what became of their favorite characters. And even though she revised that chapter, Rowling became a much better writer over the course of ten years and seven books. The epilogue wasn't her best writing, which is why she needed to explain and justify it on her book tour and in interviews, and it's probably why she's still talking about it in 2014.
The good news is some fans have still found ways to create their own interpretations of the Harry Potter characters – here's an article that bends the news about Rowling's regret pairing Ron with Hermione to prove a fan's theory that Ron is a time traveling Dumbledore.
Just for fun, here's one more link: five things Vulture says Rowling *should* regret about the way her books ended.