Well, hello there! It feels like forever since I've blogged, but I guess that's because it was last year! Har, har.
Anyway, I hope your 2015 is off to a good start and 2014 ended on a good note. I had tons of vacation time left at the end of the year, so as I write this, I'm wrapping up my second five-day-long weekend. Both weekends have been completely delightful – lots of time spent with my friends and family, quite a bit of yoga, and so many kittens! My parents adopted a couple of kittens who came home right before Christmas, and we've been cat-sitting for our friends' kitten. (Don't worry, Stormy and Eggs are getting plenty of attention despite the recent influx of tiny cats.)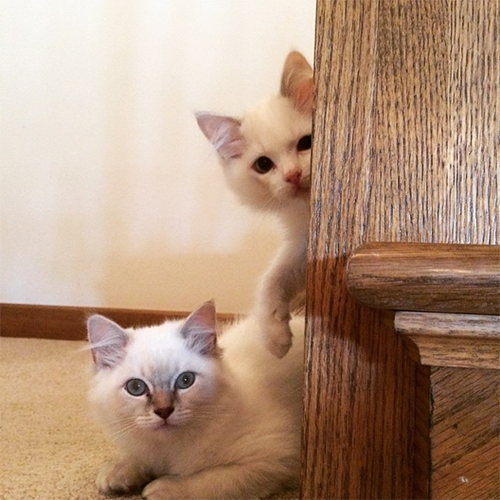 2014 ended much the same as 2013 – Joel and I enjoyed a quiet night in eating pizza and watching movies. Around 9 o'clock, we heard a knock on the door. It was our neighbors' grandson, who wanted to make sure we had party hats and noisemakers for New Year's Eve 🙂
And now it's time to talk about New Year's resolutions. I enjoy them, always have, but I've not ever had amazing success rates. I can't promise that 2015 will be *THE YEAR* that I follow through on my resolutions, but the ones I'm making this year are meaningful and measurable, so here's to a great 2015.
1. $$. My #1 goal for the year is to better manage my money – not very interesting blog fodder, and I'm sure you've made the same or similar goals at some point. It basically boils down to spend less money on frivolities and put more into savings.
2. Get organized (part 1). Continue our streak of cleaning/decluttering/organizing our condo. Some of you may remember the cringe-worthy before pictures I shared of our spare bedroom – and the amazing progress we made. This weekend, we started re-organizing the kitchen and loaded up several boxes to take to Goodwill. When we got home, I immediately filled another box. The funny thing is that just when I think we've gotten rid of everything we possibly could, I find more things to part with!
3. Get organized (part 2). I was recently introduced to the "Bullet Journal" method of note keeping and thought it sounded very logical and non-tedious. Here's the video, if you're curious about it:
I've always kept paper journals and hand written my grocery lists, but because I'm a bit of a perfectionist, I have to have separate journals for everything. I've been trying to consolidate this habit, and tried several different apps to replace my journals, but hated having all this different information in all these different places. I like the idea of the bullet journal where everything is in one place, but organized so it's easy to find. So far, I'm quite pleased with it. I'll report back at the end of the year.
4. Read 48 books. That works out to 4 per month, but isn't quite as strict as a book per week. Looking over my Goodreads account, I read only 6 books in 2014, which is absurdly low for me. I guess I was spending more time reading blogs or shopping online …
***
That's all for today! Thanks for sticking with me for another year.