On our second date, Joel and I went to a Thai food restaurant in our neighborhood that has since gone out of business. We both picked at our food. I assumed he was too nervous to eat; he assumed I was doing the girly "eats like a bird" thing. After we knew each other a little better, we had the following exchange:
HIM: ZOMG, that Thai food I had on our second date was so bad!
ME: Srsly, mine too!
Well, maybe not exactly that, but you get the gist.
We are pretty picky about Pad Thai – it should be sour, savory, a little sweet. And no ketchup! Pad Thai with ketchup is the worst.
Aside: we had Pad Thai at a local restaurant recently that had some kind of tomato something in the sauce. Joel asked the waiter what it was, and the waiter said "oh, no tomato. Just ketchup."
ANYway, we attempted homemade Pad Thai once before with a store bought jarred sauce. It was loaded with sugar and we cooked it in a flat bottomed pan over medium heat. And it was awful. So, we resigned ourselves to eating takeout Pad Thai and were okay with that.
But then last month, Emmy passed on a link to a homemade Pad Thai recipe that looked good. After almost an hour wandering the aisles at the local Asian market, I found all the ingredients. And we bought a decent wok. Finally, there would be homemade Pad Thai.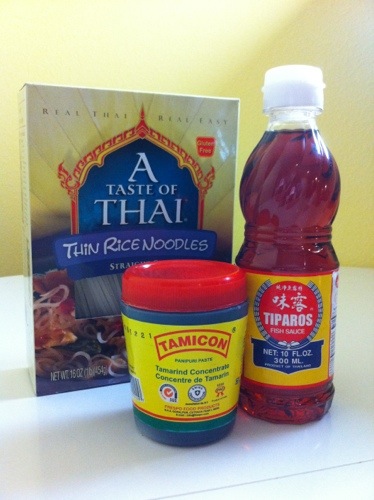 One thing I did not know was that the palm sugar we needed would not come granulated in a box or bag, but in patties called "jaggery." I'm not making this up. Of course, we started calling them Mick Jaggerys and after google searches I never thought I'd have to do, we determined that the best way to break them up is with a mortar and pestle. Which we do not own. So, Joel did the next best thing.
He stuck one Mick Jaggery in a ziplock baggie, covered it with a towel, and took a hammer to it.
And Saturday night, we tested it. The verdict?
Tasty! Not quite the Pad Thai we know and love, but close. We'll definitely be making homemade Pad Thai again.