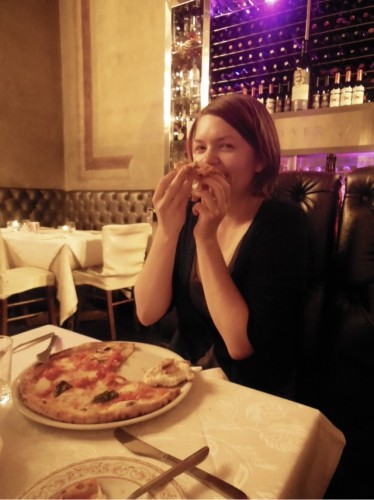 Oh, that's just me. Eating the best gluten free pizza in the world. In Florence.
Italy was, in a word, awesome. I'm still working on uploading those couple days worth of pictures (but you can see the rest here). Since this is, ostensibly, a food blog, I figured it was time I share with you some of the highlights of eating gluten free in Italy.
Warning – a long, and picture-heavy post follows.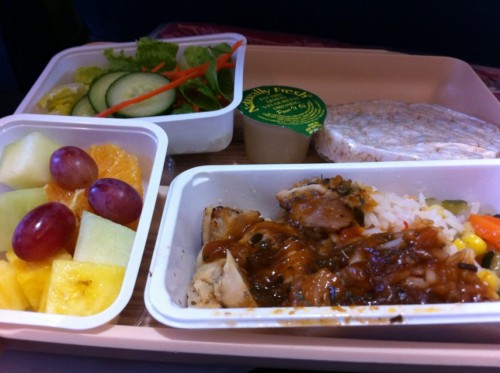 First though, the lowlight. Plane food. That's all I'm going to say about that.
Anyways, you've already seen the highlights from Rome. Once in Assisi, I had this pork tenderloin with herbs and black olives. We split a side of baked sweet peppers.
A couple of nights later, at the same restaurant, steak with a balsamic reduction.
And a side of mixed grilled vegetables.
One of our favorite meals was one of the simplest – a salami and (unpictured) cheese plate, washed down with several glasses of prosecco.
Grilled Umbrian sausages (I think these were wild boar meat – a specialty of the Umbrian region).
Radicchio salad with Parmesan cheese and walnuts.
This was, if you can believe it, the only pasta I ate in Italy. Most of the restaurants we visited had gluten free pasta (or "Celiac pasta," as it's called there – no one in Italy goes gluten free if they don't have to!) but I was more excited about the meats and cheeses.
Mom and I were both planning on eating olives at every meal – we were surprised to not see them on menus for the first 12 days we were in Italy! We kept walking through olive groves – where are the olives?! In Florence, it turns out. Yum.
This grilled tuna salad was to come with yogurt sauce – I declined because I couldn't understand whether it had gluten in it, or if our waiter thought I couldn't eat the dairy. Let me just say that, while in Italy, any rules I may have about how much dairy I do or do not consume went right out the window. There was too much delicious cheese to eat, and I don't think I saw soy milk at a single coffee shop we went to.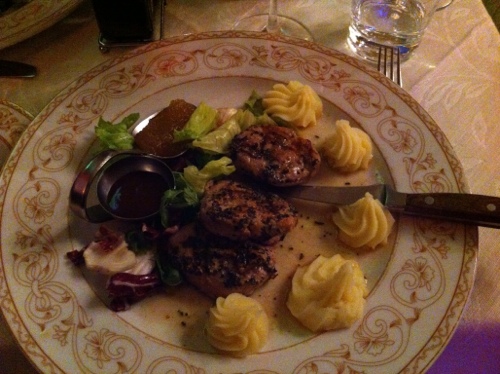 A google search for "gluten free Florence" led us to Ciro and Sons, known for the best gluten free pizza in the world. The pizza requires a reservation a day ahead of time, so I had pork chops with applesauce and barbecue sauce.
And we split this gluten-free Nutella stuffed crepe.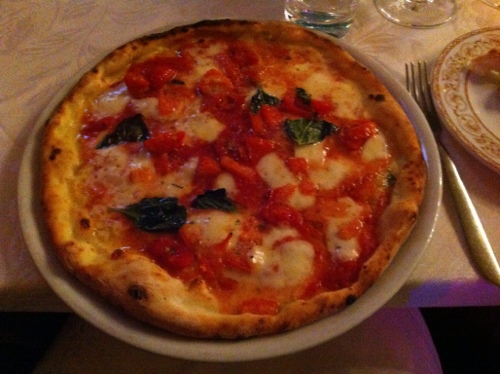 But then did the only sensible thing, which was to reserve a gluten free pizza for the next night. A.K.A. our last night in Italy carbfest (and for the record, we climbed somewhere between 800 and 1000 stairs that day, so it was well deserved).
And ended our trip on a sweet note – gelato affogato.
Buon appetito!