Last month, I wrote up a review of Julep's nail polish subscription boxes. A couple weeks later, Karen at Unpack the Box announced that she would be hosting a monthly subscription review linkup with Mommy Splurge, so I threw my link into the mix and had a blast participating.
I didn't plan on writing about how I'd just reactivated my subscription to Birchbox, but I decided to for two reasons: the obvious, which is to join in the next subscription review linkup, and to talk about the value of samples and whether they're worth paying for.
Click this image to check out other bloggers' box reviews!
Let's start by getting one thing straight: Birchbox's monthly subscription box is not a product, per se. When I say "the value of samples" I don't mean the monetary value. I see many bloggers calculate the value of each sample to estimate whether they're getting more product than they paid for. Or, you could say that if you receive five samples in each $10 box, you're paying $2 per sample.
Honestly, I don't think either way makes sense. Birchbox's monthly subscription service is just that: a service.
The value of Birchbox, then, is in sending their customers products that they are "sure" to love. I say this because one of Birchbox's talking points is the "custom curated box."
Let's talk about that concept for a minute, using my January box as an example.
This was the first box I received since reactivating my subscription, and when I received an email with my tracking information, it showed a picture of the products headed my way: a lanolin lip balm, a hot pink nail polish, an anti-aging serum, a dry hair conditioner, and deodorant wipes.
I was not interested in any of these things, and spent about a week kicking myself for signing up again and wondering "why am I paying for samples? Is it worth it?"
The more I thought about it, though, the more each item made perfect sense: I've purchased multiple lip balms and glosses from their site; I received a sample of anti-aging serum that I stalked on their website afterwards; I've added a nail polish to my favorites list but haven't gotten around to purchasing yet; and I've bought several facial cleansing wipes, so maybe that precipitated the deodorant wipes …?
As for the dry hair conditioner, I have no explanation.
… and the end of the story would be that I got a mediocre box but with a perfectly reasonable explanation for most of the items inside. But when my box turned up, this is what was in it …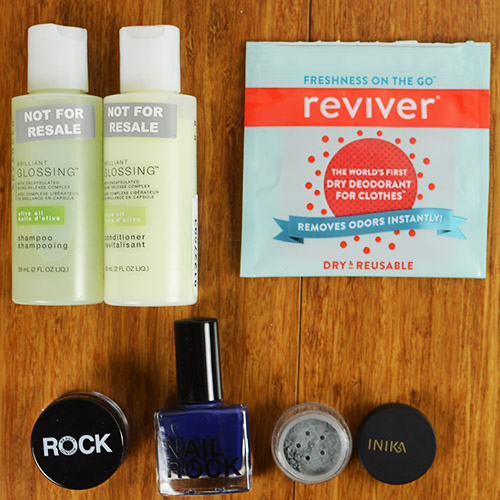 Fekkai shampoo & conditioner, Inika mineral eyeshadow, Nail Rock polish and glitter kit, and deodorizing wipes
I have no idea why what turned up was completely different, but I'm pleased with the items I received. (Also, the picture on the emails prompting me to purchase full sized items from my January box shows what I actually got, so I did not get the wrong box by accident.)
The shampoo and conditioner are nice – I don't love them enough to want to buy the full size, but enough that I've stashed them with my travel sized toiletries for my next trip.
The eyeshadow is a pretty aquamarine that's easy to apply and blend – probably my favorite thing in the box, and something I would consider purchasing (but maybe in a different color.)
The polish kit is the thing I was most excited about and turned out to by my least favorite item in the box – I adore blue nail polish, but this is not great (as you can see in the photo below, I slopped it all over my cuticles.) The glitter is highly textured so it snagged on everything, but I was very surprised that it stayed put and I didn't end up with glitter all over my sheets the next day, so that's something.
I have not tried the deodorant wipe.
Inika eye shadow and Nail Rock polish in action.
So while I ended up with samples I was really excited about, that's just one out of five that I'd consider purchasing. Which put me back on the fence – is this service really worth my money?
I've decided that it is, mainly because I'm still pretty new to makeup and beauty products, so the value to me is getting to try new things and decide what products I like and are worth my money.
Birchbox has gained popularity in the couple of years since I first subscribed, so they're working with great brands whose products I want to try. And if you haven't downloaded their iPhone app yet, it's really terrific – I actually like shopping on the app more than on their website. Lastly, having sample sized items to stash in my travel bag is a plus 🙂
My biggest complaint is that I wish they would send more than one makeup item per box. I think makeup items are a little tricky to sample, and it's usually makeup items that end up in my trash, unused. So while the blue eyeshadow I got in this box wouldn't be my first choice, I can wear it, unlike the orange hued lipsticks and too dark BB cream that I've gotten in past boxes.
If you aren't already a Birchbox subscriber and would like to be, you're welcome to use my referral link which awards me some points towards future purchases.