When it comes to blogging, my experience has been that when I'm feeling a little uninspired, what I need is to take time off to regroup. Which is what we'll say I was doing in January. I'm hoping to get back to my three-times-a-week routine, and I'll start by telling you what I was up to this past month.
But first, I must welcome all the new readers who found me from the Share Your Subscription link-up! I hope you aren't disappointed to discover that the topic of my blog is not subscription box reviews but a random hodgepodge of the things I like. That said, I have two box reviews to share this month, and I'll probably keep posting about the stuff I get in the mail going forward because I remembered how much fun it is to participate in link-ups.
For most of January, though, I was more excited to try all the new beauty products I'd gotten for Christmas.
My eyelashes and skin are looking much better now than they did on January 1, thanks to the gifts from my sister and from Joel.
One other product I must mention is the Big Jambox that we got as a wedding gift.
It made the weekends we spent cleaning up and doing projects around the condo much more musical. And despite all the work we got done around the house, there was still time for lounging …
Believe it or not, Eggs threw himself into that position 😉
In our spare time, we were off in Middle Earth. I finally finished re-reading The Hobbit and we watched An Unexpected Journey again in preparation for The Desolation of Smaug. We saw the new movie at the Pacific Science Center, where the boys (both of whom are over 6 feet tall) found this spot:
… which was very appropriate, don't you think? Joel and I had some reward certificates to Best Buy, which we used to buy the Lord of the Rings trilogy on Blu-Ray, so the only logical thing to do was have a LOTR movie marathon. It'd probably been ten years since I'd seen the movies and I enjoyed them much more this time around.
Back in the real world, we finally brushed the dust off our cameras and took some photos around town. I've updated my Seattle photo gallery – I hope you'll check those out when you have a chance.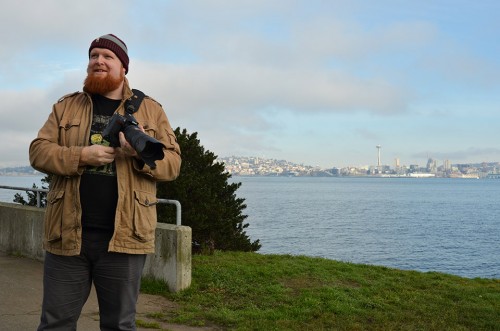 My mom came along on a very chilly Sunday morning. How many people does it take to load a roll of film into an old school camera …?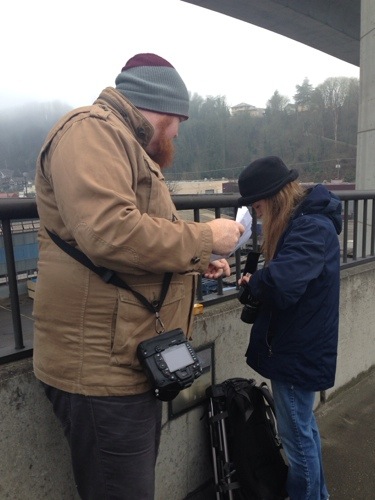 Let's face it, if it weren't for digital cameras, I would blog even less than I have been lately.