Joel made this take on lasagna for us about a month ago. I've been asking him to share it here on the gf-gf ever since, but since it hasn't happened yet, I decided it was time to post it myself.
I think this is technically a ziti, rather than a lasagna, but it tastes just like lasagna without all the layers, and "lazy lasagna" just has a nice ring to it, don't you think? ANYways, here it is – hope you enjoy.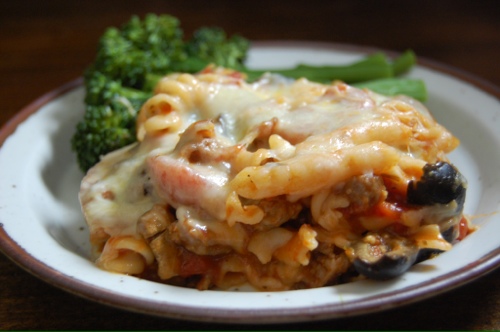 Joel's Lazy Lasagna
1 16 oz box brown rice pasta
1 lb ground sausage (we used pork)
1 16 oz jar tomato sauce
1 15 oz can stewed tomatoes
1 15 oz can large black olives
1 2 cup pkg shredded mozzarella
8 oz sliced mushrooms*
1. Preheat oven to 375 degrees.
2. Boil water. Cook pasta according to package directions.
3. Brown sausage in a large skillet.
4. In a saucepan, combine tomato sauce and stewed tomatoes over low heat.
5. Drain olives, and chop or tear in half lengthwise.
6. In a large bowl (or the empty pasta pot, if you don't want to get another dish dirty – this is lazy lasagna, after all), combine cooked pasta, sausage, olives, tomato mixture, and mushrooms (if using).
7. Spread pasta mixture in a 9″x13″ Pyrex dish. Top with shredded cheese.
8. Bake uncovered for 15 minutes, until cheese bubbles. Allow to rest for 10 minutes before serving.
Makes 8 servings.
*Mushrooms optional. Joel insists they aren't, but since I'm writing this post, I say they are. Of course, if someone else insists you add mushrooms to your lasagna, you can always pick them out and dump them on that someone else's plate – just be sure you make a disgusted face every time you come across one.