Some months ago, I gushed over Julep, my favorite monthly subscription box.
Somewhat ironically, the same week (maybe even the same day) I published that post, they announced changes to their service, and the service has changed again since.
I say all this to level the playing field – I love Julep, and I have no hesitation recommending their products. However I do have qualms recommending their Maven subscription, because if you sign up today, you will not be signing up for the same service I have (I am grandfathered in to the old service) so your mileage may vary.
With that out of the way, last month Julep shipped out their latest product, the Plie Wand.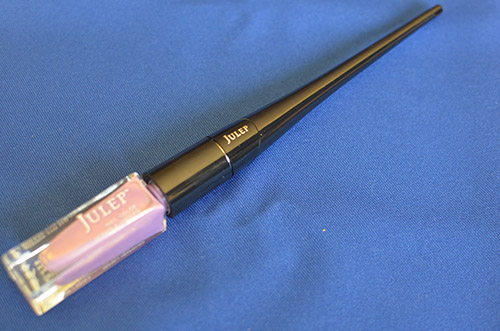 You can watch their instruction video here, but basically, it's a tool meant to make nail polishing easier. And cleaner.
I've used the wand three times now, and I'm very happy with it so far. Let me back up and say that my usual routine is to paint my nails in a half-reclined position on the couch while watching TV or reading blogs, so I know that I would have better results if I sat down at an actual table and made sure I had enough light. So the real test with the Plie Wand was not "is it easier and cleaner painting my nails with this tool?" but "can I paint my nails lying down and not end up with a sloppy mess?"
The answer is yes.
I received mine in my May Maven box, and the spring colors are SO PRETTY. I love them. (I got an extra polish as a freebie for crowd funding the Plie Wand when they announced it in January, and it's a glitter top coat. Meh.)
But to be perfectly honest, the product isn't perfect. For one, there's a learning curve – the first time I used it, painting my right nails with my left (non-dominant) hand was EASY and great, but using it in my right hand was a sloppy mess because I am used to holding the very edge of my nail polish caps balanced between my thumb and index finger, which I'm not able to with this giant wand in the way. The other thing I want to mention is that QC was not quite up to par because here's how my brush arrived …
That won't do. And I know I'm not the only one who had issues with glue failing on the Plie Wand. However, I got extra brushes so it was easy to switch out.
I talked myself into buying the dotting and striping tools, even though I am not nearly patient enough for nail art, and look! My nails look pro-worthy (not really.)
Let's cut to the chase – my left hand is pictured here because while I attempted some stripes and a flower (that's supposed to be a flower, in case you couldn't tell) on my right nails, they look pretty awful. I'm not really big on nail art, but I may attempt it more often because the tools did, as promised, make it easier.
If you're interested in signing up to be a Julep Maven (which gets you a better price on the Plie Wand) you can use my referral link to support my nail polish habit.