In general, I don't count calories, but it can be a really helpful tool – and has in the past helped me change my dietary habits for the better. I've used a number of different online resources to keep a food log, and every so often, still check in to see what my current diet looks like by the numbers.
These days when I track my food, I'm pretty unconcerned with my total calorie intake and expenditure, and very interested in the breakdown of different macro- and micro-nutrients, and on Monday, decided to take a look at what I was eating. I used a very popular tracking site which I thought I hadn't ever used before – it turned out not to be the case, and I found one day's food log from nearly 2 years ago from when I was following a vegan diet, and after comparing the two, I want to share a few thoughts.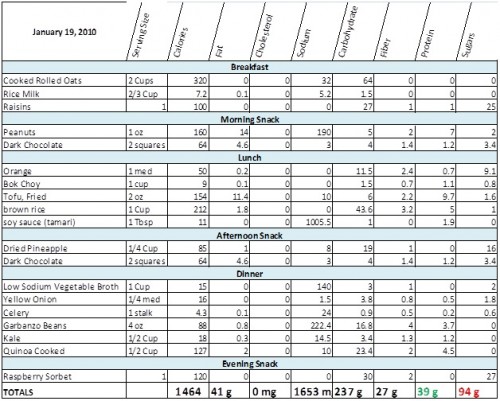 You can click on the images to see a larger version.
As a vegan, I ate my "healthy whole grains" at every meal, got my 2-3 servings of fruit, ate as little fat as possible and kept my calories low. I don't remember that particular day, but it looks like I started off with a monster bowl of oatmeal, then a tofu stir-fry, and a bowl of bean and kale soup for dinner, plus three desserts snacks.
In January of 2010, one of my goals was to eat a healthy (gluten-free) but plentiful diet. Basically, I wanted to eat a lot, never feel hungry, and lose about 5 pounds. I was eating a lot volumetrically, but trying to keep my calories low. This meant loading my tank with lots of fibrous foods, and more fiber = more bloating. Although I might eat a bit more calorically these days, in general, I feel a lot better. While the calorie count is higher, I'm getting more energy and less bloating.
Another interesting point to me is the appetite v. carbohydrate intake – it's very much been my experience, outside of just these two days, that the more carbs I eat, the hungrier I am. For example, after Monday's breakfast (hardboiled eggs, coconut milk kefir, coconut oil, and coffee with half-and-half … fat, fat, fat, and a little protein) I was only a little hungry by lunchtime, but about an hour after eating lunch with white rice, I was starving! If that same logic applies to the day of vegan eats, then no wonder I needed a snack after every single meal – I couldn't stay satiated for more than a couple of hours eating that many grains.
I marked on the two food charts the totals of protein and sugars and want to point those out to you as well. Vegetarian proteins most definitely can provide all the necessary proteins, but it's harder for our bodies to break down and use, and a portion of it ends up going to waste. On the day that I was following a vegan diet, I ate about half the amount of protein I ate on Monday, and when you consider there was a portion of that protein that my body couldn't access and use … well, I'm glad that I'm at least eating enough now! As for the sugar, I'm going to take a wild guess that I was using the sugar highs from all the chocolate, fruit, and desserts I was eating to make up for the fact that I wasn't eating enough protein.
And one final point – this particular tracking site has recommendations for calorie and macronutrient intakes according to your activity level and weight loss goals. It highlighted several of my numbers from Monday's food log to point out that I was way exceeding the recommended intake for fat, sodium, and cholesterol. This is why I'm leery about using sites like these as a tool – they make me feel a little guilty for not following the recommended dietary advice, even when I know it's not right for my body. I'm still interested in knowing how much I'm eating, but the best gauge for my diet is how my body feels.