I usually do this in the opposite order that I am this year, but those of you who've been reading for a while may remember that I like to end the year by looking back and highlighting posts and pictures from the year.
Parting Ways with 2014 // Here's to 2015
Greatest Hits of 2013 // Bring On 2014
Looking Back, 2012 Edition // Welcome 2013
Goodbye 2011 // And Hello, 2012
Weeellll, since I only published six posts in 2015, there isn't much there to feature! So I decided to just change the format a bit 😉 Instead, I'll go through my camera roll and tell you about some of the things that happened that I haven't yet shared.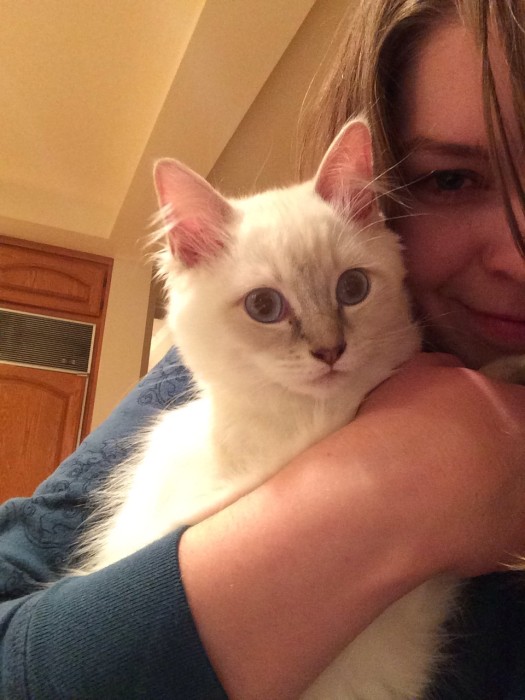 January 1
I don't remember why, but I ended up at my parents' house and took a selfie with their kitten (I call her "Tori," short for Victoria, but she also goes by Violet, Snowball, Butterball … among others.)
January 7
Stormy had surgery for her glaucoma and spent several sad weeks wearing the cone of shame. (You'll be happy to know that she's been doing exceedingly well since her surgery.)
January 8
Meredith and I took a sewing class together. Look, we made bags! I've been keeping my lipsticks in mine.
January 24
During the final retreat for my yoga teacher training, we celebrated/mourned the end of our time together with *just a little* wine.
February 7
I packed my suitcase for a business trip where I gave a presentation(!) with help from the entire family.
February 21
Allegra gave me my slightly belated Christmas present. It's Stormy's doppelganger!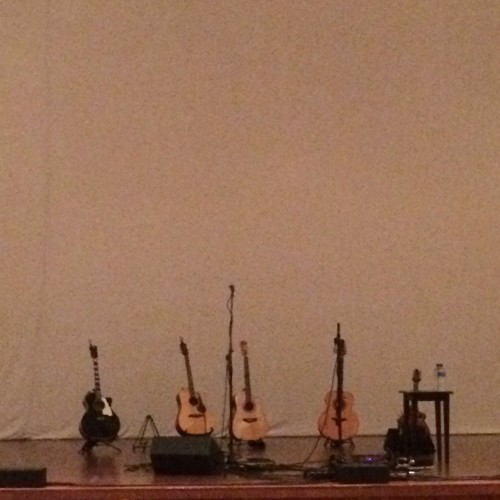 March 26
Joel and I saw Colin Hay, formerly of Men at Work, play at Benaroya Hall.
March 29
We celebrated my sister's 21st birthday! (A couple of days early 😉 )
April 15
Yes, it was tax day, but that memory was eclipsed by the small but scary fire in my building's parking garage that afternoon. Thankfully, our car was not parked in the garage during the fire.
May 13
We finally got to visit the new Blue Moon Burgers that opened in my neighborhood! I met the owners at the gluten free tweetup back in 2012, and they said they'd been considering opening a location not far from where we live. I was delighted that they did.
June 20
We saw Jurassic World, and I ate gummy dinos, because that is obviously the only reasonable movie snack for Jurassic World.
June 21
Joel sported his Husky gear when we went out to Pasco, to tell his parents the good news of his acceptance. (This was at the local comic book store, he couldn't resist trying on the Joker hat.)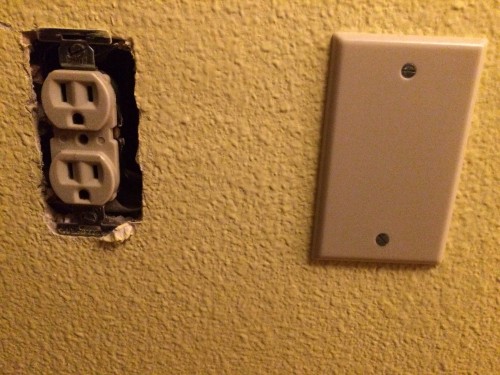 July 3
We celebrated Independence Day weekend by doing some touch up painting and swapping the old almond outlets in our living room for white.
August 21
Joel posed for one last shot in our old bathroom, before we began the process of tearing it apart. (I still plan to post a full recount of the bathroom remodel … probably next week.)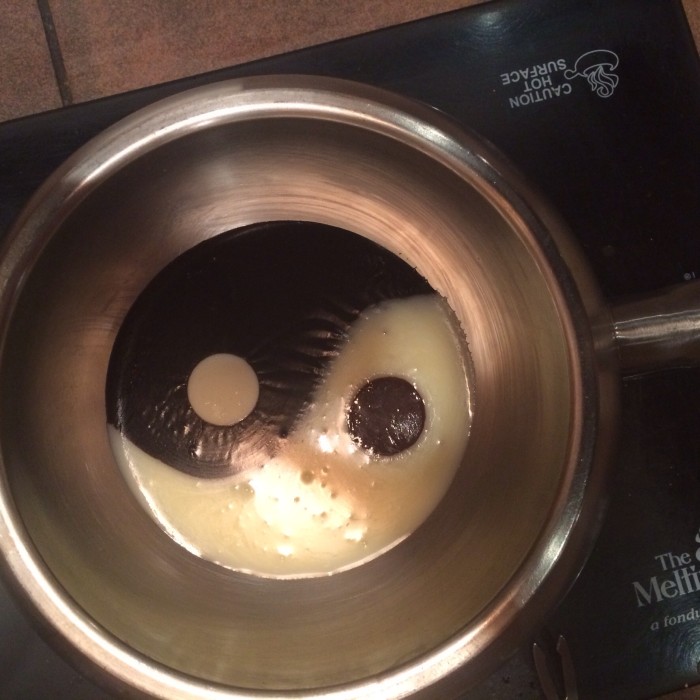 August 24
We took a break from the bathroom remodel project to celebrate our two year wedding anniversary! We got well-earned massages, and had fondue at The Melting Pot.
September 5
I finally had a spare weekend to spend in the San Juans! And got some more snuggle time with the kittens (note that this is the same kitten from the January 1 photo … she just looks a little different 9 months later 🙂 )
September 8
I celebrated my birthday with a seafood bonanza! My dad took me to Duke's Chowder House for lunch where I had a salmon Caesar salad for lunch. (Duke's, it turns out, is *wonderful* at gluten free – my dad has known this for a while, but has been holding out on me because I only just figured it out this summer.) We split this gluten-free carrot cupcake.
Then in the evening, Joel made crab risotto with the four whole crabs that came home with me from the San Juans. I was so excited, I forgot to take a picture! You'll just have to take my word for it that it was delicious.
October 9
I went to Anaheim for the annual industry trade show (the first time I've been invited!) NASA was there showing this awesome suit.
November 16
Several months into the bathroom remodel project, and we finally had a functioning bathroom again! Stormy took it upon herself to test the new faucet.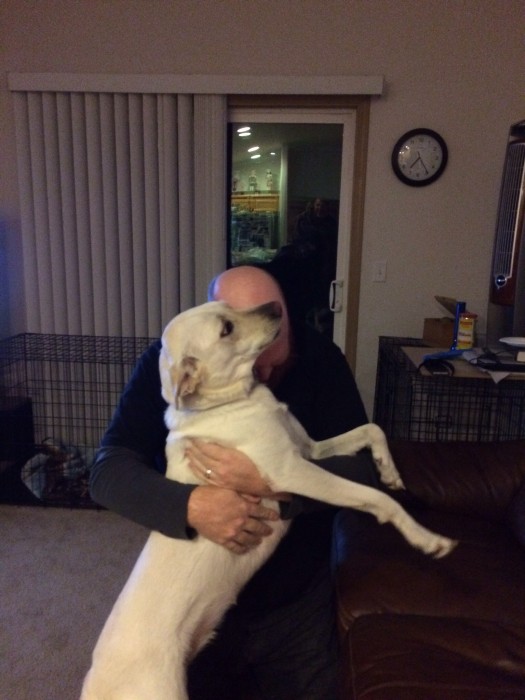 November 26
Joel and I headed back out to Pasco to spend Thanksgiving with his parents and their very rambunctious dogs.
December 12
Meredith, Allegra, and I made a whirlwind trip to Portland for some Christmas shopping! I took only one picture, outside of Powell's Books.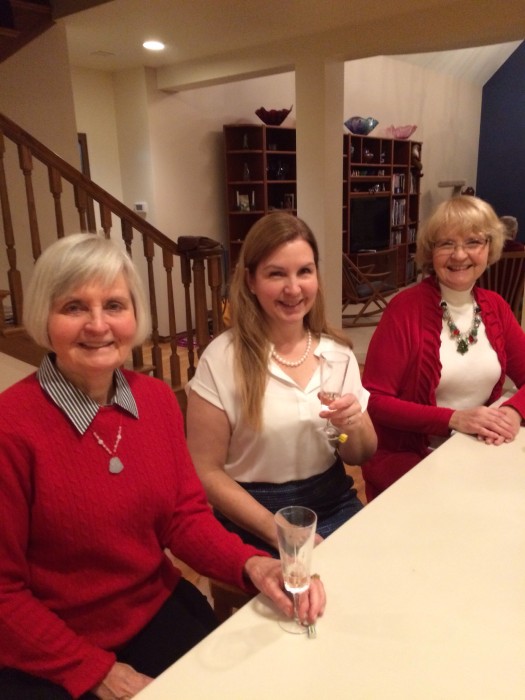 December 24
We headed down to my parents' house for Christmas Eve dinner with my mom's side of the family. Here are the sisters 😀
December 25
Back to my parents' house for Christmas dinner, and more kitten snuggles, and a round of the game Tummple (one of the presents Joel gave me just that morning!)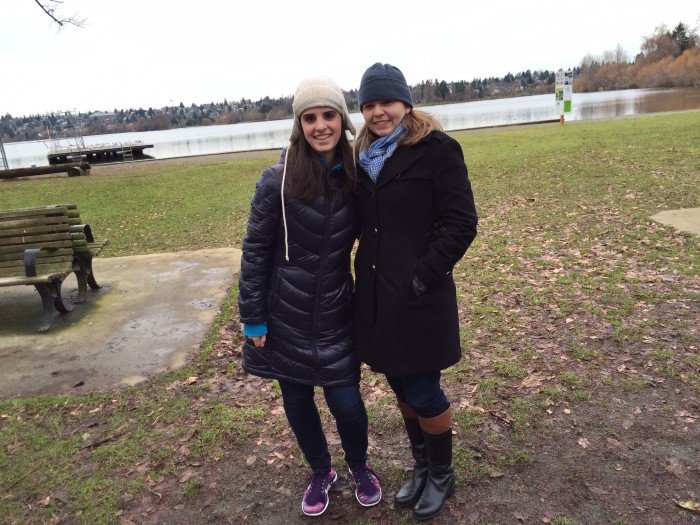 December 26
My BFF Morgana and I finally got to see each other! We had brunch and went for a very cold walk around Greenlake.
December 27
We roasted a turkey for "Friendsmas!" I made my third batch of gravy in 2015 (and the *best* batch of gravy I made in 2015 – third time's the charm, I suppose.)