After Joel's and my first date (from part one of the love story) I went home, logged on to the dating site where we met, and sent two messages. To two other boys. Because I'm superstitious and didn't want to jinx it.
And wouldn't you know it – neither of those other boys ended up replying.
Joel and I continued our text/email conversations all week, and decided to on Thursday night finally get that Thai food we'd planned on eating on our first date. Every morning, I'd wake up and think to myself "today is Monday, I see Joel again in three more days." "Tuesday, two more days."
When I drove up to the West Seattle Junction on Thursday, Joel was already waiting outside the restaurant where we'd decided to meet. He greeted me with a hug. I liked that.
I've told this story before – that was the worst Thai food either of us had eaten. Neither of us finished our food. It was really bad. Afterwards, we went to see the movie Grown Ups, which was playing at the second run theater nearby.
We had about an hour between when we finished eating and the movie, so we went for a walk and talked. I told him about teaching yoga – I'd been subbing at a new studio and the owner had just offered me a regular class. He told me about his band, and the warehouse he was living in, which had been converted into a recording studio.
The next morning, I had an email in my inbox asking me on our third date.
On our third date, we ate sushi and saw the movie Inception. We met up at the warehouse where he was living in SODO and took the train to Downtown Seattle. I hadn't taken the train before, so he had me sit in the seat next to the window so I could see the graffiti (most of it commissioned) on the buildings we passed.
After the movie, we sat down for drinks and talked about our teeth and mutual fear of dentists. (Aside: we both procrastinated on visiting the dentist for another couple of … years (yikes!) and we both needed a root canal this summer. I've taken to joking that we'll always remember this summer as the year we got married and got root canals together.)
The day after, we planned our fourth date.
This went on for the next week or two, the two of us going on dates and then immediately making plans to see each other again. After a while, I think we both just started assuming we'd be spending our Friday nights together.
A few weeks later, my twenty-fourth birthday rolled around. I'd told my family and my friends about "my new friend, Joel" but I wasn't ready for him to meet them yet, so we did not spend my birthday together.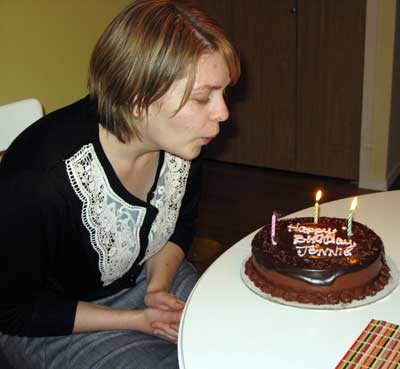 We didn't see each other until a few days later, when we spontaneously decided to take a day trip to Leavenworth.
I have very clear memories of eating peanut butter toast at my kitchen table before we left that morning, and merging onto the 520 highway while Joel told me a story about a runaway who he found hiding in the ceiling of his old house, and Bavarian trinkets in the shops, and buying chocolates at the Rocky Mountain Chocolate Factory after lunch.
But most of what I remember from that day was the feeling. Without being to cheesy, if you'd pulled me aside that day and said "three years from now, you're going to be marrying this guy," I would have absolutely believed you.
Joel told me he loved me the first time a day later.
On Tuesday at about 3 in the morning, Joel sent me what has become the best text message I've ever received: "Jhey watsup. Howare you? I'm shellac drunk. I told the girls from gittine how awesome my girlfriend is. I lo w you."
I'll continue with part three (the conclusion) next week.