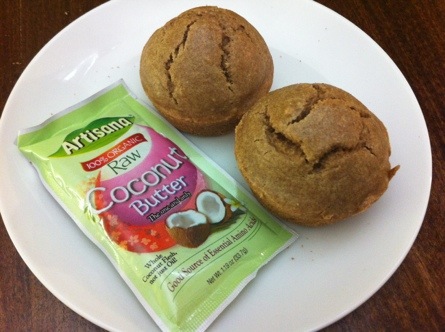 Last week, I was eating yogurt for breakfast every morning. This week, I'm sick of it!
But still needing something for an easy breakfast, I baked up some muffins with a lot of healthy fat and the delicious combo of maple syrup and tahini.
Maple Tahini Muffins
Here's what you'll need:
3/4 cup almond flour
2/3 cup teff flour
1/3 cup brown rice or sorghum flour
3/4 cup arrowroot powder or other starch (corn, potato, or tapioca would all work fine)
1/4 tsp baking powder
1/2 tsp baking soda
1 tsp salt
1/3 cup maple syrup
1/4 cup tahini
1/4 cup olive oil 2 eggs
1/2 cup milk
And here's what you'll do:
1. Preheat oven to 350 degrees.
2. Scoop your flours and starch and baking soda and powder into a bowl. Whisk or fluff with a fork until they are evenly mixed.
3. In a separate bowl, combine maple syrup, tahini, olive oil, and eggs. After they've come together, stir in milk. Slowly incorporate flour mixture, in about three portions.
4. Grease a muffin pan, or line with paper liners. Scoop muffin mixture into the cups. Bake for about 25 minutes.
Makes 12.
These freeze incredibly well, so I like to keep some in the freezer for grab and go breakfasts when I'm running a little short on time. They're best served warm.
Feel free to stir in some combination of dried fruit and nuts or seeds after the dry and wet ingredients are well combined. I've made these with cranberries and sunflower seeds, and with chopped walnuts and loved both.
I find they aren't a substantial breakfast on their own, but enjoy having two smeared with butter (or better yet, coconut butter!) Or accompanied by a hard boiled egg.
Enjoy!