A couple of people have asked if Joel and I are doing anything special this Christmas, since it's our first Christmas together. I don't quite know how to answer, because obviously Christmas will be special, and while it's our first married Christmas, it will actually be the fourth we celebrate together.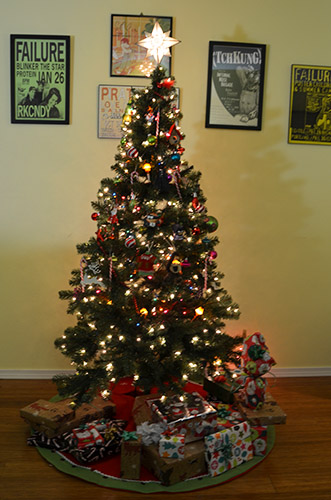 The first Christmas we spent together was 2010, and let me be honest – it was a weird year. I didn't really realize how much I would miss my family's Christmas traditions. Since that year, we've created our own traditions, like …
Ornaments
This is one of our more inspired traditions, if I may say so, because it comes from merging our family's tree decorating traditions. Joel's parents have a theme for decorating their tree each year and buy new ornaments; my parents have accumulated Christmas ornaments throughout their years together. Joel and I decided we'll pick out an ornament for each other and give it as an early Christmas present, so like his parents, we get new ornaments each year, and like my parents, our collection will grow over time.
This year I gave him this glittery dinosaur: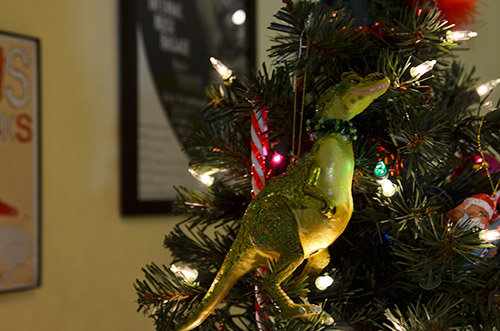 And he picked out for me a monkey: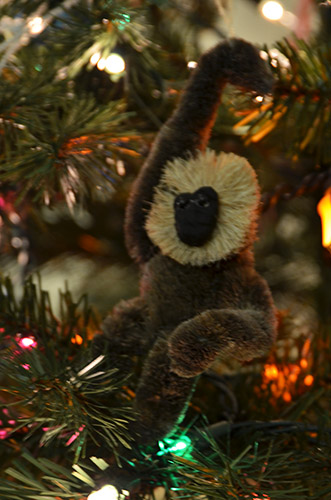 The Mantle
I didn't start this until last year, but it's now one of my favorites: we've accumulated so many Christmas-y trinkets that I take down our usual mantle decor and put out our stockings, candles, "The Old Man" bobble-head, and the sleigh (and someone to drive it – last year it was Boba Fett, this year, it's Hypnotoad.)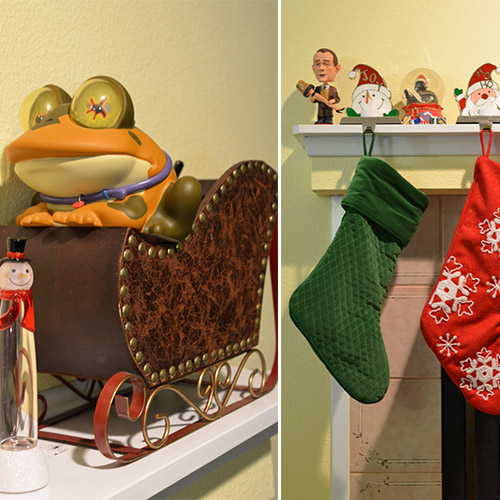 Cinnamon Rolls
One of Joel's favorite Christmas memories growing up was his mom making cinnamon rolls for breakfast every Christmas morning. That first Christmas we spent together, I bought some Udi's gluten free cinnamon rolls, and they were fairly lackluster. Since then, I have failed spectacularly in continuing Joel's favorite Christmas breakfast. This year, I plan to try making cinnamon rolls from Bob's Red Mill Pizza Crust mix (for which I have already professed my love.)
Movies!
There are so many Christmas movies, and we watch a bunch! Every night that we're both home and don't have plans, we watch a Christmas movie. So far, we've watched Elf, A Christmas Story, Scrooged, Muppet's Christmas Carol, National Lampoon's Christmas Vacation, and The Polar Express. Still to come: How the Grinch Stole Christmas (both the cartoon and Jim Carrey versions) and It's a Wonderful Life and Prancer and …
Stocking Stuffers
Growing up, I could count on one thing in my stocking every Christmas morning: a toothbrush. I honestly believed this was a normal Christmas tradition, and Santa just wants to promote good oral hygiene! But you should have seen the look on Joel's face when he opened his stocking on Christmas morning 2010 and pulled out a toothbrush. Asking my parents about it later, this was a tradition that's been passed down from my paternal grandmother's family.
The other stocking stuffer standard in my family is a spatula, because my dad thought it was funny. I hope none of you reading this are surprised to hear that Joel also found this amusing and has kept this tradition going. He was much quicker to pick up on the spatula as a stocking stuffer than a toothbrush, but I think I've finally convinced him.
Joel's constant stocking stuffer was a Hot Wheels car. I am sorry to say that for our first two Christmases together, I was like "that's stupid, I'm not doing that," but I've come around. If I want a toothbrush, Joel can have a Hot Wheels car.
***
I have a couple of ideas in mind to repurpose some of the wedding decorations into Christmas decorations, since this is a special year for us. On the morning after our wedding, with help from my parents and our siblings, Joel and I shoved the salvageable decorations into the back of the car, and back home, we dumped them in the spare bedroom and haven't looked at them since. We're trying to downsize some of the stuff we've packed into the condo, so it's use it or lose it time.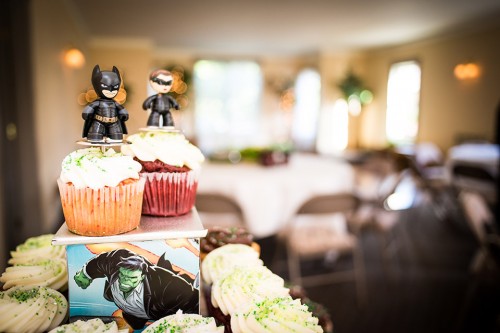 Batman and Catwoman will make great ornaments for our tree. I found a tutorial to turn Happy Meal toys into ornaments that I'm hoping I'll be brave enough to tackle.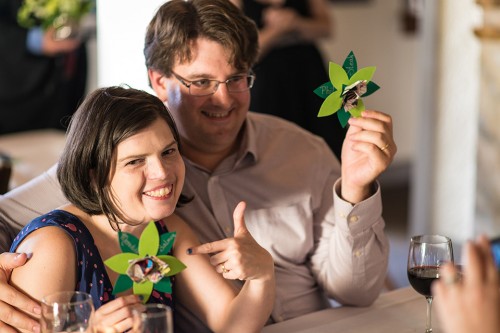 We also came home with a big box of origami comic book roses, and inspiration struck when I remembered the 1000 origami cranes project of 1991 when my mom made a garland of 1000 origami cranes*. If the roses turn out like I hope they will, we could use them as garland on the tree. Fingers crossed.
*Thanks, mom, for correcting me: it was actually only 100 cranes.