On Saturday night of Memorial Day weekend, my friends and I went to the multiplex at the mall to see X-Men: The Days of Future Past which, because it was a holiday weekend and the movie had opened the previous day, was sold out. The kind of sold out where a manager comes in to the theater before the show starts to tell everyone to scoot towards the center of the aisle and leave no empty seats, and groups of latecomers have to split up in order to find seats.
This post is not about the X-Men movie, but I'm starting with this story because the movie going experience was actually awful. There was a group sitting around us with several toddlers who were constantly making noise and wandering around the aisle and kept distracting me from watching the movie.
A week or two ago, I read this post on The Daily Dot, arguing that Hollywood movies aren't bringing in as much profit as they used to because movies these days are terrible, however, the blame is usually placed on the upsurge of movies being pirated online.
I don't disagree with this, in fact, I wrote the following to a similar effect in a previous post:
[I]n the summer of 2008 … I saw Iron Man for the third time. That I saw it three times is noteworthy – previous to that, I'd not been to see a movie multiple times in a theater since the days of Titanic, because ticket prices were rising and I did not think the quality of movies was doing the same.
Yes, going to the movies has become expensive and a lot of the movies coming out these days are garbage. But there's another huge piece of this puzzle that doesn't get talked about in the article: movie audiences are also terrible.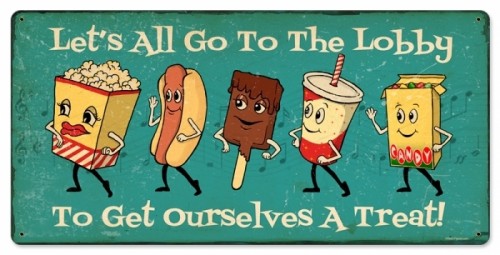 source
Our monthly Netflix and HBO subscriptions are less than the cost of two movie tickets and snacks are cheaper at the grocery store. Better yet, our couch is comfortable, I can wear my PJs, I can pause the movie if I need to get up to use the restroom, and best of all, there aren't obnoxious audience members having conversations or toddling around the theater.
There's also the fact that, frankly, our TV at home looks as good or better than most digitally projected movies. Joel has a theory that because movie theaters have to pay a fee to change their projectors between projecting in 3-D and 2-D, most theaters just leave the projectors on the 3-D settings, so 2-D look a little fuzzy. I think that's pretty likely, and add that the eerie green glow from the exit signs reflected on the screen doesn't enhance the movie for me.
And on the subject of 3-D movies, this is where I think movie theaters really get it wrong. I'm of the opinion that surcharges for 3-D or "real-D 3-D" and IMAX movies are boosting the box office results even if the number of tickets sold is actually declining.
I should acknowledge that I am a total hypocrite: for all my complaints, I still go see new releases in the theater with some regularity. Also, at one point when we were watching X-Men: Days of Future Past I said "hey, shut up!" to the group with the toddlers which I realize was probably more distracting to other people in the audience than the kids.
I have a whole host of complaints about movies coming out these days, but paying more to sit in an audience that behaves worse is tops. If you can't turn your phone off, stay home. If you want to talk to your friend, stay home. If your child still drinks from a bottle and you don't have a babysitter, stay home.
The movie will be on Netflix or Amazon or Hulu or HBO or cable or Redbox in another month, anyway.
Addendum: About a week after I posted this, my friend Meredith and I saw the X-Men movie again at a 21+ theater in Portland. It was a very pleasant experience.