I've been reminiscing about our trip to South Africa a lot lately.
This is in part because this time last year, I was churning out recap posts. Also partly because it's been gray and rainy in Seattle and I didn't remove Cape Town from the weather app on my phone so I am often reminded that it's 90 degrees and sunny there. But mostly, it's because I found a ziplock baggie full of tea bags in my desk, and it turned out to be rooibos tea from the Kloof.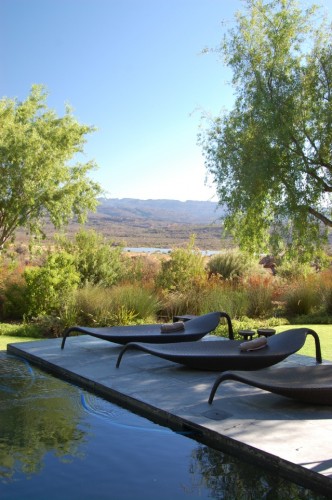 The pool outside Koro Lodge, where we stayed at Bushman's Kloof.
Something strange happened when I came home from South Africa – I was so into drinking tea that I stopped drinking coffee. I say this is strange because I've loved coffee for as long as I can remember. My parents are both coffee drinkers, and I remember smell of fresh brewed coffee filling our house every morning. I didn't start drinking it until I was a teenager, but I got my coffee in the form of ice cream when I was just a kid.
I still like my morning cup of coffee to taste like ice cream, which means cream and sugar (or better yet, vanilla syrup) in no small dose. But in Cape Town, the coffee was so fresh and sweet that I could drink a cup with nothing in it.
When we came home, the coffee from my beloved Starbucks just didn't hold up. So, I switched to chai tea and rooibos tea at the exclusion of coffee … for a while, anyway.
I'm back on coffee now, because the flavor of the coffee I drank in South Africa has faded from my memory, and because I have a Keurig coffee maker which basically makes coffee for me while I get ready in the mornings.
For Christmas, my parents gave me a box of the new(ish) Starbucks vanilla flavored K-cups, and it's what I've been drinking since. I know that it's not nearly as fresh and rich and tasty as other coffees, even coffees that I can find here in Seattle. But it's perfectly drinkable and with just a little cream and sugar, it taste just right, like coffee flavored ice cream. (And bonus – boxes of these K-cups have been on sale at Target recently.)
I must warn you, though – if you don't have a Keurig and like your morning cup to taste like a bowl of ice cream, do NOT try the vanilla flavored Starbucks Via. It tastes bad, even when I'm not comparing it to the fresh brewed coffee of South Africa.