I mentioned a couple of weeks ago how happy I am to be back in the kitchen, cooking. It's been ages since I posted any new recipes, but this week saw plenty of successes. Some of the highlights …
Oven fries, braised broccoli, scrambled eggs.
Last weekend, when I braised some broccoli to go with my takeout Thai food, well, that was sort of a happy accident. My steamer basket was in the dishwasher and I hate cleaning it by hand, so I decided to try something new. But it needed to be quick – I was hungry. I loved it! Anyways, the second go-around wasn't quite as successful, but still pretty good.
But the potatoes were amazing … we ended up having them again Wednesday and Thursday.
My proudest moment in the kitchen, though, was a flank steak. I'm often guilty of making all the vegetables for our meal and leaving the meat for Joel to cook. But this time, I did it all myself, from the marinating to grilling to slicing. I let Joel help me eat it, though, with some fajita veggies and covered with guacamole and pico de gallo. I had corn tortillas, he had flour.
And a couple of work lunches …
Cobb salad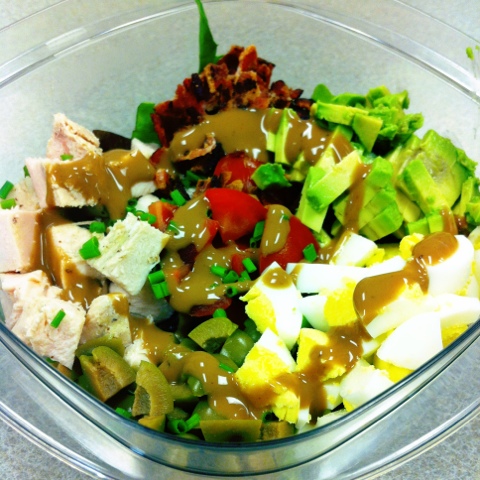 Mixed greens with half a chicken breast, a couple of tomatoes, a handful of green olives, two strips of bacon, a hardboiled egg, and half an avocado. I chopped everything up and drenched it with Annie's balsamic vinaigrette.
A couple of weeks ago, I fessed up to my chicken salad wrap obsession. Well, my friends, it is still going strong. I do try to make it a little different every week, and this week's salad was my best yet. Please click here for the recipe. It's apple-pecan chicken salad and it's mayo-free (I'm not a fan).
What was your latest kitchen creation?