If you are reading this, I can assume you are connected to the internet, and if you are connected to the internet, I can assume you already know that Nelson Mandela died yesterday.
I'm struggling with what to say about his death. I'm sure that I'm not the only middle-class white American writing today about those two minutes of my life when I peered into the prison cell where he spent 27 years of his. But I'm also sure the reason anyone, myself included, is writing about it today is because when we visited that space, we were moved by it – the experience sunk its teeth in to me and it stuck.
As I said in my post about Robben Island, it's ironic that one of the most beautiful places I visited in South Africa has the most sordid history. It's also ironic that most of the people who spend time on Robben Island today are so removed from people who spent time on Robben Island when it was a prison. I was there on vacation from my regular life; I paid money to go on a tour of the island.
The thing about that experience sticking with me is that I've noticed Nelson Mandela's words everywhere. Not because they weren't there before, but because I pay attention now in a way I didn't before.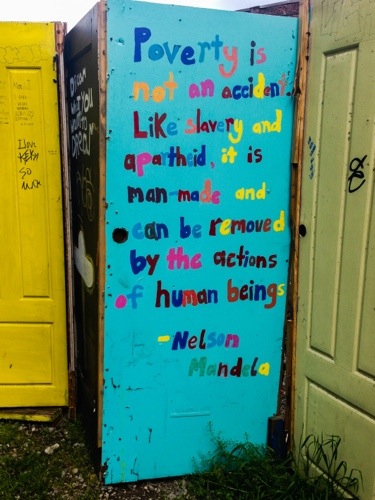 In Portland last spring, on a bank of doors that separate the homeless camp from the rest of Downtown Portland.
On the Brooklyn Bridge, when we were in New York this summer.
I was following the news stories about his deteriorating health and several hospitalizations over the summer, until I read this article on NPR, criticizing the media coverage of his health.
Personally, I think the media deserves some criticism for the coverage of his health, but I have a bigger concern: they all talk about what Nelson Mandela did to end Apartheid, and that he was the first President who'd served time in prison, and that he won a Nobel Peace Prize. These are big and terrific accomplishments, indubitably.
What they aren't talking about is the fact that although Apartheid has ended, over a million people in South Africa live in townships, left over from the segregated districts established during Apartheid. Some of the homes in townships are (literally) pieces of corrugated metal duct taped together.
But the most disturbing part is this: South Africa has one of the highest rates of sexual violence in the world. Women in South Africa are more likely to be raped than learn how to read.
That is horrifying and awful, and so foreign to me that it sounds like something that would happen in one of the post-apocalyptic, dystopian worlds in the novels I've been reading, not in the world we live in today. Something else that sounds like the stuff of fiction is that there are people alive in 2013 who believe that having sex with a virgin will cure HIV/AIDS or raping a lesbian can "cure" homosexuality. Unfortunately, that's all true, and it's often the reason for South Africa's widespread sexual violence.
I don't mean to be such a downer, or make light of the legacy Mandela leaves in South Africa. But when you're talking about his passing, remember that his work to end racism isn't done. While we focus on honoring Nelson Mandela and his accomplishments, this stuff needs to be talked about and not forgotten.