Hello! Well, it's the first Monday of another month, which means it's time for one of my self-indulgent monthly recaps where I share photos and tell you what I was up to last month.
Only one problem this time around – I hardly took any pictures in November. And the ones I did take were mostly of cats.
… So cat pictures it is!
We went to see Interstellar at the Pacific Science Center – I'm terrified of space and wasn't super enthusiastic about seeing it (I think I spent as much time staring into my popcorn as I did staring at the screen.) But it really stayed with me – likely because it freaked me out so much – and I've been thinking about it ever since.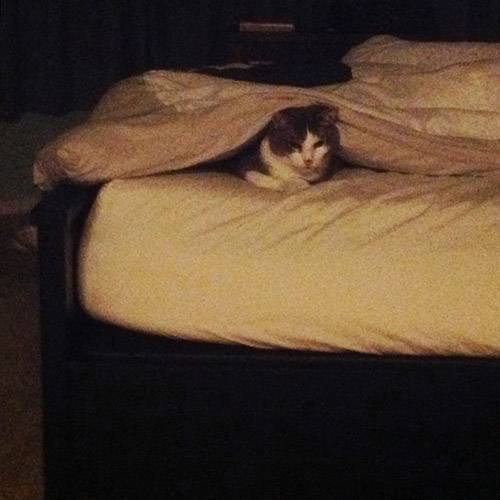 Eggs has taken to hiding under our blanket at night – maybe he's scared of space, too. Or probably he's cold.
As always, even more exciting than the movie itself is the movie-going experience. Going to the science center is always fun (and we hadn't been since January!) and even if the movie disappoints, there's a great Thai restaurant just down the street where they fold their napkins like crowns.
Allegra wearing her napkin like a crown.
My yoga teacher training class is in its final few months, so that's been getting a lot of my attention and energy. I've gotten a lot out of it, and feel much more confident about my teaching. I'm also teaching a lot more – I taught FOUR classes in November!
An old, but amazing picture of Stormy doing yoga.
We celebrated Thanksgiving at my aunt and uncle's house. It was the first time since before I started blogging that I didn't take a picture of dinner! I know, I couldn't believe it either. So you'll just have to take my word for it that we had a terrific meal. I made a pretty delicious apple crisp, if I may say so.
Not last week's apple crisp, but a different apple crisp I made this fall 😉
Our friends were out of town for the holiday so Joel and I cat-sat their kitten, Neil de Cat Tyson. Neil had been very wary of us, until we were his only source of food and human contact. Now we are BFFs!
Look how adorbs Neil is!
And we did more karaoke – this time Allegra convinced my parents to come with us! I was worried it would be awkward, but it was a good time.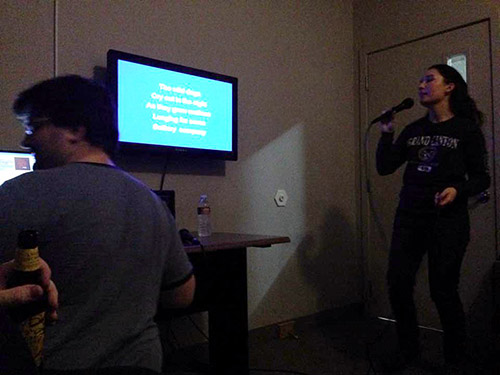 Allegra singing "Africa." This is Mere's picture.
Also, you may have noticed I've been giving my blog a little facelift. I'm hoping that a new look will get me more excited about blogging again. There are more (and more exciting) changes coming – but if you're reading in a reader or your email, please click through and let me know what you think!