Politics have no place on my blog. But, no matter your views on the Occupy Wall Street movement, you've got to admit there's been some great parody. My favorite was Joel's recent facebook update:
"Time to get up. I'm gonna #OccupyMyKitchen then #OccupyAStarbucks. Maybe later I'll #OccupyMyTimeWithVideoGames"
And I'm taking advantage of this opportunity to share what's #Occupy(ing)MyFridge. Just to warn you – I usually do my grocery shopping over the weekend so it's looking a little sparse right now.
On the top shelf:
2 dozen eggs. Actually, there are only 8 left. It's not uncommon for me and Joel to go through 2 dozen eggs in a week, so I stocked up last time I shopped.
Half a lemon
Half and half
Thyme
Farmer's market apples
On the middle shelf:
A lone artichoke
Some leftover tomato sauce – spaghetti sauce? Pizza sauce? Don't remember.
Leftover roasted beets
Pico de gallo. It's been there for about a week, I should finish that off today.
Sandwich meat
Joel's sour cream and salsa.
Tahini
My stash of GF flours – right now, I have almond, coconut, chestnut, and teff.
On the bottom shelf:
His & Hers bacon. Yes, we have to have separate bacon, otherwise we will fight over it.
Chicken thighs
Chicken meatballs
Water pitcher
Whole milk yogurt. I'm experimenting with dairy (again).
You can't see them in this picture, but tucked back in the corner is my stash of sauerkraut, picked carrots, miso, and pickle chips.
And in the crisper drawers right now are carrots, cauliflower, broccoli, and some bagged romaine.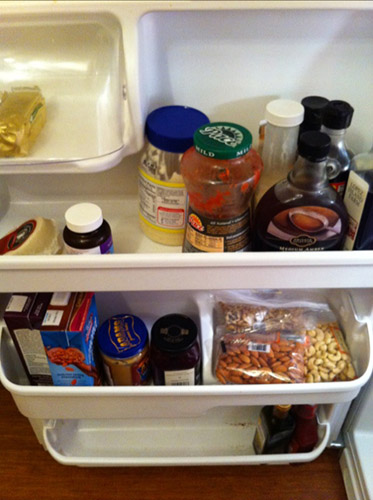 And in the door is Kerrygold butter, goat cheese, more salsa, mayonnaise, GF soy sauce, an assortment of salad dressings and maple syrup (yes, we have to have separate syrups, too), non-dairy milks, raw nuts, PB&J (those are Joel's), ketchup.
So, readers, what's #occupyingyourfridges?