At the end of 2014, I was introduced to the Bullet Journal style of journaling and note taking. I bought a Moleskine notebook, and wrote in a post that I'd be using it to get organized.
Well, ignoring the obvious fact that it's taken me this long to get organized enough to post about it, Bullet Journaling was a very successful endeavor. The first thing I did most every morning was sit down and make my to-do list for the coming day. On Sundays, I'd think about the coming week, and in the final days of the month, I'd start thinking about the next month.
I took that simple, plan notebook with me everywhere I went because it had everything I needed in it:
Monthly appointment book
Monthly goals/tasks
Daily to do list
Weekly meal plan and grocery list
Once early on in the year, I triple booked myself one evening and had to reschedule an appointment and choose between two social events that I'd really wanted to attend. And one time, I missed an appointment that I'd forgotten to write down. Considering that, before using this system, I used to chronically overbook myself or forget appointments, this is a decent track record for me.
But sometime in August (i.e. around the time our bathroom remodel started going awry) I fell out of the habit, and the few things I didn't like about the endless possibilities of blank sheets of paper became overwhelming. But I knew that keeping everything in a notebook was a more manageable system for me than my old method which was scattered between a Google calendar, Outlook calendar on my work computer, Evernote, and unending pieces of scratch paper or post-it notes.
So I decided to venture into the world of planners.
You may be thinking this doesn't sound like a harrowing prospect, but … you may be wrong. It turns out that planners/planning are huge fads on blogs and Pinterest and YouTube. I quickly felt overwhelmed by the stickers and washi tape and multiple colored pens "systems," so I just picked the brand that seemed to have the best reviews (Erin Condren Life Planner) and ordered one with the most subdued cover that I could find.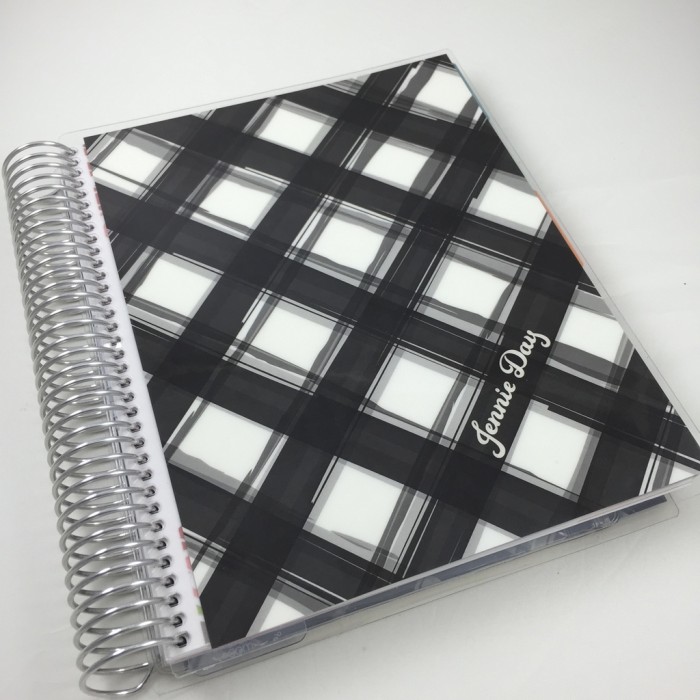 Keep in mind that I was going from plain sheets of paper, to …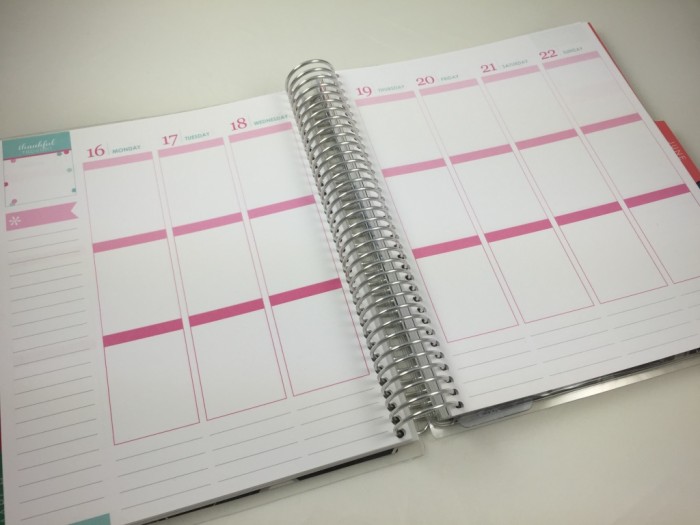 (Forgive me for showing a blank spread and keeping my lists of tasks and chores and appointments to myself.)
And, well. I didn't love it. At first.
But now that I've been using it for a little more than a month, I've gotten used to and quite like the structure (although I'm slightly embarrassed to use it in the office because of the over-the-top girliness.) I organize my tasks for the day into three categories "work," "chores around the house," and "everything else." I haven't quite figured out what to do with all the other blank spaces yet.
To be honest, part of me would love to ditch the cheesy planner and pick up a new, blank Moleskine – I felt particularly inspired after seeing some of the show-and-tell posts on the Bullet Journal blog. But I already spent the money on the fancy planner, and it occurred to me that the important part is the writing down of my tasks and appointments, not what I write them in.
And indeed, Winston Churchill said it better than I could, in his quote which inspired and became the title of this post – "plans are of little importance, but planning is essential." I've found it to be entirely true (and probably my biggest qualm about this planner-decorating craze on blogs and Pinterest.)
Plans are flexible – they have to be, because life is messy and you come down with a cold or have to tear your bathroom apart for the second time in six months. My planner is full of cross outs and scribbles. It's not beautiful (there's a reason I'm not sharing a picture of a filled out page.)
But the sitting down first thing in the morning to make my to-do list for the coming day, and on Sundays, thinking about the coming week, and in the final days of the month, looking ahead at the next month – that's the essential part.
Oh, but next year, I'm not going to bother with one of these trendy (ahem, $$) planners. I'll just get another plain, blank Moleskine notebook.