Today is our two year wedding anniversary! We're both taking the day off to celebrate two years of wedded bliss/happily tolerating one another.
In the meantime, enjoy this recap of our wedding ceremony, originally published shortly after we returned from our honeymoon.
***
First, the official stuff
Doug and Morgana signed as our witnesses –actually, we had tons of witnesses! Phil and Meredith picked up some pizzas for lunch, and none of the other rooms had chairs, so we had a crowd piled up in the bridal chambers eating lunch while we signed. It was crazy.
I didn't eat any pizza – I was terrified of getting some on my dress! But my mom had packed up some finger foods for me – baby carrots, tortilla chips, cashew nuts. Thanks, mom 🙂 It was exactly what I needed.
Before long, the room cleared, leaving just me and my bridesmaids. I was nervous, more nervous than I thought I'd be. I remember pacing, but actually, I think I'd already put my heels on and was more catatonic than anything. Whatever.
Allegra looked at me and said "getting married isn't hard, celebrities do it all the time." She knows me too well, that girl. I felt much better after a good laugh.
And then it was time to get married, really this time!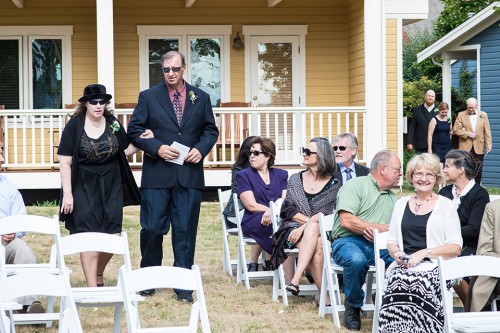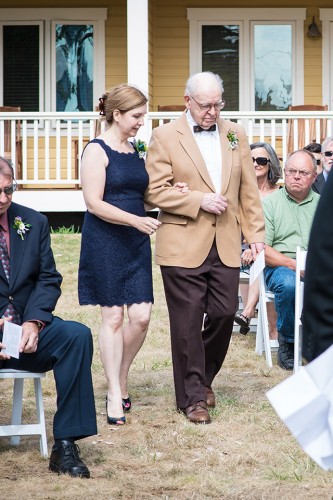 Joel's parents walked in first, then my mom and grandpa.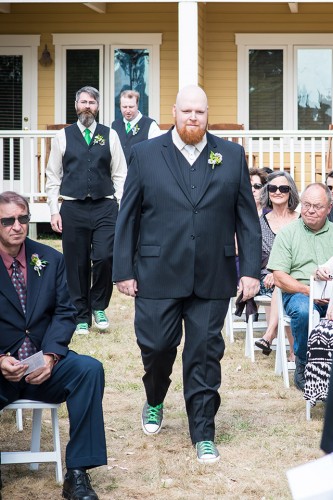 Then Joel and the men.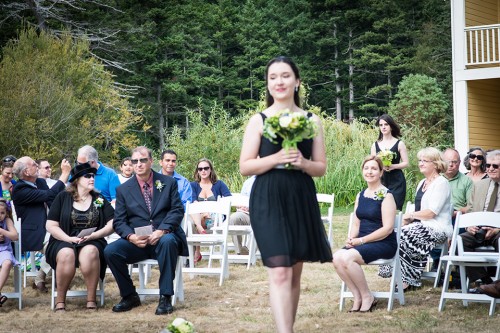 Then the ladies.
Joel chose "The Theme from Jurassic Park" as the processional music. My mother thought we meant this as a dig at our parents, so I'll clarify – we like it because it's a beautiful piece of music, and it's about a grand adventure! Which, as I understand it, marriage is.
And then it was my turn.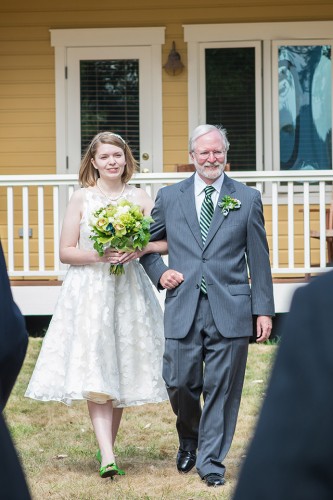 My dad and I walked in to the heavy metal version of "Here Comes the Bride" – months beforehand I agonized over what to walk in to. We watched Wreck It Ralph sometime last spring, which includes a wedding scene with an electric guitar "Here Comes the Bride" and I said "that! That's what I want!"
I'd like to add that during the rehearsal, our attendants did some mighty fine air guitaring to the song, but refrained when it came time for the actual ceremony.
After we made it down the aisle
Ron started with some words of welcome, and said a prayer.
I mentioned this in my post about the rehearsal dinner, but I'll say it again – we were so glad to have Ron marrying us. I think his ceremony struck exactly the right tone – serious, but not somber; traditional, but not formal. We'd considered asking a friend to officiate, but ultimately, Joel wanted to be married by a minister, and I wanted to be married by someone who at the very least would not forget our names. (Have you been to one of those weddings where the minister forgets one of the couple's names? So awkward.)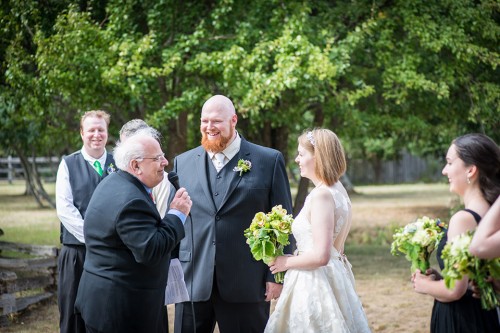 Ron said some words about marriage, and then we declared our intentions.
Then, Phil and Meredith got up to read
You may recall that we met Phil and Mere in January, on our trip to South Africa. We've since become close with them, and wanted them to be a part of our wedding. We considered asking them to be in the wedding party, but by then, it was so late in the game that it made more sense to ask them to read.
So we did what all good friends do, which was ask them to read, pick a reading without telling them, and then not bring it up again until the rehearsal. Yup.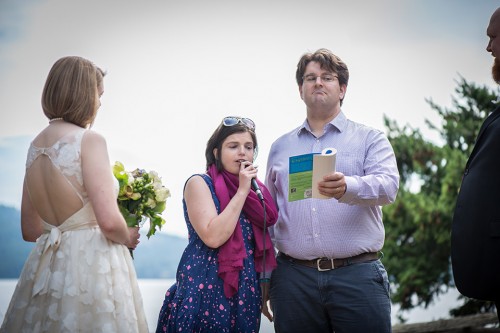 Anyways, they read from Rob Sheffield's Love Is A Mixtape, which is a book I read in college and thought of for the reading because Phil and Meredith have a copy on their bookshelf. Here's the text:
"What is love? Great minds have been grappling with this question through the ages, and in the modern era, they have come up with many different answers. According to the Western philosopher Pat Benatar, love is a battlefield. Her paisan Frank Sinatra would add the corollary that love is a tender trap. The stoner kids who spent the summer of 1978 looking cool on the hoods of their Trans Ams in the Pierce Elementary School parking lot used to scare us little kids by blasting the Sweet hit "Love Is Like Oxygen"—you get too much, you get too high, not enough and you're gonna die. Love hurts. Love stinks. Love bites, love bleeds, love is the drug. The troubadours of our times all agree: They want to know what love is, and they want you to show them.

But the answer is simple. Love is a mix tape."
I'll be straight with you – I spent a few sleepless nights worrying that our reading would be a little too out there, maybe a little too depressing, not quite wedding appropriate.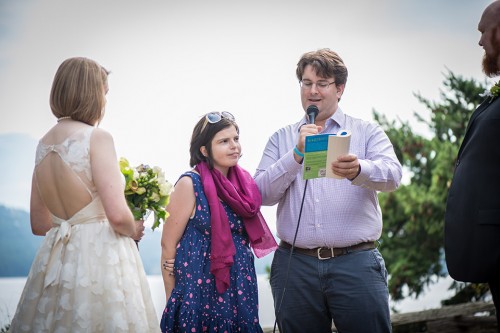 But Phil and Meredith did an awesome job, got a few laughs, and then Ron wove it in perfectly to his ceremony – talking about how love is a feeling, but marriage is a promise.
And then we made our promises
We ended up using the standard vows:
"I, Jennie, take you Joel to be my husband. I promise, before these witnesses, to be your loving and faithful wife; in plenty and in want; in joy and in sorrow; in sickness and in health; as long as we both shall live."
We kissed.
Then we got the heck out of there!