Twice a year, once in the fall and once in the spring, the Seattle Times and a smattering of Seattle area restaurants get together for Seattle Restaurant Week.
Last fall, gluten and I had an unfortunate meetup during restaurant week. But I'm not one to miss a discounted gourmet meal. My only caveat this restaurant week was that I wanted to choose one that I knew would be gluten free. A few I've had great success with:
–Salty's on Alki
–Seastar
–Carmelita (a vegetarian restaurant)
In addition, I found three restaurants with menus that denoted gluten-free offerings:
–Ray's Cafe
–Cafe Flora (for the vegetarians)
–The Olive and Grape – a Mediterranean restaurant in the same neighborhood as my yoga studio. Which is where we decided to go last night.
Appetizer: Black Walnut Salad Baby arugula and shaved radicchio tossed with a black walnut balsamic vinaigrette. Topped with toasted walnuts, parmigiano cheese, and cherry tomatoes.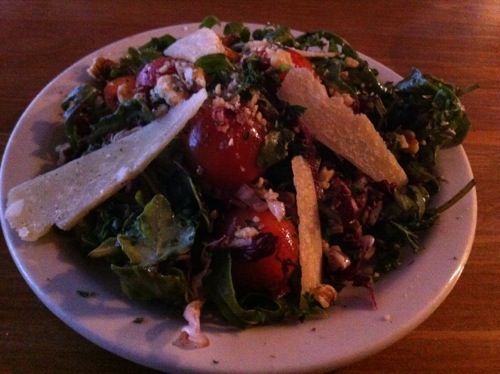 Main Course: Sea Scallops Seared and served over a roasted red pepper sauce. Topped with crispy bacon. Served with green pea risotto and grilled asparagus.
Dessert: Well, there was nothing GF on the restaurant week dessert menu. The waiter was more than happy to serve me gelato, but it was a Monday night, and I had leftover Easter candy at home … so Joel got two orders of baklava to go. He said it was good.
Overall, it was a really nice meal, and I was very impressed with how knowledgeable the waiter seemed to be about gluten-free. My only minor complaint was that Joel ordered lamb for his main course, which came with a lamb kebab that would have been GF and we could have shared. We asked that the kebab be brought out on a separate plate; instead we were brought lamb meatballs on a separate plate and the kebab on the plate with pita bread. But, not a huge deal, as my food was completely gluten-free.
The Olive and Grape has breakfast, lunch, and dinner menus, and all have gluten-free options, so I would definitely eat there again. Actually, their regular menu pricing compared to the restaurant week pricing was pretty much a wash. Next time restaurant week rolls around, we'll go to the most expensive restaurant we can find so we can take advantage of the deepest discount.