My friend Meredith released four new fragrances in her perfume line, Sweet Anthem. The Enchanted fragrances include two heroines and two villains, and are a great complement to the rest of her line which already includes Alice in Wonderland and Cinderella inspired perfumes. (And for what it's worth, those two are among my very favorites.)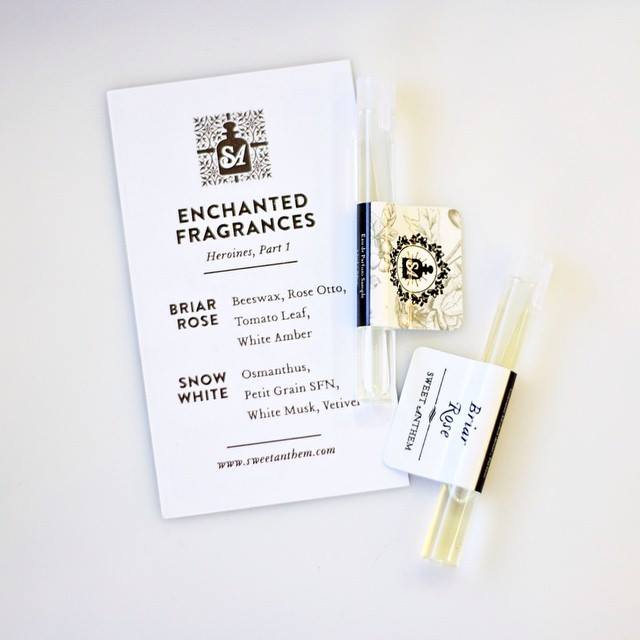 Photo courtesy of Sweet Anthem.
The Heroines
Briar Rose – Most of Meredith's perfumes, I can tell from sniffing the bottle whether or not I'm going to like it. This one was different – out of the bottle, the sweetness is overpowering. But I went ahead and wore it anyway, and I actually really enjoyed the scent after it had dried on my skin. It's still quite sweet, but not so much that it reminds me of the horrible lingerie store body sprays I wore in my teenage years. I've also found it layers nicely under the Black Queen … which is appropriate.
Snow White – Probably the weakest link in the Enchanted line, to me. I'm having a hard time describing the scent because it's very light and doesn't last on my skin. I can't pick out any individual notes, so I think it's safe to say they all blend together nicely.
The Villains
Red Queen – This is a reissued favorite from the Sweet Anthem line, from long before I ever knew Meredith or her perfumes. This is the most nuanced of the enchanted fragrances, and the balance of sweet (from the honey and fig) and spicy (from the cardamom and pepper) is perfect for a villainess themed fragrance.
Black Queen – Easily my favorite of the Enchanted line. This has the same linden blossom and tonka bean notes from last winter's Lolita, which I loved, but is a bit earthier with the oak moss and apple notes.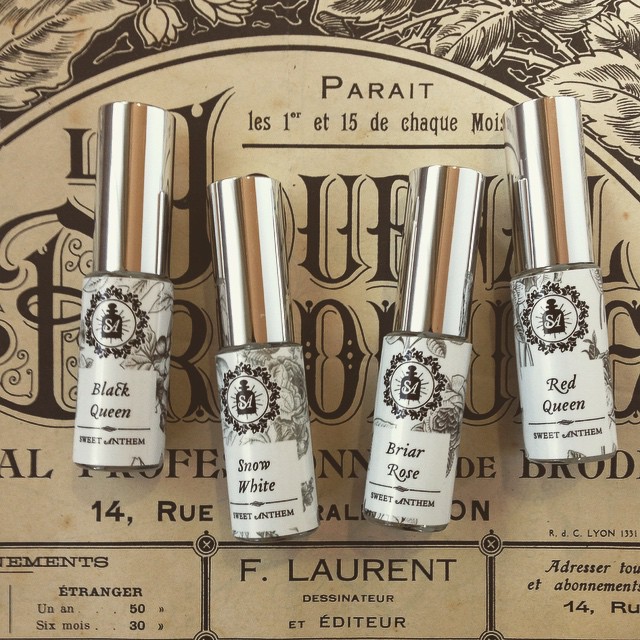 Photo courtesy of Sweet Anthem.
You can buy the
Enchanted fragrances sampler set
with all four fragrances from the
Sweet Anthem website
.
Disclaimer – Meredith gave me samples of these perfumes in exchange for this review. All opinions are my own.