It's restaurant week again in Seattle right now, and Joel and I decided to go back to Seastar this year. We had a really lovely time, discussing wedding planning and plans for our next vacation. I got to eat calamari – I don't know that I've ever eaten it not breaded and fried, and I couldn't decide whether I liked it or not, but I gave it a fair shot.
Starter: Thai seafood salad.
Seastar is one of those restaurants that when I say "I'd like the salmon, is it gluten-free?" they say "we'll make it gluten free." They had to check on the spice rub on the salmon, as well as the pesto in the pesto mashed potatoes, but all was safe.
Entree: plank roasted steelhead salmon
We both had the same dessert. Here's Joel, cracking the sugary crust.
Dessert: vanilla bean creme brûlée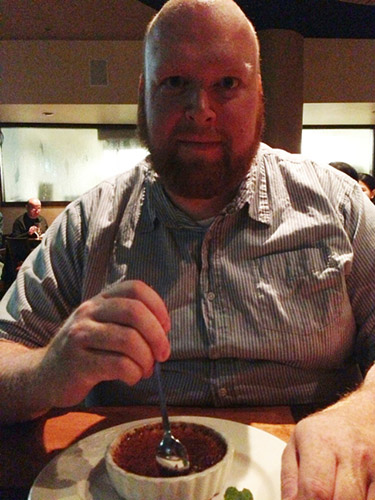 Looks delicious, right? Yup, another wonderful meal that I'm sure I'll remember.