There's a bar on the lowest level of Pike Place Market where my friends from my college writing classes and I used to hang out on Thursday nights. Another of our classmates tended bar there and she'd sneak us free beers. Thursday nights were quiet, and we felt very sophisticated and writerly.
There was a particular Thursday in November of 2008 – I was just a few months from finishing my degree, and the friends I was with had graduated the previous spring. That night, some other friends of the girl who tended bar showed up, all of them older than we were, and also writerly types. One of them announced "my novel's going to be published next year!"
My friends and I spent the rest of the night talking with him, because we were excited and curious and a little jealous. He was the first person we'd met to complete the same writing program that we had and get published. "Did you work with an agent?" and "who's publishing it?" and "what kind of book deal did you get?" we asked.
"Actually," he said, "I'm going to self-publish it through Amazon."
Amazon's self-publishing program was new, and seemed like a totally illegitimate way to get published. But as he explained, he'd been working on this novel for five years: workshopping it, writing proposals, sending it around, getting rejected. He was done and ready to move on to the next thing, but after all that work, he wanted to put it out there for consumption. Self-publishing seemed the perfect fit.
In the years since, the closest I've come to getting my writing published is when I hit the "publish" button on blog posts, but I know that the publishing world is changing and Amazon's Kindle Direct program has had a hand in that. The other big factor is (as Courtenay Hameister explained in a monologue on Live Wire and I transcribed in this post) that publishers are getting more discerning about the authors they work with and favor those who come with a built-in audience.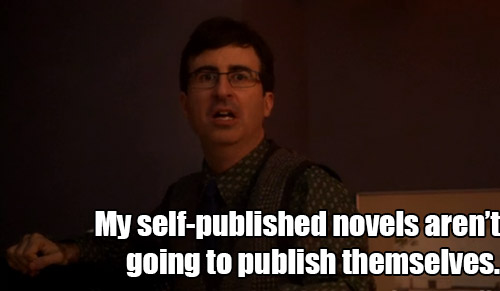 The title of this post comes from a recent episode of Community.
Last week, Joel and I went to the live recording of Slate's Audio Book Club, where we met Hugh Howey, author of the book Wool, which I read in November. I intend to write more about the discussion, probably after the podcast has been posted which I expect will be later this week. In the meantime, I've been reading some of Howey's posts about writing and self-publishing and realized I had enough interest in the subject and enough to say that it warrants its own post.
Howey is kind of the poster child for self-publishing – his success story is what everyone who self-publishes hopes for. His self-published novel was so successful that it was picked up for traditional publishing by Simon and Schuster.
In no small part, I'm sure, based on his own success, Howey has become a huge advocate for self-publishing. A quick google search reveals that he's ruffled a few feathers, particularly among authors who work with traditional publishing houses. Many of the arguments read "but this isn't the way we've always done it!"
Whether people agree or not, self-publishing is becoming reputable and more authors are choosing it over the way it's "always" been done.
Personally, I have mixed feelings about this, because on the one hand, I like bookstores and I don't want to see Amazon put them out of business. It's hyperbolic to say they're monopolizing the way books are printed and sold, but they now have a hand in publishing, selling, and marketing books and do so in a way that's convenient for writers and readers alike.
This is from a 2006 article in Wired, which is about search marketing, but uses bookstores v. Amazon to prove its point:
The average Barnes & Noble carries 130,000 titles. Yet more than half of Amazon's book sales come from outside its top 130,000 titles. Consider the implication: If the Amazon statistics are any guide, the market for books that are not even sold in the average bookstore is larger than the market for those that are.
The article is still relevant after seven years, but especially because from what I can tell, self-published authors having great success are writing in niche genres (think sci-fi, romance, mystery.) Which is not to say that genre books don't fare well in bookstores, but, well, wouldn't you read more if rather than having a finite number of books on a shelf, you had nearly limitless options available for digital download?
The Wall Street Journal published an article last month about another genre writer having tremendous success with self-publishing, Russell Blake. The article is now behind a pay wall, but you can read a sizable excerpt on this blog. Blake credits his success to being prolific: according to the article, he wrote 25 books in 30 months.
What he doesn't credit, but I'm sure is also helping, is the fact that he hires multiple editors and proofreaders to clean up his writing. Similarly, Howey recommends that aspiring authors invest in editing and cover art for their masterpieces. The good news is that authors are fully in control of the presentation (as it is, I understand that the publisher has final say on cover art, title and subtitle, and even trivial things like characters' names.) The downside is it's the authors' responsibility to make sure their work is ready for public consumption.
I think this is a fair price to pay. Amazon makes it easy and convenient to get writing into the hands of readers, and there's money to be made. Hey, it could even have the added bonus of scaring traditional publishers into focusing on putting out better books, and decrease the number of ghostwritten books with a celebrity's name on them … but I'm not holding my breath.
Howey says in his advice to aspiring authors "Think about this for a moment: The self-pubbing revolution is in its infancy. The people writing and publishing today have had no time to be discovered. It's a marathon."
What I'm getting at is that self-publishing is going to continue to grow, and this is a good thing. In five years, I've gone from side-eyeing the writer I met using it to publish his novel, to buying self-published novels on the regular. To publishing my own, maybe?
We'll see.