Dear Jon, John, Dan, and Kristen,
In March of 2012, my then-boyfriend/now-fiance Joel and I made two important purchases:
Tickets to the Eugene Mirman Comedy Festival, featuring Eugene and Kristen Schaal
A Bob's Burgers poster that we planned to ask Eugene and Kristen to sign after the show
Here is a picture of the poster: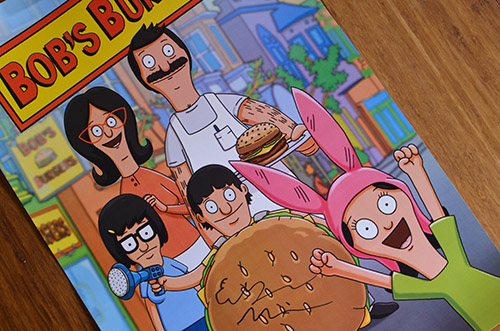 Note the lone signature of Eugene Mirman.
After the comedy festival show, we hung around and Eugene was the first to etch his signature to the poster. I took a picture of Joel with Eugene, onto which I added a picture of a cat.
Observe: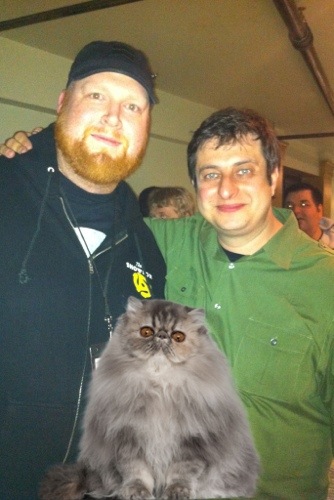 Joel currently uses this as his bio picture on his work website.
We waited around for Kristen Schaal, but she never came out to greet her adoring fans. We were disappointed, and have, in the months since and with varying degrees of affection, taken to calling her "that horse," due to a particularly memorable bit she performed that night with Kurt Braunohler. We knew we'd probably see her perform again, and anyway, we had tickets to see another Bob's Burgers comic the following month: Bob himself.
Jon Benjamin was touring to promote the prematurely cancelled Jon Benjamin Has A Van, and once again, we waited around after the show, hoping to collect another signature on our poster. But no dice. "Oh well," we said to one another, "his TV show was just cancelled and the comedy show had to be moved and rescheduled at the last minute. Maybe it wasn't a great night for him and he wasn't in the mood to greet fans. We'll just have to see him again!"
And so we waited. Patiently. For a year. When finally, the Bob's Burgers tour came to Seattle.
"Finally!" we said to one another, "we can get more signatures on our poster!"
So imagine our disappointment when, after the Thursday night performance where we laughed along with the huge crowd of Bob's Burgers fans, after the years of being fans of the show (since the first episode, guys), after the year of waiting to collect those signatures … the security crew at the Neptune told us to leave because you all had already snuck out the back.
We went home that night, sad and dejected. We called you all a bunch of horses (with no affection.)
But we learned later, through a tweeted exchange with one Mr. Eugene Mirman, that actually, when you came out after the show to greet fans, we were all gone. Well, now you know why. It's not because we didn't want to meet you or want you to autograph our posters. We did! It's because the security crew are all a bunch of horses.
Now, come back to Seattle and sign my poster!
Sincerely, and with admiration,
Jennie (also Joel)