As I mentioned in my last post, Joel and I went to the Slate Audio Book Club's live recording with Hugh Howey the last week of February.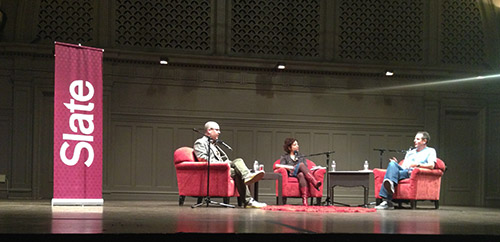 It was kind of an accident – around Christmastime, I saw a link to buy tickets to see Hugh Howey in Seattle, so I bought some thinking it would be a reading by the author and maybe the local bookstore would be there to sell books (like I said in my review, we've had a hard time finding copies of the second and third books in his Wool series.) After I'd hit "purchase," I went back and read the description and in fact, it would not be an author reading but a discussion of Kurt Vonnegut's Slaughterhouse Five.
Oh.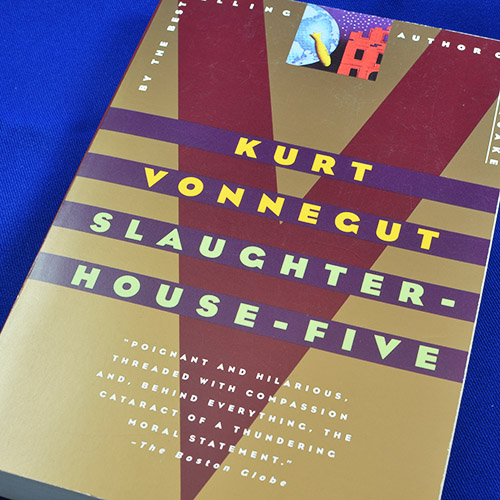 Somehow I made it through high school and college without ever reading it, but I had a copy on my shelf that I'd always *meant* to read and here was the perfect opportunity.
It took me several weeks to get through the first chapter, but I really enjoyed the novel once I got into the story, and was curious to hear what the book club discussion would … discuss.
The podcast has been posted and you can find it here – it's worth a listen if you like Vonnegut in general and Slaughterhouse Five in particular.
When the discussion started, host Dan Kois explained that this was the first ever live taping of the Audio Book Club, and the first ever to include a guest host. They'd asked Howey to choose the book to be discussed, and Howey chose Slaughterhouse Five as he'd spent a significant amount of time with it writing his Vonnegut fanfic, Peace in Amber.
It was this part of the discussion that I thought was most interesting – Amazon's Kindle Direct publishing program has licensed a number of "worlds" for authors to write in (and then, of course, self-publish through the program.) Howey's silo saga (that's Wool and its sequels) is one, and he was asked to contribute a piece of his own. He'd been in New York on 9/11 and talked frankly about how haunted he'd been by the experience and the peace he found writing in the world that Vonnegut established to make peace with his own war experience.
Let me know if you check it out – like I said, it was an interesting discussion, and Joel and I both appreciated getting cultured.