First, a note: this post originally started as three separate posts about disparate topics, all of which were interconnected in my head. It has become one mega post. I tried to explain the connecting threads, but this might all read like nonsense. If you manage to make it all the way to the end of the post and it doesn't make sense, please accept my apologies; if you manage to make it all the way to the end of the post, I hope it's at least thought provoking and you'll let me know what you think.
***
About a month ago, Rand from Moz posted about a video on
his blog
. It's about the world of indie games, but on a grander scale, it's about becoming famous and how popularity changes people and the internet.
It's about a guy named Phil Fish.
Rand encouraged anyone in marketing to watch it, so I did. And then I watched it again. And a couple more times since.
I implore you to watch it too, but assuming that not everyone will, here's a quick summary: Phil Fish became famous in the world of indie games, mostly for being outspoken on a games forum. Over the course of several years, that fame turned to hatred, and eventually, he was famous among the indie game community mostly for being hated.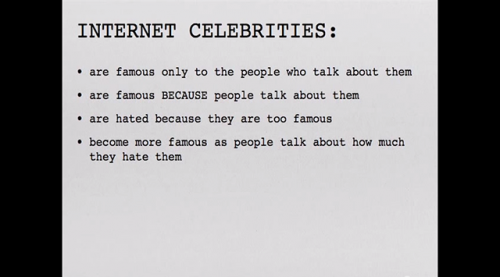 Screenshot from "This Is Phil Fish."
I don't know anything about the world of indie games … but on GOMI, my favorite snark site devoted to talking about bloggers, this same scenario has played out several times.
It usually starts with a well-intentioned person starting a blog and gaining a bit of traction. With that attention, the new blogger begins to behave differently, which leads to criticism, which leads to a blogger backlash against "the haters," which leads to backlash against … the backlash, I suppose (or maybe at this point it's a backlash against the backlash of the backlash?) Snarkers keep reading just to hate on the blogger, and pick apart every tweet and Instagram and typo. Eventually, the snarkers can't remember why they liked the blogger in the first place and the blogger is famous, it seems, for being hated.
Although that example is specific to bloggers, it happens all over the internet. The internet allows us to build communities and connect with people who like same niche things that we like.
This gets just a moment's mention in "This Is Phil Fish," but I think it's one of the more important points:
Screenshot from "This Is Phil Fish."
What's important to us, on an individual level, isn't necessarily important to the culture at large. But it is important to other people, and we can connect with them in these subcultures. The more we talk about the things or people that are important to us, the more important they become.
I think this splintering of cultural importance is such a compelling point in the video, because if it weren't for subcultures, people like Phil Fish would have no chance of achieving fame of any kind, and thus, no chance of being hated on such a large scale.
The central argument made by Ian Danskin (who made the video) is that internet fame is passive – something that happens to you. This is in contrast to the pre-internet idea of celebrity, which is something that you actively buy into (by signing contracts and creating records or movies or news or erm … legislature (my political naiveté is showing).)
This is my only point of contention with "This Is Phil Fish," and the reason I'm posting this response. But I'll explain myself with another story of internet fame.
Recently, I was linked to the story of Msscribe, a Live Journal user c. 2003-2006 who became internet famous in the Harry Potter fanfic community, mostly for being picked on by religious zealots. Most of those turned out to be sock puppets, but don't worry – her fan girls stood up for her. Except those fan girls were sock puppets, too.
After her initial entry into the fanfic community, Msscribe was famous for being famous, then famous for being hated. This is a story of extremes – extreme fame in her particular subculture, extreme hatred, and the extremes to which she went for both.
It's also the perfect example of someone who realized that she couldn't sit back and wait for internet fame to come to her. She shamelessly promoted her fanfic, but it doesn't seem to me (an outsider, reading ten years after the fact) that her motive was to gain notoriety for her writing; rather it was to become a member of an exclusive group within a subculture.
Msscribe is clearly someone who actively wanted, sought, and achieved internet fame – she wasn't the first and she won't be the last. If you're thinking "well, that story's old, it doesn't count" a similar story broke just last month on GOMI. Her case was not as long running, but turned out to be equally jaw dropping because she had stolen her blog content from various sources (mostly other bloggers.) She was so hungry for attention and glory and so unwilling to wait for it, that she tried to cut corners both in writing her blog and promoting it.
You could make a case that these people, the ones who go to extremes to get famous on the internet, are few and far between. But I'm willing to bet that deep down, most of us who have blogs or YouTube channels or whatever harbor at least a niggling desire for even a tiny dose of fame.
Sure, it takes a good amount of luck for any one person's videos or blog posts or tweets to get noticed out of all the videos and blogs and tweets on the internet today. But if they didn't want even a modicum of a following, would they have put their videos/blog posts/tweets up for public consumption in the first place?
"Everyone has their own agenda," as the saying goes, but on the internet, so many of us share the agenda of showing off, self promotion, seeking praise. If I'm being perfectly honest, I'm not above it.
Danskin's argument that Phil Fish became internet famous by nothing of his own doing is kind of a foundation for the rest of the argument, and I don't necessarily disagree in this case. However, though he didn't actively seek fame, he was an active participant in being famous by maintaining his game log on the forum, being involved in a documentary, participating in at least one games panel – possibly more, those are just what's mentioned in the video.
Another point made by Danskin (emphasis mine):
"[Phil Fish] seemed to perversely enjoy when people started talking about him. That cockiness usually comes with an arrogant assurance that you deserve to be spoken of, and a gnawing fear that you actually don't."
That point is what connected these three seemingly disparate points for me, because the same day that I re-watched the video, I'd read a comment made on the Msscribe story:
"Seems to me that the sockpuppets enabled her to play out an internal conflict between her admiration for those she wanted to be associated with, and her self-disgust for wanting it so badly and/or doing nothing to deserve it."
(Again, emphasis mine.)
My little quibble with the argument in "This Is Phil Fish" is largely irrelevant. By whatever means someone becomes famous, they'll doubt and question whether they're deserving of that fame, and I'm sure this is true for the "household names" kind of celebrities, too.
I think it's that self doubt that led both Phil Fish and Msscribe to more or less expunge their respective online presences. They were both called trolls, though for different reasons, and maybe because they recognized some truth to that or didn't want to be called as such or both, they both dealt with it by stepping away from internet fame.
Remember the Slate article from a few months back about trolls? Here's the link to the article, if you missed it or want to refresh your memory. Basically, it said that true internet trolls are a pretty small subset of people online, and they typically show signs of narcissism or psychopathy or sadism.
People on the internet don't like trolls, for obvious reasons, but more and more, I see people on the internet pointing fingers and calling anyone who voices disagreement a troll. The response to the Slate article was kind of fascinating – I saw a number of bloggers with large followings saying things like "see?! You meanies are just narcissistic psychopaths!" (They might not have said it in as many words, but the sentiment was there.)
From what I see online, people are quick to accuse others of trolling and cyber bullying, but vigilantism against those people is pretty well tolerated. The internet is a weird place.
As Danskin argues in the video, once someone internet famous crosses that threshold into internet hated, there's no going back, and it's not because of something they've done. It's because the rest of us have acted poorly against them – maybe said some deplorable things, maybe allowed someone to act as a vigilante against them. If the likes of Phil Fish and Msscribe aren't trolls, then the rest of us have to face the fact that we've acted like trolls.
source
I know this already tl;dr, but there's just one more thing I want to say: I think the reason we get invested in the stories of Phil Fish or Msscribe or bloggers we love to snark on or anyone who achieves internet fame is because they're easy targets.
When last I checked on Thursday night, the Phil Fish video had upwards of 254,700 views and a mostly positive response (15,000+ thumbs up compared to less than 1000 thumbs down.) Danskin posted on his tumblelog that if a video of his were to go viral, he'd rather it be about a more important topic — specifically, Anita Sarkeesian, a feminist blogger who started a Kickstarter about "tropes vs women in video games." But (this is a point in the video and his post) he recognizes that a video about Sarkeesian wouldn't generate nearly as many views and would have a far more mixed response.
GOMI admin/founder Alice said in an article posted earlier this week that "[p]eople hate-read blogs for the same reason they watch train wreck reality shows … It's entertaining to see the mess and the 'What the hell?' of it all."
Then there's the Msscribe story, which, even more than ten years later, still gets talked about on social media channels and people like me find it and get involved in the story.
Stories about people behaving well on the internet aren't nearly as compelling, and discussions about polarizing figures don't always generate response because people don't have the energy to get involved in the story and/or discussion. But these easy-to-hate people – we love watching them. They're interesting and entertaining and, I personally think, we get a little thrill from feeling like we're above them.
***
If you're still reading, congratulations! You've made it to the end. Thanks for sticking with me.