In 2012, my mom and I went on our first international yoga retreat to Italy* (though we'd gone to Portland and San Francisco for retreats, and been to several in Seattle.) At the end of our week together, the group sat in a closing circle for a little reflection, and one of the other participants said something like "when I used to travel as a younger person, I looked for the ways that we were different. Now I look for the ways that we are the same."
At the time, I thought that person was being a bit self-aggrandizing, but obviously it's stayed with me. Since I've been able to travel to more and different places since, I've come to appreciate that there's a sort of synchronicity that happens when you travel.
Every place I go is different, but I notice the similarities. Everywhere I go reminds me of somewhere I've already been.
After my trip to South Africa, where we visited Nelson Mandela's prison cell on Robben Island, I started noticing quotes from Mandela everywhere I went. As I wrote in a post following his death, that experience stayed with me, and that's why I notice his words now where I didn't before.
Belize was no different; here's a Mandela quote painted into a mural on a school in Placencia.
Our trip was lovely: We spent ten days in the rainforest, and then three at the beach. I'm planning several recap posts about the trip … but as I'm writing this, I've been home less than 24 hours and I'm a bit sleep deprived, so I'm not even sure what to say.
But I know exactly where I want to start: Tuttifrutti Gelateria in Placencia, which we went to on our final day in Belize.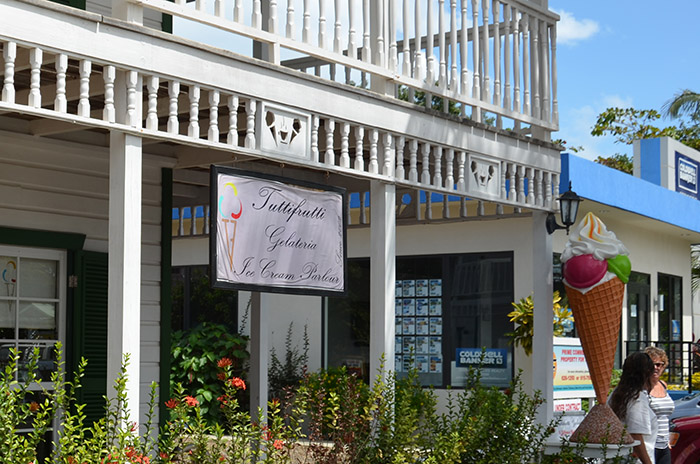 So imagine for a minute that you're me (don't be scared, it's just for a minute.) You're staying at a resort in the Belizean rainforest, asking for recommendations in the beach town you're headed to next, and the resort's manager, who is a South African woman, tells you about an Italian Gelateria.
You get what I'm saying about synchronicity, right?
Actually we would have found our way to the gelato shop regardless – it was also recommended to us by the staff at the hotel where we stayed, the cab driver who took us into town, and the woman who ran the jewelry boutique across the street. Tuttifrutti is the #1 rated restaurant in Placencia on Trip Advisor 😉
The flavor offerings change daily. They all sounded amazing, so we decided to mix two: blackberry, and rum and hazelnut (because when in RomePlacencia.) Both were sweet and rich and creamy, but the rum and hazelnut completely stole the show.
(My picture is blurry because I was too excited to eat it and couldn't sit still!)
*I just noticed that many of my travel photos, particularly from Italy, aren't showing up after the issues I was having with my site last fall. I'll work on getting those back up.