Like everything else about our wedding, my bachelorette party came together at the last possible moment. (I had a mini-meltdown about that, too.) But it ended up being a blast, and I wouldn't have wanted it any other way.
The thing no one told me when I chose Allegra and Morgana as my maids of honor was that when one of your maids is under 21, and the other lives on the opposite side of the country, you'll have to do a bit of the grunt work to make your own bachelorette party happen if you want it to happen.
I don't mean this as a complaint – having a bachelorette party isn't life and death (obvs), and I'm grateful that I had one at all. But thinking back to the weekend in Disneyland (when Joel was hosting his brother's bachelor party) Meredith kept asking what I wanted to do for my bachelorette party – in retrospect, she would've happily helped to plan it, and I severely misunderestimated how much I would actually have to do in the week before the wedding.
(I feel like I need to explain myself: my maids of honor are the best, and I'm glad I chose to give both ladies the title – there's a lot included with the position! As it was, Allegra spent a significant part of August helping to make origami flowers and getting organized for the rehearsal dinner, and held Joel's wedding band during the ceremony; Morgana helped plan the party even from all the way across the country, and gave the toast at the reception. I was glad to have them both with me.)
Enough of my rambling, let's talk about the party.
After my last, frantic dress fitting, I rushed back to West Seattle to let someone else take over at the wheel.
The thing no one tells you about wedding planning is that you lose your $h!t the week before the big day. Earlier that day, I was pretty sure I'd lost my car in the parking garage (nope, I'd just forgotten that Allegra and I traded cars, so I'd been looking for the wrong car.) Now I understand why brides need someone to drive them around everywhere.
So, Meredith drove me up to HOA Salon, where we met up with Allegra and Morgana for some mani/pedis.
Then we headed over to 50 North for dinner. I picked it because I'd heard they had plenty of gluten-free options and I'd been wanting to try it for a while, and it was relatively close to the nail salon. It was a great spot! I had GF fish and chips (not something I get to eat often – actually, the last time I had them was on our engage-acation!) and a bubbly pink drink.
I should mention that Morgana picked out a sash for me, and (thankfully) a classy one at that. It says, simply, "Bride to Be" and "Bachelorette." Thank you, Morgana, for picking the sash you did!
I wish I had more pictures to show you, but I only took two all night! I recreated this just for the blog 🙂
Actually, we skipped most of the tacky bachelorette party clichés – there were no penis-related gifts, no "last night as a single lady" jokes – it was awesome! I did get one rather racy gift from Erica, but she also gave me the blue jacket that I ended up wearing the entire wedding weekend, and all over New York City. It was the perfect thing. I have a great group of friends who are all classy ladies.
It was kind of a funny mix of ladies who came out, and most of them had never met before that night. I was a little worried they wouldn't get along and I'd feel pressure to be the center of conversation all evening, but that didn't happen at all. It was a great time.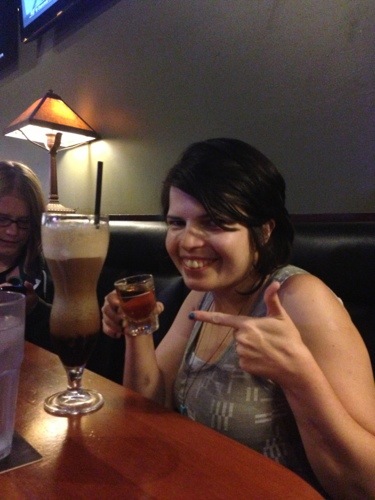 After dinner, Allegra took off and the rest of us headed across the street to the bar at The Ram. Meredith ordered a root beer float with a shot of whiskey, and the float was so tall she couldn't reach the straw!
I had a 7&7 and considered asking for a shot of ice cream to go with it, but ended up wimping out. Oh, well. There were plenty of tasty desserts to come that weekend.
And at about 11 o'clock, we called it a night! It was very low-key, but, like I said, a blast.
***
In next week's post: The Rehearsal Dinner …