So now we've arrived at the part of our story that's what you've been waiting for – the wedding day! Brace yourselves!
After breakfast on Saturday morning, I booted Joel out of the bridal chambers so that the ladies could take over and get ready.
One of my coworkers was a wedding planner and advised me to allow twice as much time as I thought I would need – and about fifteen minutes into it, I understood her advice! Not only did it take me longer than usual, but I was interrupted pretty often by, say, Joel coming by to collect something he'd forgotten, my mom coming by to check on me, the florist coming by to drop off bouquets … I'd allowed about two hours and fifteen minutes for getting ready and we needed every minute of it!
While the ladies were in our chambers beautifying ourselves, Joel and his parents, Auntie Barb and Uncle Gene, our family friends Tim and Diane, and the staff of the Inn were busy setting up. It turned out better than I imagined. I can be a little controlling sometimes, maybe, just a little, perhaps … and it was hard for me to step back and let everyone else take over what I'd envisioned.
As it was, I didn't need to worry at all – I didn't do a thing, and it all came together perfectly, AND everyone was ready in time to do pictures before the ceremony! So awesome, you guys. It feels a little insincere to thank you in a blog post, but really, genuinely, 1000 times thank you.
My favorite part of this picture is that, if you look closely, you can see Doug and Joel getting dressed outside on the balcony. I asked Joel about it later, and he explained that it was too hot in the room!
So after the ladies were ready, Joel and I had our "first look" at the bottom of the stairs to the bridal chambers (I know it's called the bridal suite, but chambers sounds more regal.)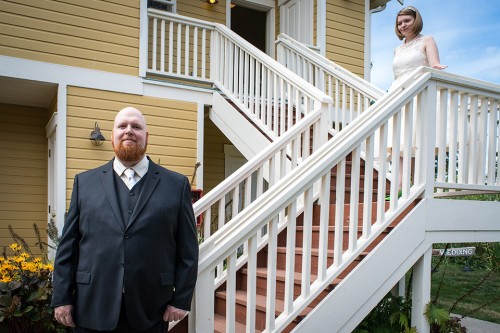 I set aside Joel's boutonniere and tie clip because I wanted to put them on him myself. A little silly, but I'm so glad we were organized enough to do this. I love these photos.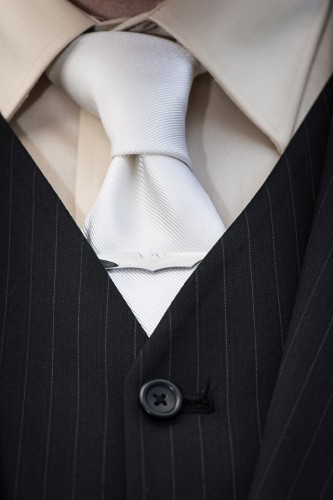 (And yes, I know a tie clip doesn't need to be that high up on the chest, but this was mostly about fashion, not function.)
What I didn't realize was that I would also be charged with pinning boutonnieres on the other guys, too! I am a pro, now.
I hope I'm not inundating you with photos – there are tons more, check them out on my wedding page (you can see them bigger there, too!)
***
In next week's post: The Ceremony …