Hoping all of you had a wonderful Thanksgiving!
We all know the story of the first Thanksgiving, thanks to South Park.
source
The first Thanksgiving Joel and I celebrated as marrieds was not haunted, and an alien didn't bring the stuffing.
We celebrated with Joel's parents. Think we made enough food for four people?
We offered to cook this year, so Joel made the turkey, and I made … pretty much everything else. Not that I'm complaining – it was pretty low key since there were just four of us, and I spread it out throughout the day so I was only ever cooking one thing at a time. Joel's turkey was fabulous, totally the highlight of the meal.
While I was busy in the kitchen, Joel and his dad put up Christmas lights.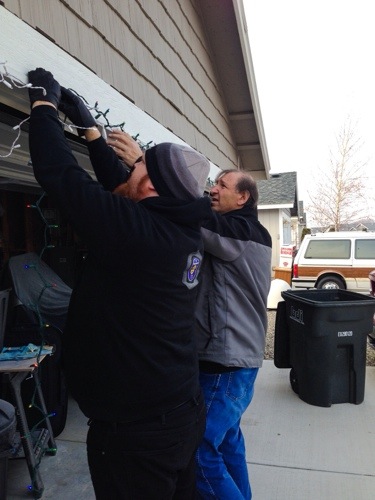 And after our meal, we headed out for the Black-Friday-on-Thanksgiving-Day sales. I felt a bit conflicted about shopping on Thanksgiving day, but I'll be honest: it was awesome to get some shopping done, get home at a reasonable hour, and sleep in this morning.
We'll probably head out for a bit more shopping today, but otherwise, we're just hanging out with the in-laws and their new puppies.
Look how cute and mischievous they are!! The puppies, I mean.
That's all for today 🙂
Enjoy your weekend!