Today I'm taking on Starbucks with my own recipe for a gluten-free-friendly Bistro Box. There are several things I don't like about their to-go meals …
First off – they're not gluten free. Every single Bistro Box contains some form of gluten in the form of either crackers, tortilla, pita, or soy sauce. In some, like the fruit and cheese plate, the crackers are packaged separately, so a gluten-freebie could (in theory) eat just the fruit, cheese, and almond/cranberry trail mix – but I wouldn't.
They're being advertised as a healthy fast food alternative. I'll give the Bucks a pass on this one – tuna salad or chicken and hummus is probably healthier than a burger + fries. But the boxes are still loaded with vegetable oils and preservatives, which I try to avoid.
Not to mention, the Bistro Boxes are priced for the convenience factor. It's just as easy to spend an hour on a Sunday afternoon baking up a couple of chicken breasts, slicing up your favorite veggies, rationing out a few handfuls of nuts.
But, if you, like me, went straight to the Chicken Lettuce Wraps but can't eat them because of gluten or vegetable oil or peanuts or whatever, I have created a delicious (gluten-free!) version for you here.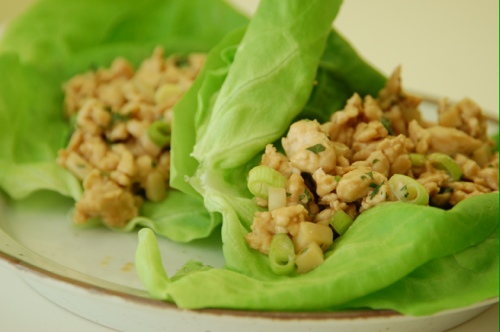 Chicken Lettuce Wraps
Here's what you'll need:
2 Tbsp tamari (wheat-free soy sauce)
1 Tbsp peanut butter (or other nut butter – tahini would probably be fantastic in this recipe)
1 tsp ginger, minced
1/2 tsp molasses
1/2 tsp sesame oil
1 lb ground chicken
Cooking oil of choice (I used coconut oil)
1 tsp arrowroot, tapioca, or corn starch
A lime
2 carrots
1 Red bell pepper
A cucumber
Scallions
Cilantro
2 tsp sesame seeds
Leafy lettuce (I used romaine)
Here's what you'll do:
1. Whisk together tamari, peanut (or other nut) butter, ginger, molasses, sesame oil. Reserve.
2. Heat oil over medium-high heat. Brown ground chicken in the oil, breaking it up as you go. When chicken is fully cooked, stir in soy sauce mixture, juice from half a lime, and the starch you're using. Continue cooking until sauce is very thick.
3. Remove from heat, stir in chopped cilantro (I went with about 2 tablespoons – I love cilantro!) and 2 sliced scallions.
4. Cut up your carrots, red bell pepper, and about half a cucumber into little matchsticks. Douse with juice from the other half of your lime, stir in chopped cilantro (as much as you like) and a teaspoon or 2 of sesame seeds.
Makes 4 servings.
I packed the chicken mixture, veggie slaw, and lettuce leaves separately so they'd be as fresh as possible at lunchtime, along with a handful of almonds and a few bites of chocolate for a complete meal.