Hi there. It feels like it's been a really long time since I've posted anything here on the gf-gf.
To be honest, I haven't been feeling too inspired, and haven't been doing much cooking lately. I'm hoping that will change soon, but between my hectic schedule and sporadic eating habits of late, food blogging has taken a backseat.
Perfect timing then that Laura of Laura Lives Life announced The Great Gluten Free Survey! It's a roundup of gluten free goodness.
1. What is your favorite gluten-free breakfast meal?
My favorite breakfast is an English muffin breakfast sandwich made with a Food for Life GF English muffin, a poached egg, a slice of cheese, and either a slice of turkey lunch meat (I like Columbus brand) or a couple of pieces of bacon.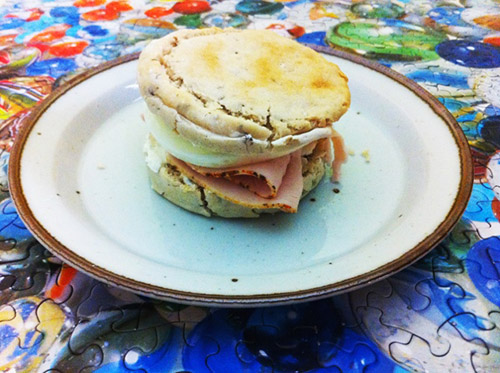 I used to eat eggs for breakfast pretty much every day of the week, and wrote a post devoted to the different ways I like to cook my eggs.
But truthfully most days of the week, my breakfast is a Kind bar and a big mug of coffee.
2. What are good gluten-free lunch and dinner options?
My favorite lunch is chicken salad on either a Food for Life brown rice tortilla or a gluten free sandwich petal. (Check out my recipe for apple pecan chicken salad.)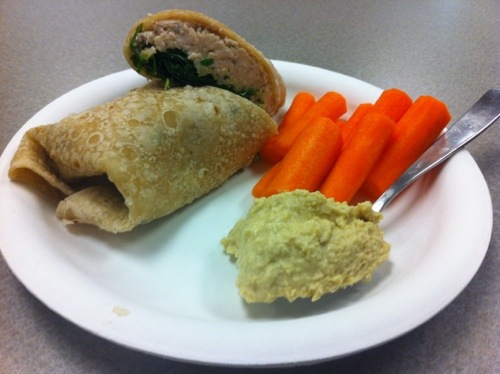 And for dinner we stick to the protein/vegetable/starch formula. Here's a recent one: pot roast, steamed asparagus, and potatoes and onions (the roast and onions/potatoes were cooked in the crock pot. So easy!)
My favorite thing to make is chili (I just realized I've never posted my recipe – this is a huge oversight on my part! I'll post it soon, I promise.)
The other standby is stir fry.
3. What is your favorite restaurant that has gluten-free options (and you'd haven't had a reaction from)?
My go-tos are pho and Thai restaurants – lots of rice noodles, minimal soy sauce.
And be sure to check out this post for a list of my favorite gluten free friendly restaurants (just updated!)
4. What is your favorite healthy gluten-free snack?
Carrots and hummus.
Trail mix.
Peanut M&M's.
5. What is your favorite gluten-free dessert?
This time of year, my favorite dessert is hot cocoa with marshmallows. Swiss Miss dark chocolate is the best (I think).
Or more peanut M&M's.
6. What are gluten-free travel trips? Any good tips/places to visit?
Absolutely, by far, the most important lesson I've learned and best tip I can give you is PACK SNACKS. Whether you're going on an hour long drive or ten hour flight, you don't want to be hungry and with nothing but an overpriced candy bar (been there.)
So far, I've not been glutened in my travels, but I play it pretty safe. Google is my number one resource when I'm traveling, and my backup plan is to find a grocery store (A couple of times I've made do with cheese and apple slices and wine – not a bad dinner in my opinion!)
For more, check out my posts with my adventures in:
And come back in February to read about my upcoming trip to South Africa 🙂
7. What do you know now about eating a gluten-free diet that you wish you'd know when you started?
A few things:
I didn't have to spend half my paycheck at the natural market on gluten free flours and cookies and pasta. Sticking to things that are naturally gluten free like veggies and meat is cheaper (and perhaps healthier).
It took some time to get used to the new diet and for my body to heal – the first few months after my diagnosis I got sick almost once a week! Eventually, it got much easier.
Stress makes gluten encounters worse. Relax and enjoy good food.