And all too soon, it was our last day in South Africa 🙁
We had a long drive ahead of us and wanted to have time for last minute souvenir shopping in Cape Town, so we had an early breakfast and loaded back into the van.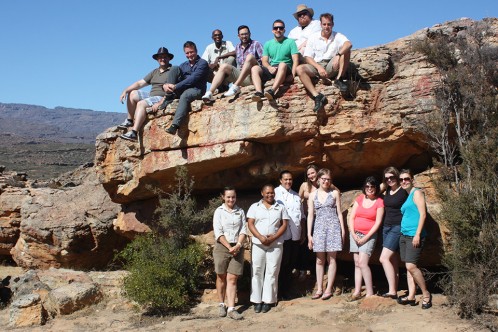 One last group photo before we left. We made sure to get the kloof staff in this picture – there's Malcolm, the house manager, Roman and Simone, our guides, and a couple you haven't seen before: Sandra, the cook, and Dalene, her helper. I thought that, coming home, I'd miss Sandra the most (I definitely missed her during the 36 hours we spent eating airplane and airport food) but actually, back in Seattle, I most miss Dalene. I don't mind cooking, but cooking AND cleaning up after myself?!?! A rude awakening after those four days of resort life.
The drive back to Cape Town was uneventful. No bus breakdowns this time! We were a pretty subdued group, as most of us were flying out late that night.
Joel and I headed back to the V & A Waterfront to shop and eat a good meal before our departure.
We must've walked over the swing bridge every day during the week we'd spent in Cape Town and never saw it swing. At long last, here it is opening. It felt even unsteadier walking across it after we saw it swing.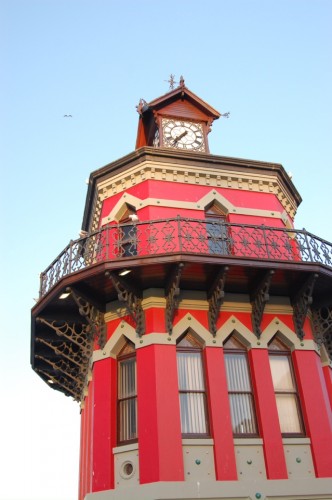 And our trip ended back where it started, at the clock tower.
***
And that's a wrap on my recap posts! I'll be back to regularly scheduled posting soon. In the meantime, here are the links to you can catch up on any South Africa recap posts you may have missed:
Cape Town
Day 1 – Table Mountain and V&A Waterfront
Day 2 – Houpt Bay, Boulder's Beach, and Cape Point Reserve
Day 3 – Cape Town Aquarium
Day 4 – Robben Island Museum
Day 5– Slave Lodge, Castle of Good Hope, and Green Market
Day 6 – Aquila Safari
Bushman's Kloof
Day 1 – Our arrival
Day 2 – Cave paintings
Day 3 – Fly fishing
Day 4 – Sneaking up on animals