This is the last of my wedding recap posts!
I'm sure that for some of you, this is welcome news. If you missed any, here are the links:
Today is about all the little details that consumed my attention over the past year, but didn't quite fit in with the other recap posts.
Firstly, and most importantly, the shoes
I say most importantly because out of all the wedding things, what I heard about most was the shoes!
You may not know this, but Joel is way more into shoes than I am – and that's saying something! He's wanted a pair of custom Chuck Taylors for some time, and decided to design some for himself and his groomsmen.
He wanted something the boys could wear again – subtle, but still special. You can't see it in the pics, but the wedding date was embroidered in cerulean blue on the back. He also gave his guys the bright argyle socks they all wore.
***
As I was pouring myself a cup of coffee at the reception, one of the waitstaff at the Inn pulled me aside to tell me how much she loved the green heels the ladies and I wore.
"That was one of the most stylish things I've seen at any of the weddings we've seen here," she told me. And they have plenty of weddings there!
It's kind of funny, because I didn't put nearly as much effort into the shoes as Joel did. I googled green shoes, sent a couple of options to Allegra and Morgana not at all expecting them to be wearing exactly the same shoes. As it turned out, they both agreed on that pair, so I ordered the same … I never would have guessed they'd be such a hit.
And as far as heels go, these were pretty comfortable and easy to walk in. Allegra and I both changed into sandals during the reception, but Morgana was intrepid and made it all night in her heels. I was impressed.
Game on
Another fun thing that came together really well was our guest book. Joel and I agreed that we didn't want a traditional guest book because it would be something we'd look at once and then put on a shelf and never look at again. But what to do instead?
I wanted to do something game related, since we knew we'd be playing board/card games at the reception, and Joel realized we could buy blank cards for one of our favorite games, Munchkin.
The Munchkin cards turned out so great – most people wrote funny messages for us, but we got a few fun additions for our set, and some excellent drawings from the kids who were there 🙂
Comic books were harmed in the making of this wedding
Sometime back in December, I strung together two crazy ideas from the wedding inspiration site I most loved (The Offbeat Bride.) One bride made her groom a boutonniere cut from pages of comic books. And I loved the bouquets of origami flowers.
"What if," I thought to myself "we made origami flowers out of comic books?!"
Back in December, it seemed like a good idea. But then we procrastinated until, you know, a month before the wedding, and folding a hundred flowers seemed crazy and also, oh so important! I'm not sure why I was so attached to the idea, but they ended up being so beautiful. If I'm being totally honest, they turned out much better than I anticipated 😉
We made about 50 of varying sizes and sent them to the florist for bouquets and boutonnieres, corsages and centerpieces. I loved the way she integrated them in with the cut flowers.
We didn't have a plan for the escort cards, and my mom said "well, what if we just make another 50 comic book flowers?!" So we did. I spent countless hours folding, but it would not have come together without all the help from Allegra, my mom, Auntie Barb, and Meredith.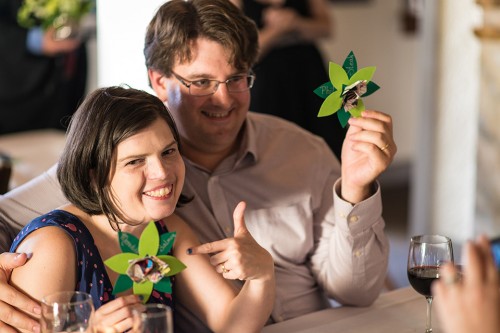 While she was at it, Allegra also fashioned these adorable comic book pinwheels for the centerpieces at the rehearsal dinner.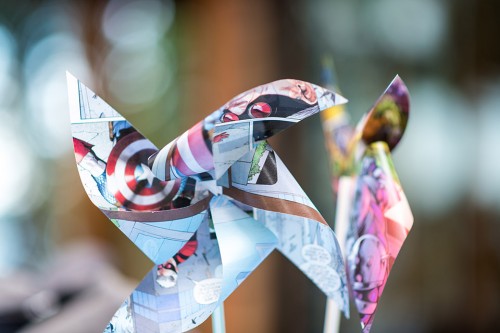 ***
Our florist encouraged (or, I should say, strongly recommended) finding more ways to incorporate the comic book motif throughout the wedding. I'm really glad she did so because up to that point, all of my wedding ideas seemed very "throw it against the wall and see what sticks" so having comic books throughout made it feel intentional. And classy – can I say the comic books were classy? Mom might disagree, but I thought it was.
I found the Batman tie clip that Joel wore on Etsy.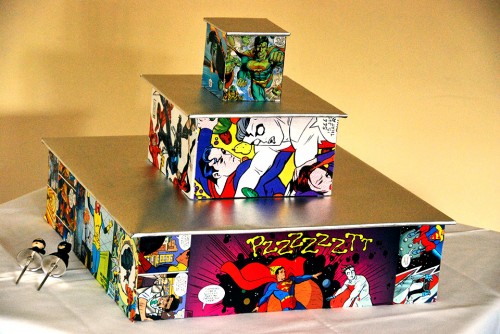 And he designed and built this terrific cupcake stand with help from Phil. They originally came up with a very elaborate, lighted design, but time was limited, and this simplified version came together in just a couple of evenings. I loved the final results. (Also, more kudos to the staff at the Inn who set out the cupcakes; they did terrific work.)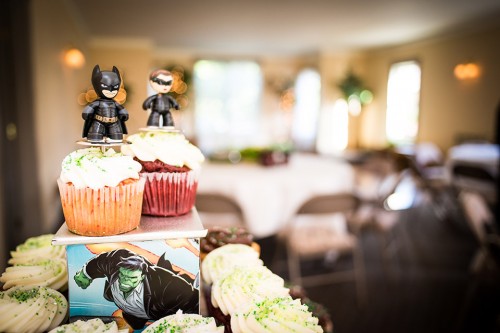 Lastly, the Batman and Catwoman cake toppers were another thing that turned out better than I expected. I didn't want the traditional bride and groom, but we found these toys on Amazon, and one of my coworkers tracked down the little metal skewer things that went into the cake. I wish I could take credit for this, but it was another Offbeat Bride-inspired idea.
I was happy to see that the cupcake stand and escort cards ended up being shared on Facebook, Twitter, AND Instagram! Feel free to Pin and G+ these so I can say my wedding was shared on all the major social media networks!
And that concludes the wedding posts
Thanks for sticking with me through eight weeks of wedding posts. I know that most of you reading this were there, so reading my 5000+ word recaps of the wedding might be a little boring. As my aunt put it: "you can describe the wedding in just one word – awesome!" Thanks, Auntie 🙂
There are a few more honeymoon recaps coming your way, then we're back to your regularly scheduled programming.