After the ceremony, Joel and I disappeared to let everyone move over to the patio for cocktail hour. We intentionally carved out about fifteen minutes to ourselves after the ceremony, which I imagined we'd end up sitting together, giddy about finally being married and giggling.
What actually happened was we finally got a chance to use the bathroom (you know it's a crazy day when you don't get to relieve yourself.) Joel took off and hung up his suit jacket, and I repined his boutonniere onto his vest. Then, we tracked down Doug, who was to introduce us.
And we made our grand debut!
Honestly, this was one of my favorite moments of the day. It was the first chance I had to actually look around at all the people who'd come to celebrate with us, and everyone was happy and clapping … and all we'd really done was walked in and repeated some words that Ron said and kissed! Allegra was right; getting married is easy.
Since we'd done all our portraits earlier in the day, we got to hang out and enjoy our cocktail hour, which was awesome. Also, the staff at the Inn was so terrific – there was one waitperson assigned to me and Joel and she made sure we had food and drinks, put my bouquet in water for me, and just generally kept us happy all night.
I made an effort to talk to as many of the relatives as I could – getting hugs and hearing everyone tell me how beautiful it looked did not get old! – so I did not feel guilty staying in my seat and enjoying dinner rather than going around to the tables and mingling.
But first, the toasts
I held it together all day (which wasn't difficult, I felt excited and a little nervous, but never weepy) but I tell you, the minute my dad got up to speak, I got all choked up. Dad gave the most perfect toast – he told a few jokes ("when I saw Jennie in her dress earlier, I felt my eyes well up … you'd cry too, if you were paying for that dress!" Haha, thanks Dad 🙂 ), he told a story about the day I was born, he said nice things about Joel, and Joel's parents, and my grandpa, and my mom … it was great, Dad. Thank you.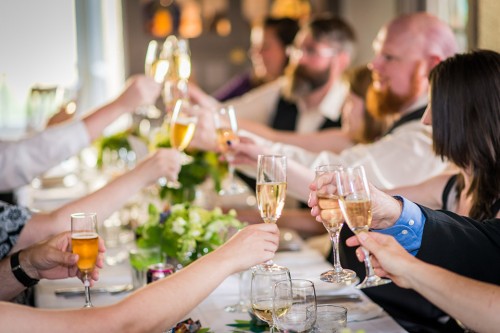 And then, as if I weren't emotional enough already, Morgana got up to toast. I wish I remembered more of the sweet things she had to say, but I was focusing most of my energy on not.crying. What I remember of it was lovely, though. Cheers!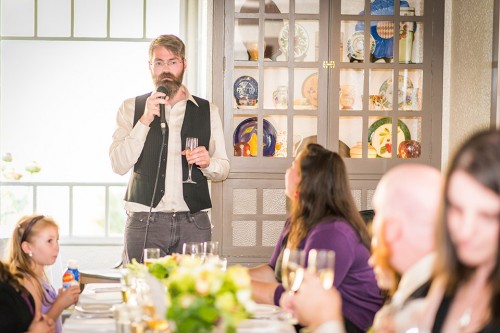 Then Doug got up and lightened the mood with "I'll say what I want said at my wedding. Dingle finch. But besides the obvious …"
Haha, so funny. All three toasts were so great.
Time to eat
The Inn at Ship Bay is known for the best food on Orcas Island – our meal did not disappoint! We had salads with goat cheese and hazelnuts and edible flowers. Then the main course, of course. No photos of dinner – everyone was too busy enjoying their food 🙂
Then it was time for cake – instead of the traditional cake cutting, we had a ceremonial cupcake unwrapping.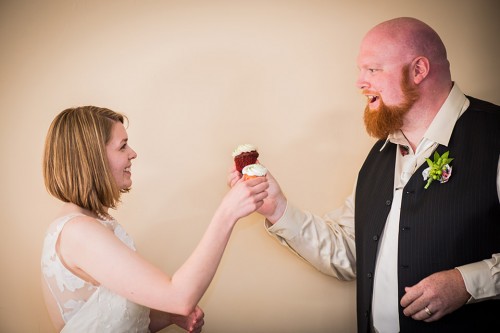 I took a tiny, dainty bite, and Joel took a half-cupcake sized bite. The cupcakes were, of course, from Haley's Corner Bakery, and lucky for us, there were tons left over after the wedding. My parents, Ben and Robin, and Joel and I ended up each going home with a couple dozen cupcakes! You better believe Joel and I packed some for snacks on the plane ride to New York.
You can't outlaw dancing
So … I know that dancing is supposedly important for wedding receptions, but Joel and I are not dancers. We tried really hard not to have dancing, and set out some board and card games instead.
For the record, when we were getting organized for the wedding, I included all of our, er, normal games (Clue, Scrabble, Scattergories, decks of cards … things like that.) As it turned out, only our rather weird games ended up making it to the island. Sorry about that. Thanks to everyone for humoring us, but I realize that not all the games we brought seemed appealing.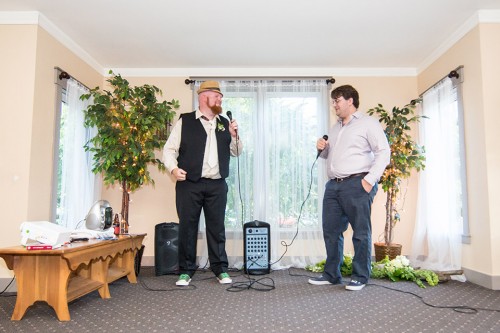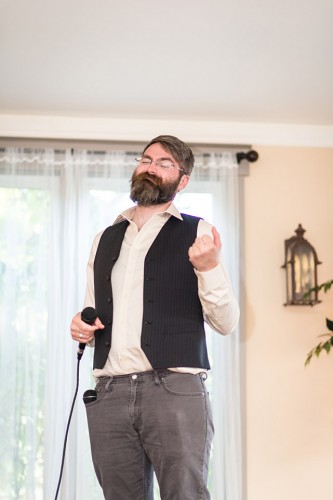 Since the games were a bust, we got karaoke started a little earlier than intended. And once the music got started, dancing quickly followed. The karaoke perhaps broke up the party a little earlier than anticipated, but there were ferries to catch, and children whose bedtimes were approaching.
A group of us ended up sitting outside long after the sun had set, playing Cards Against Humanity, the card game for horrible people. It's funny, because I'd told Joel not to pack Cards Against Humanity because I was worried it would be too offensive – but it turned out to be the only game that was played! Go figure.
***
There's just one wedding recap post left. In next week's post: The Little Details …