When we found what would become our wedding venue, The Inn at Ship Bay, one of the selling points was that we had to book two nights there, meaning we would already be at the Inn to have the rehearsal on the day before the wedding.
It was always Joel's and my intention to have the dinner after the rehearsal at the Inn's restaurant. But then we realized it was outside our budget. Not like, oh a little more than we wanted to spend. Like, we don't even have the credit card limits to make that happen.
So we started thinking about Plan B.
Before I tell you what Plan B was, let me go back and say, the number one selling point when we decided to get married at the Inn at Ship Bay was its location in the San Juan Islands. My family has been vacationing there since I was about 2, and my parents have property up there. Obviously, it's a very beloved place for me.
So we started entertaining the idea of having our rehearsal dinner at my parents' nearby property.
It's another one of those things that, hindsight being 20/20, I would have done entirely differently. I ended up cooking and chopping and assembling much of the night – now I understand why most people have these things catered! Mom and Dad ended up working all night, also. But it came together so nicely, and our guests were so thrilled to see the island. It's such a lovely place.
My memories of Friday are kind of wacky – I only managed about an hour of sleep the night before, thanks to my nerves and anticipation. I tried, I really tried, not to go bridezilla all over everyone's asses, but it was kind of hard to be my best self under these circumstances. If you were on the receiving end of any amount of bridezilla, I'm sorry.
This was one of only a couple times I played the "it's my wedding day and we do things my way!" card – I asked the ladies wear the heels we'd be wearing the next day, and I insisted the boys set up the PA system so that we could practice with music and the microphone. Lucky for me, several people (including our officiant) agreed. It took a little more time to get organized, but it made the wedding itself run like clockwork.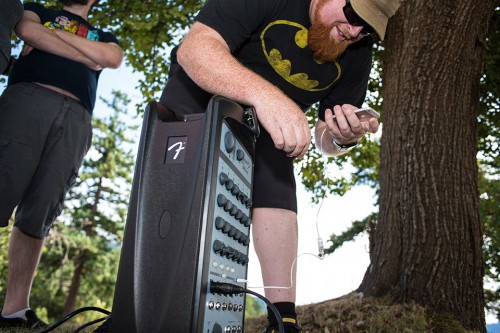 Another word on Ron, our officiant – I was so, so glad that we'd chosen someone who's officiated many weddings to marry us. He knew exactly how to organize the rehearsal and had so many good suggestions.
Okay, enough blathering, get to the pictures!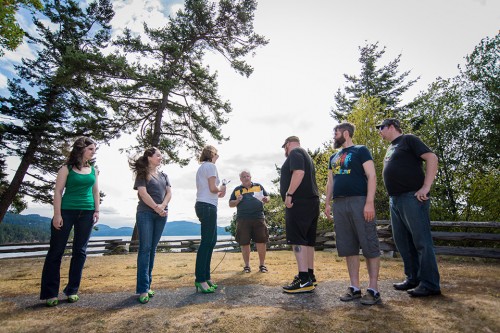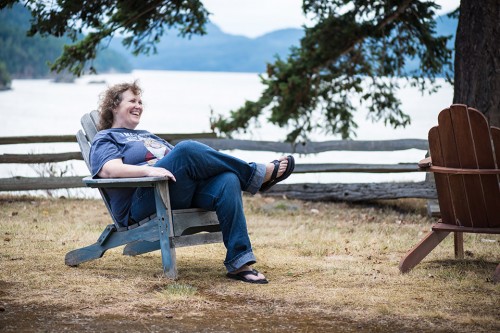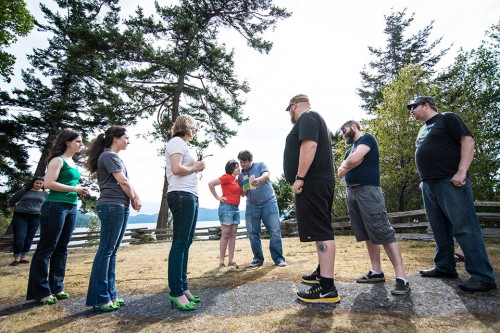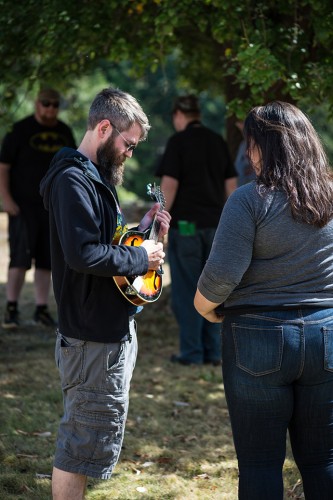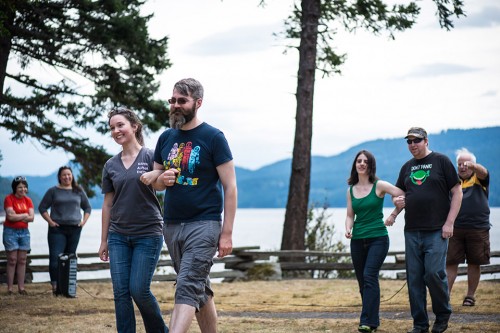 After the rehearsal, we piled up into cars to drive across the island to catch the boat to my parents' place.
Joel and I were immediately put to work, while my dad gave the other guests a tour. Rudy, our photographer, was particularly enamored of the old cabin. It was so fun to see the pictures he took. We ended up having a very casual barbecue – with lots of hard cider 🙂
Joel watched for sea lions.
It was an early night – Joel and I made sure to be on the first boatload back to Orcas because we still had things to get ready for the next day!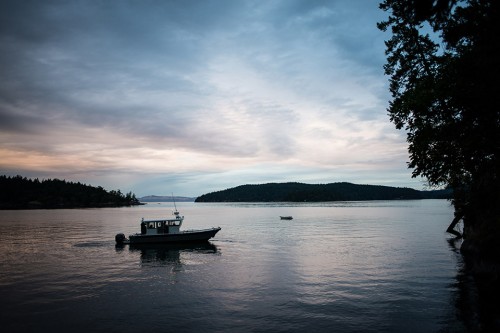 But several, including Rudy, stayed behind to catch the beautiful sunset.
***
In next week's post: The First Look …