Those of us from the U.S. get a kick out of mocking our neighbors to the north – we joke that their money isn't real, about their accents, and how can they take their own law enforcement seriously when they're called Mounties?!
But I will say in all seriousness: I was pleasantly surprised to discover that everywhere we went really had their act together when in came to gluten-free eating. Victoria, on the southern edge of Vancouver Island, is very much a tourist town, so it's really in their best interests to be able to accommodate their GF guests.
Here are some of my words of wisdom for any gluten-freebies who travel.
Pack snacks
We took the Victoria Clipper, a passenger ferry that travels daily between Seattle and Victoria, early Friday morning, and I was glad to have the food I'd packed the night before as there was literally nothing on their menu that I could eat. I took beef jerky, some veggies, plenty of chocolate, almond butter squeeze packs, and an apple for Joel.
The fancy, trendy (see: expensive) restaurants are better at gluten-free.
Sad, but true.
On Saturday night, Joel took me to Vista 18, on the 18th floor of the Chateau Hotel in Victoria. We pulled up their menu online before we made our reservations and saw that they had a gluten-free vegetarian lasagna, so I had high hopes that were not disappointed.
I ordered halibut from their "Simplicity" menu, which came with buttered mashed potatoes, vegetables, and a choice of five sauces – I figured there'd be two sauce options that were safe for me, but actually all five were gluten-free. I went with the orange horseradish butter, naturally.
Oh! And before our meal came, they brought me a bread basket with a couple of slices of GF bread from a local bakery, and my own butter so that I wouldn't have to share.
***
For our final meal before we boarded our ferry back to Seattle on Sunday, we ate at Milestones, which is right on the water and famous as the head chef was on Top Chef Canada. I ordered a gluten-free hamburger, which came with a small salad and my choice of either four cheeses, bacon and cheese, or bacon and guacamole. Bacon and guac, please! It was on the best, fluffiest GF bun I think I've ever eaten. This was probably my favorite meal I had over the weekend … and I forgot to take a picture of it.
Smartphones are worth every penny
I was not a believer in iPhones … until I got mine. I love it, and highly recommend a smartphone for looking up nearby gluten-free friendly restaurants or a grocery store. Unfortunately, we discovered as we crossed into Canadian waters that we'd have to keep our phones in airplane mode to avoid an enormous international phone bill. This meant we several times had to buy bottled water at Starbucks to connect to the wifi 🙂
Joel made a snarky comment as we wandered aimlessly around downtown Victoria looking for breakfast on Saturday morning about how hard it must've been to travel before smart phones. Then he used a method to find a restaurant that I'd forgotten about – he stopped and asked one of the locals for a recommendation.
Be open minded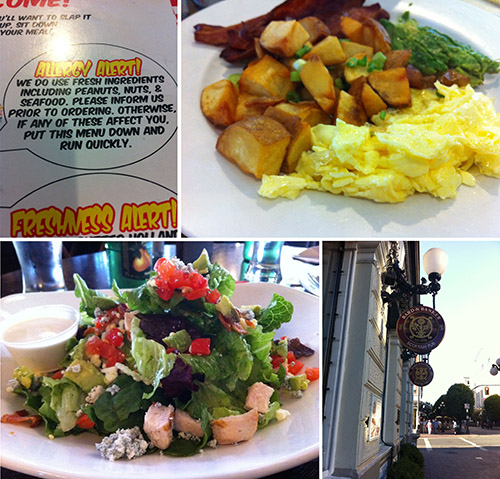 That recommendation led us to Floyd's Diner – I was pretty dubious that a diner would be able to accommodate my dietary needs, especially after reading their allergy warning on the front page of their menu, but they were very knowledgeable. Saturday morning, I had a smoked salmon omelette with goat cheese, and the waitress recommended substituting the toast on the side for breakfast potatoes, which were made in a dedicated fryer with their French fries, and thus safe.
Sunday morning we went back for more, and I ordered the "Listen to me when I'm talking to you, son" which was two eggs, bacon, potatoes and toast, which I subbed for half an avocado.
***
On Friday, when we first disembarked in Victoria, we were hungry, and set off in search of a restaurant when we came upon Bard and Banker's, a Scottish pub. I was dubious about pub food, too, but when we asked if they were good at gluten-free, they retrieved a GF menu for me and I deemed them safe.
I glanced at the menu and ordered the Cobb salad for the egg, avocado, and bacon, without even noticing that it came with blue cheese (which is questionable, because the mold is sometimes grown on rye bread). They double checked for me, and it was, in fact, safe for me to eat. After two years without moldy cheese, though, I decided I didn't really care for it and ate around the big chunks.
I skipped the gluten free beer they offered, and drank a hard cider instead.
Lastly, if you're going to walk 6-ish miles every day of your vacation, stay hydrated. And pack band-aids.