In August 2016, to celebrate our three year wedding anniversary, Joel and I took a long weekend trip to Victoria B.C. Five years earlier, we'd gone on a similar trip to celebrate our one year dating anniversary. (Fun fact: our wedding anniversary is just a couple of days after our dating anniversary, so it's like we get to celebrate both at the same time.) Victoria is so beautiful, and so easy to get to from Seattle, and we'd been meaning to go back – it just took us 5 years to get around to it.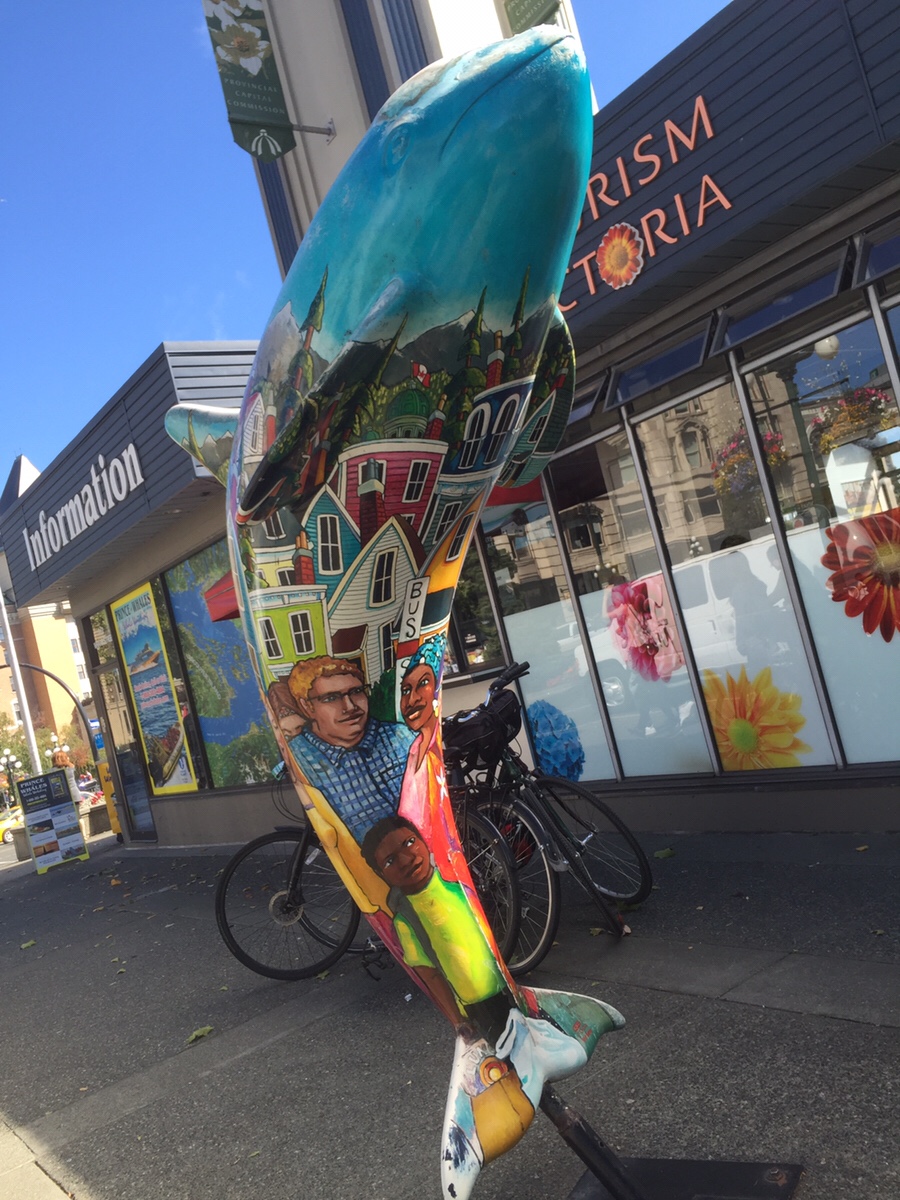 When we went in 2011, we were on a really tight budget; we stayed in a hotel about a 20 minute walk from downtown because it was inexpensive, and we basically just wandered around and looked at the shops. Don't get me wrong, we had a great time … but our 2016 trip was so much more fun because we stayed at the Chateau Victoria, which is in the middle of the city and houses one of our favorite Victoria restaurants (Vista 18), and made a point of visiting the popular tourist spots.
We spent Saturday afternoon touring the Royal B.C. Museum, starting with an IMAX movie Mammoths: Titans of the Ice Age. We learned about Lyuba, a mammoth calf who was discovered in Syberia … and then got to see her on display at the museum!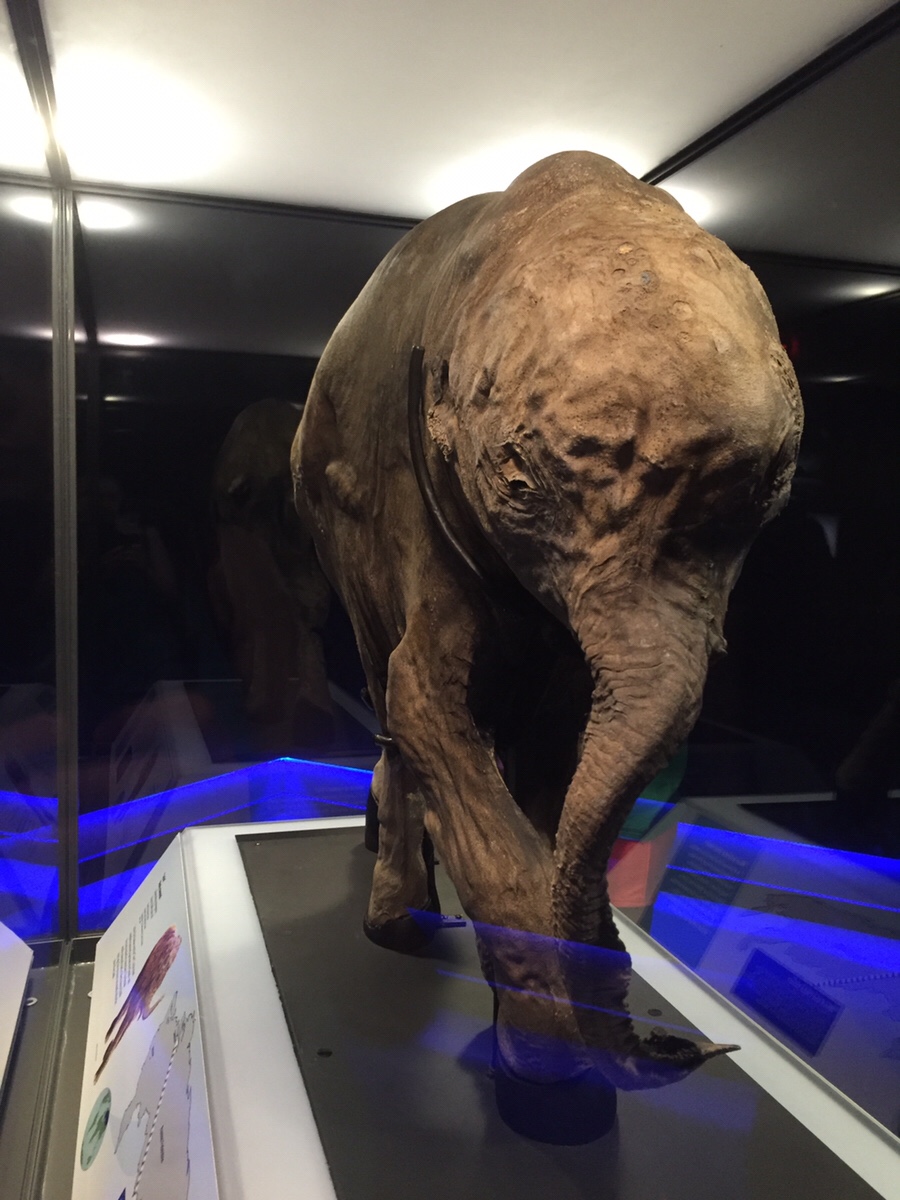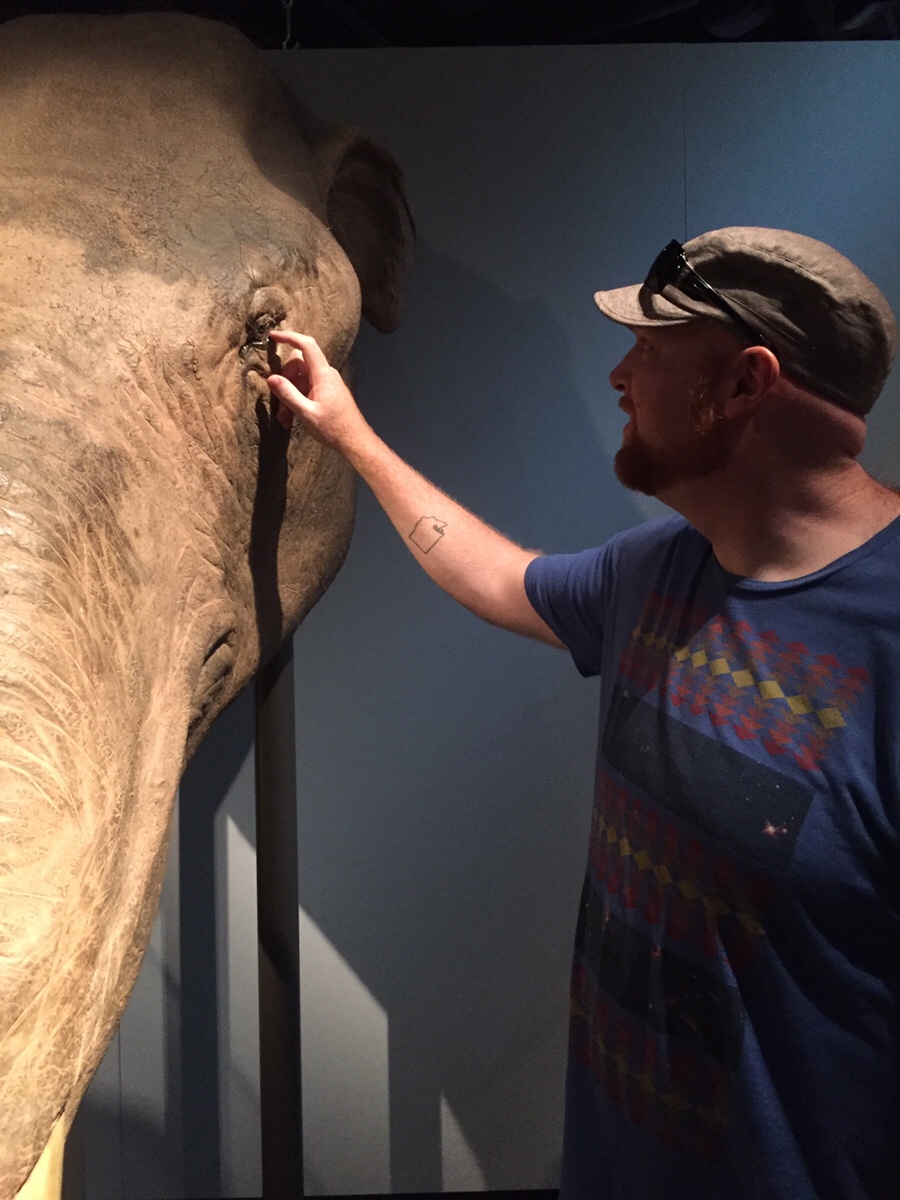 Don't worry, some of the displays said "please touch."
I had visited the Royal B.C. Museum in my younger years, but didn't remember it … until we walked into "Old Town," the modern history exhibit. Major deja vu!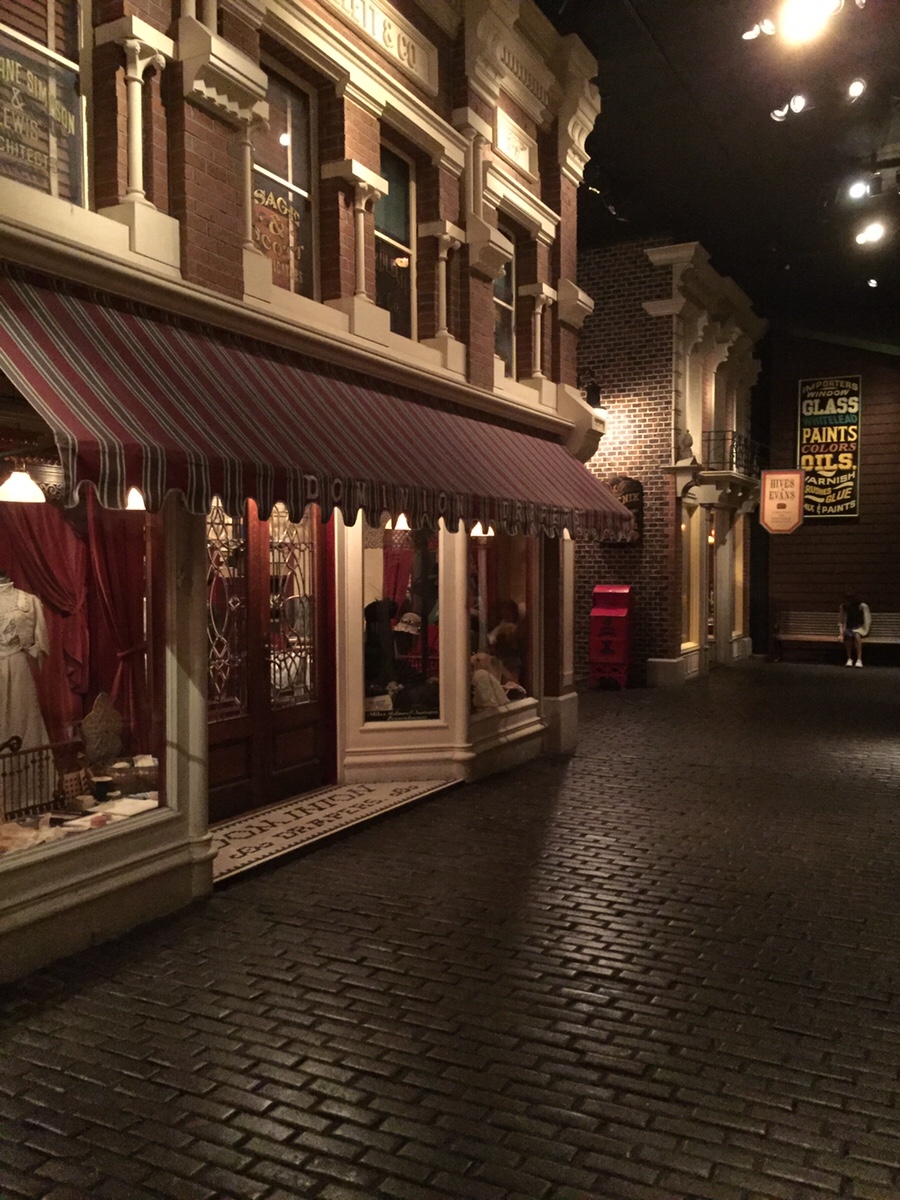 Because of the timing of our IMAX movie, we'd missed lunch and were famished and disappointed to find that many of the restaurants in town were closed — despite it being Saturday night. We did not know this when we booked our vacation, but that weekend happened to be iconic Canadian band The Tragically Hip's final concert, and apparently all across Canada, cities shut down to allow people to watch the concert. We happened to find a really excellent Thai restaurant that was open (with the show playing on the TV in the bar, natch) and had what turned out to be one of the best meals of our weekend.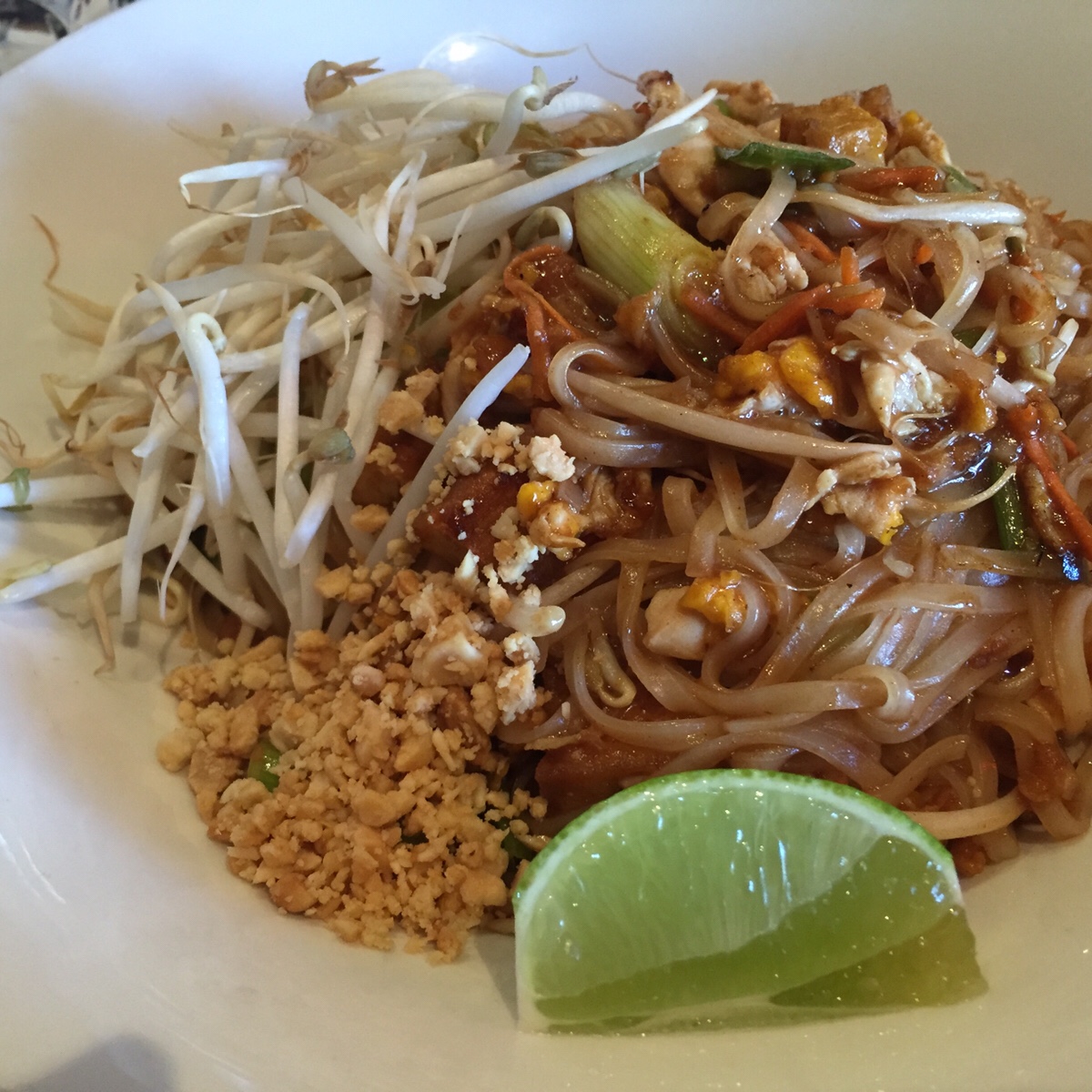 The pad Thai looks like any other plate of pad Thai, so you'll just have to take my word for it that it was super-delicious.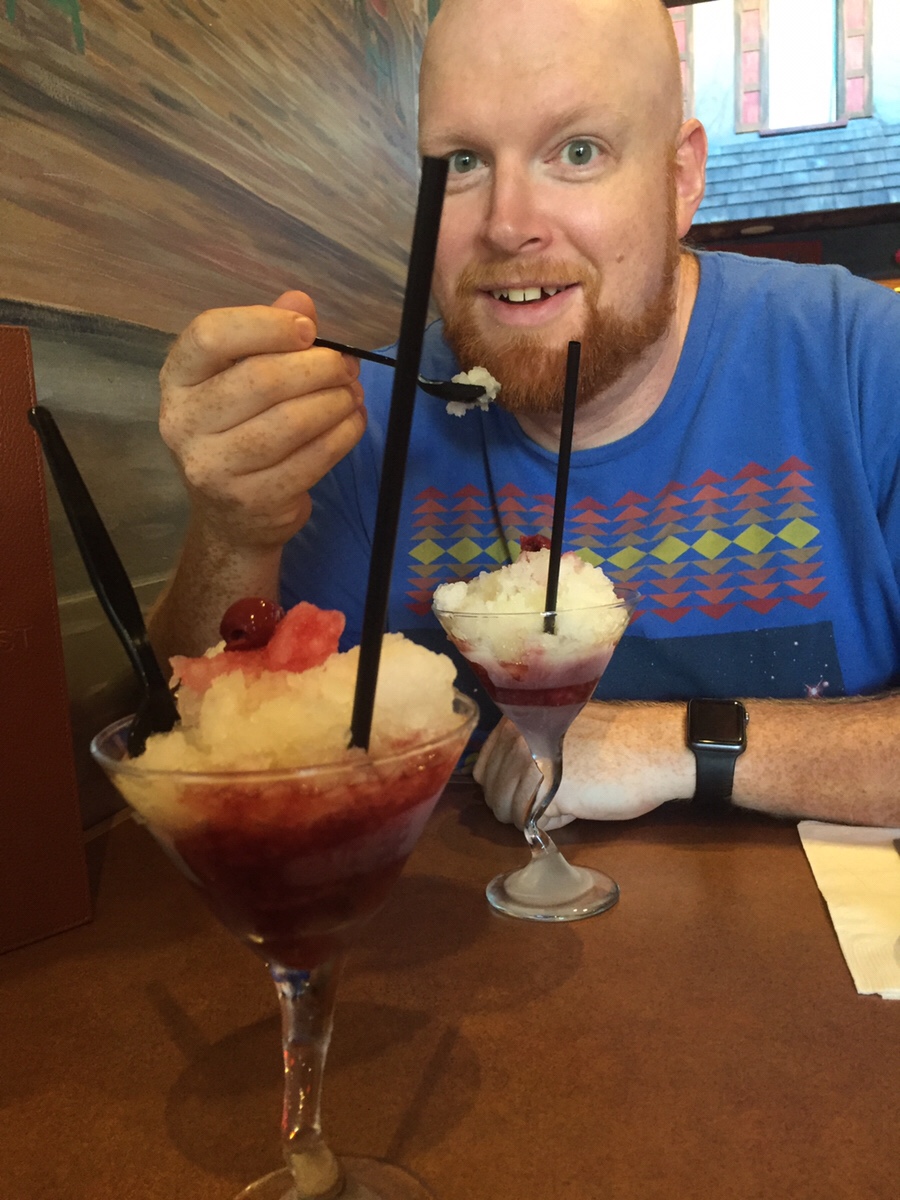 The highlight was our drinks – frozen sangria! I was probably a bit dehydrated, and could have easily downed, like, three of these. They were sweet and tasty and refreshing.
After it got dark, we headed back to the waterfront to meet our tour group for a walking ghost tour of downtown Victoria! Victoria is allegedly one of the most haunted cities in Canada. I'd found this randomly online and it was pretty inexpensive, so we decided to give it a whirl … and it was a blast. Most of the stories featured ghost exacting their revenge on the living, but there are some friendly ghosts in the city, too.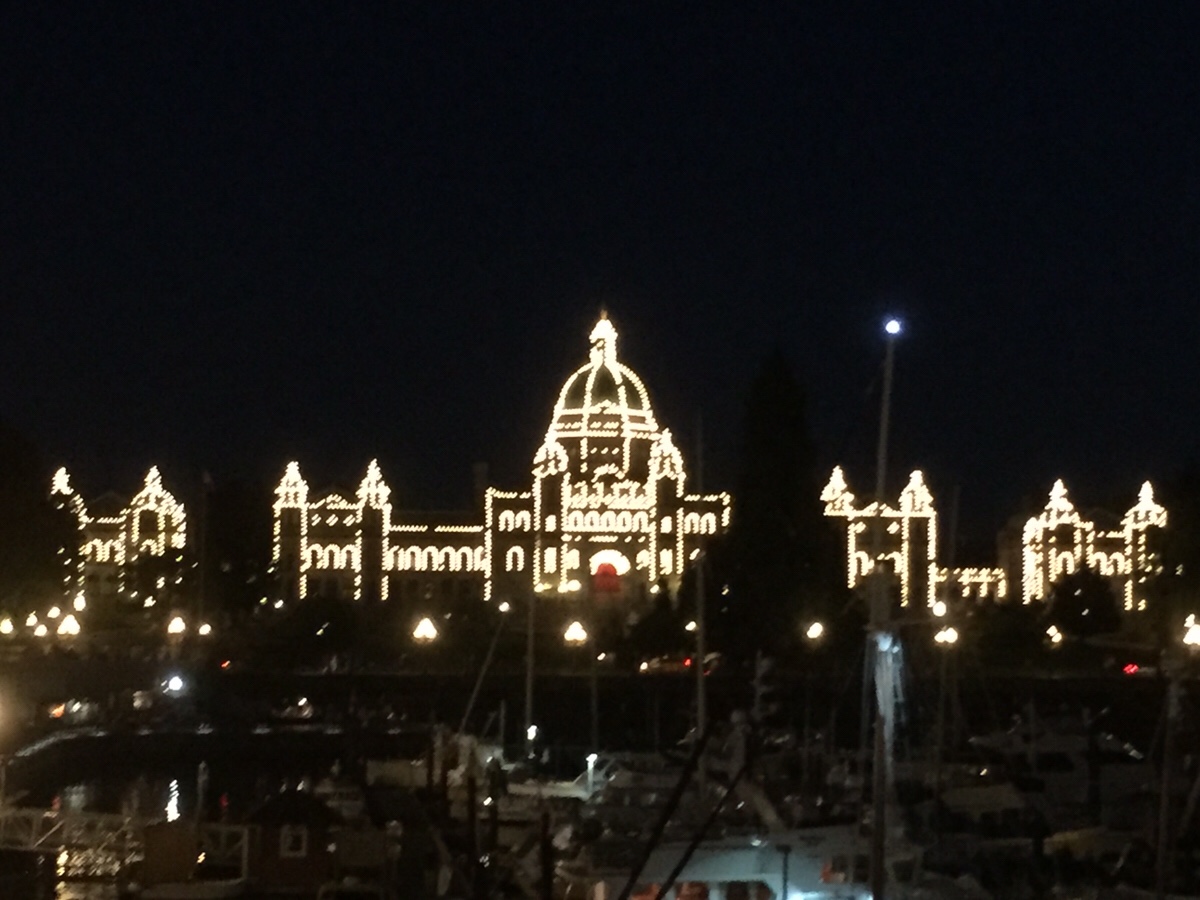 The next day, we set off early for Butchart Gardens, so we'd have plenty of time to explore the gardens before our lunchtime tea reservation.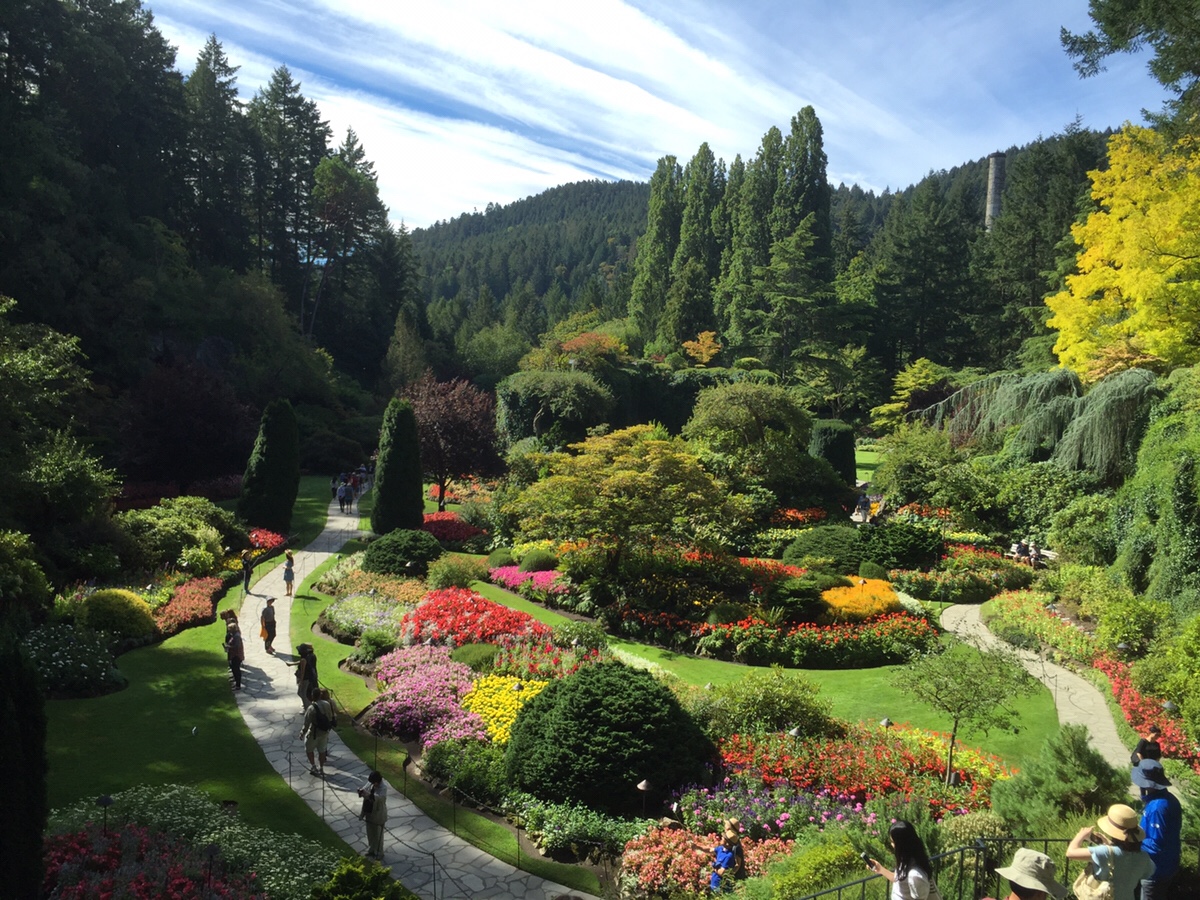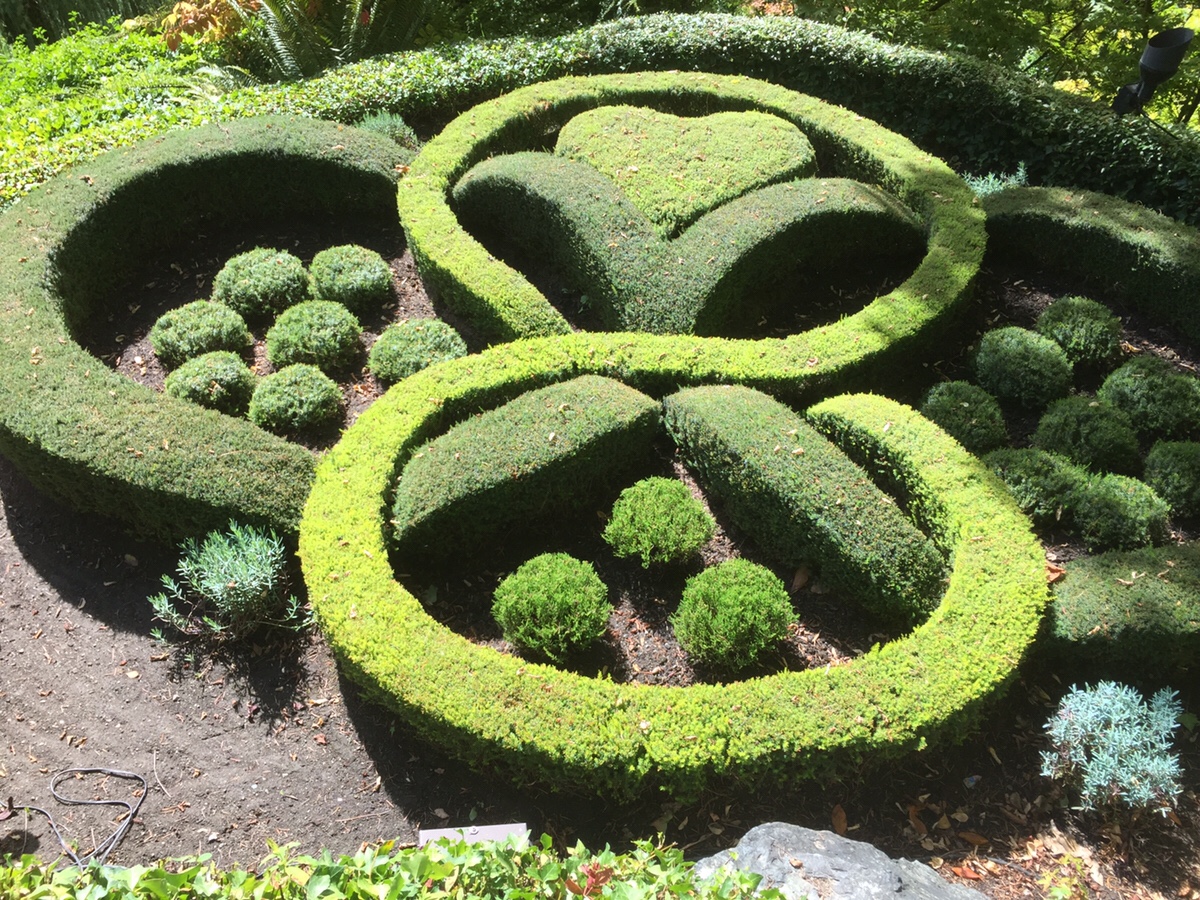 Butchart Gardens was another spot I'd visited many moons ago, but didn't remember until we walked in.
Then we stopped for tea time in the fine dining hall. They are easily able to accommodate gluten free diners, so long as you make a reservation 24 hours in advance.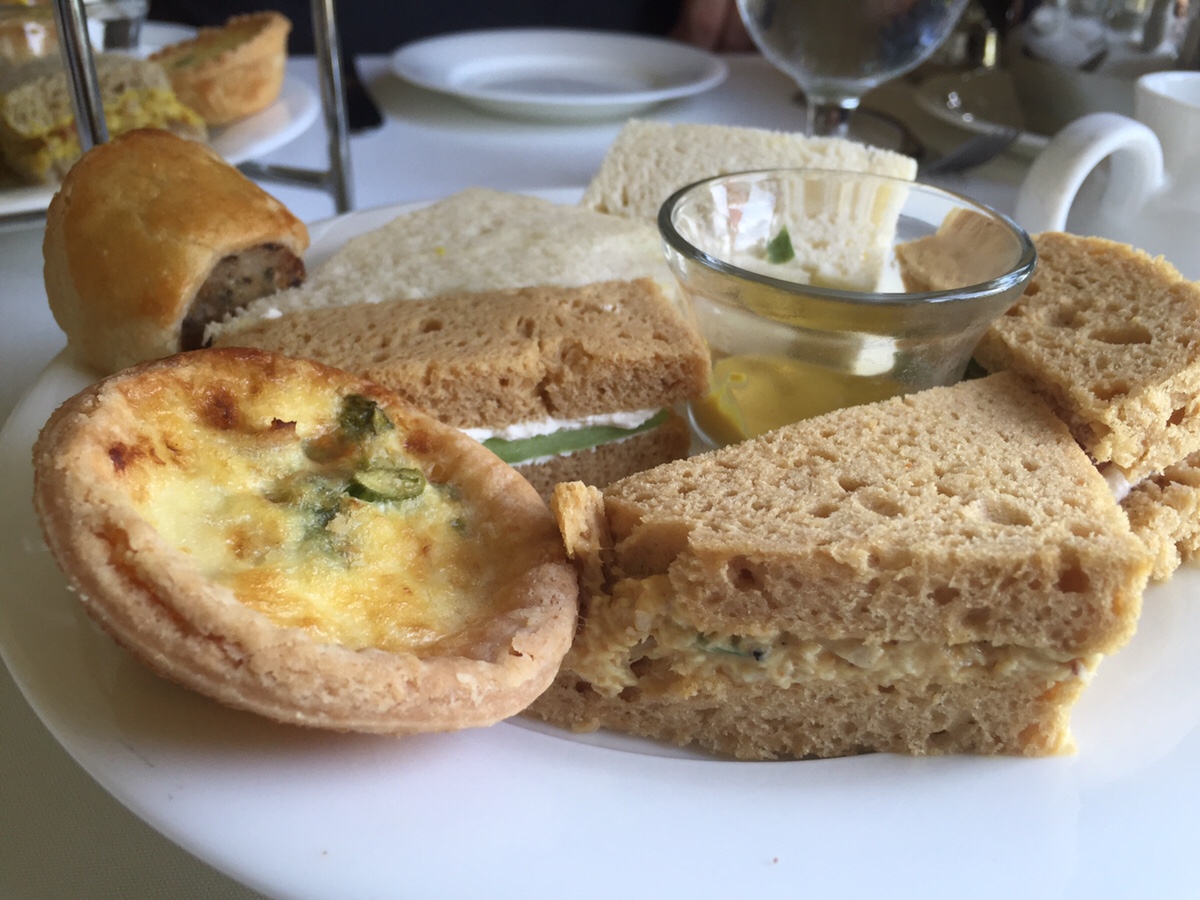 Bottom tier: sandwiches and savory items, including a gluten free sausage roll! (Confession: Secret Eaters, a British show that followers dieters in their weight loss efforts, is one of my guilty pleasures. They show sausage rolls frequently, but I assumed I'd never find a gluten free version to try. I was happy to be proven wrong.)
Middle tier: pastries and a truffle.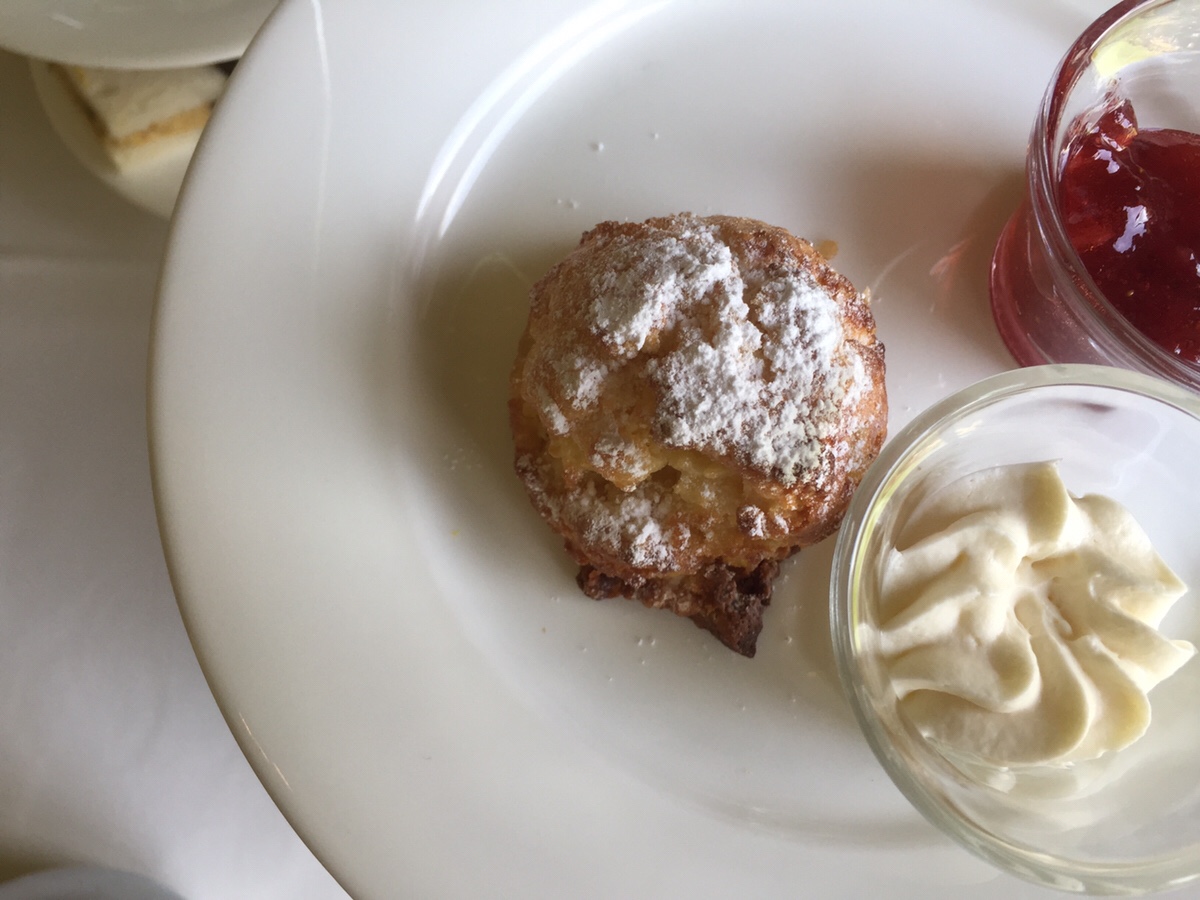 Top tier: a scone with clotted cream and jam.
(Interestingly, when we had tea at of Morgana's bachelorette party, the middle and top tiers were reversed.)
In the late afternoon, we headed over to the dock for our return trip home on the Victoria Clipper. We checked in and took our seats in the terminal, just in time to hear the announcement: "due to windy conditions, the Clipper will not be able to make the crossing to Seattle." Joel and I looked at each other like, "wait, WHAAAA …?"
Not to worry, the Clipper has dealt with this before, and had a backup plan. We shuffled out into the parking lot and loaded up into charter buses … where they drove us around the block and back to the ferry dock immediately next door.
We loaded up and took the ferry back to Port Angeles, arriving right about when we thought we'd be back in Seattle. From there, we drove down to Bremerton and took a ferry back across to Seattle. Lucky for us, Joel and I just had small carry-ons, so we didn't need to load back onto the charter bus and head over to the Clipper dock. Instead, we walked off the ferry and called an Uber, finally arriving back home at about 12:45am.
But as we've learned from our previous adventures, it's the times when things go wrong that make the best stories.